HoverMatt SPU Link
Highly breathable mattress with patient safety straps for enhancing patient comfort
The HoverMatt Single-Patient Use (SPU) Link features all of the trusted benefits of the original HoverMatt SPU combined with unique connecting straps that attach to the bed frame.
Independent laboratory testing shows the elevated evaporative properties of the breathable HoverMatt SPU help maintain the ideal microclimate, making it safe to leave under patients for all-day care. In addition, patients have a more comfortable and dignified experience as it eliminates friction and reduces skin shear.
HoverMatt SPU is compatible with X-ray, MRI and CT scans with documented artefact-free imaging. In addition, single patient use (SPU) reduces costs, handling and logistics for laundry, and the risk of cross-contamination.
HoverMatt Air Transfer System
HoverMatt Air Transfer System is multifunctional and makes patient transfers, boosting and repositioning easier, while taking care of the carers working environment.
A cushion of air beneath the inflated HoverMatt reduces the force required to move a patient by 80-90% and enables caregivers to safely transfer patients without lifting or straining.
By reducing injuries related to lateral transfers and repositioning, the HoverMatt helps to improve staff retention while meeting legislative guidelines for safe patient handling.
Discover the HoverMatt Air Transfer System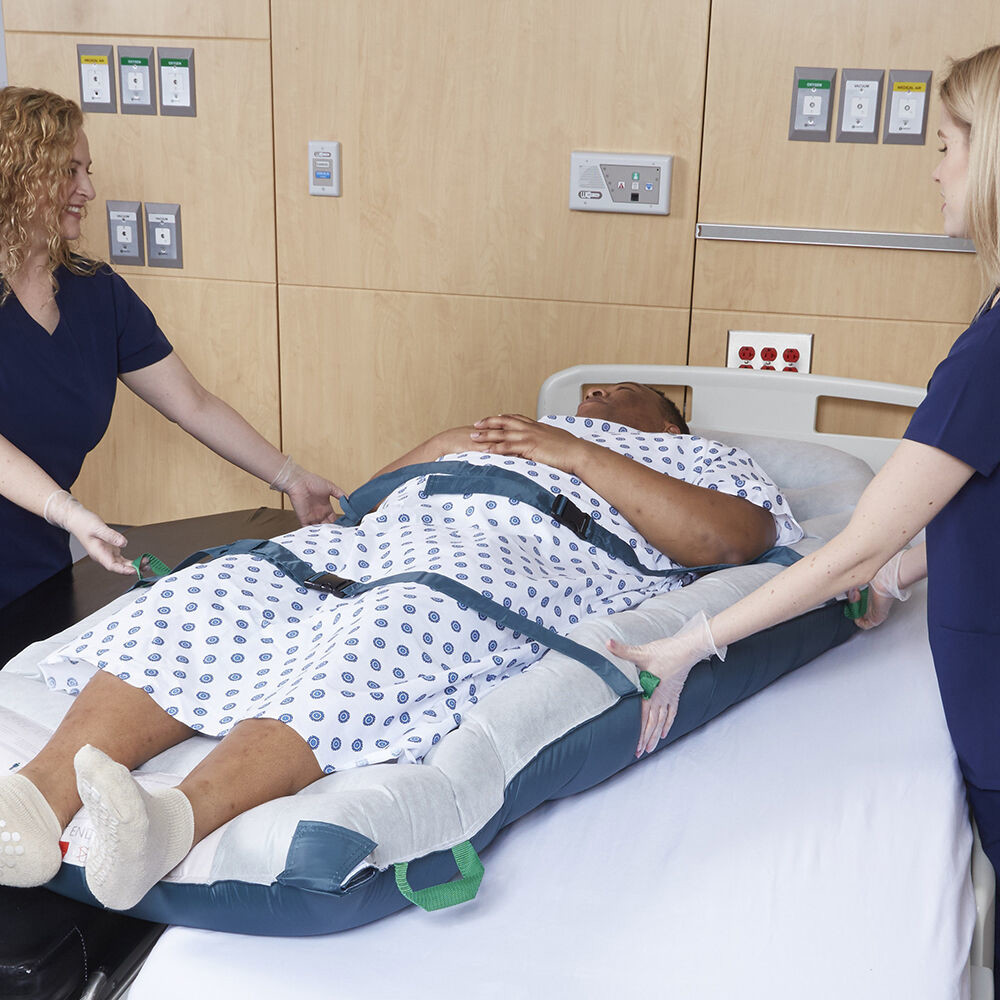 Lower caregiver injuries
HoverMatt reduces the force required to move patients by 80-90%, preventing work-related injuries.
Improves caregiver productivity
As Hovermatt SPU requires fewer caregivers, staff efficiency is improved.
Connecting straps
The velcro connecting straps keeps the SPU Link in place on the bed.
| | Item number | Height (mm) | Length (mm) | Material | Maximum user weight (kg) | Pieces per pack | Width (mm) |
| --- | --- | --- | --- | --- | --- | --- | --- |
| HoverMatt SPU Link 34" | HM34SPU-LNK-B | 180 | 1980 | Top: Non-woven polypropylene fibre. Bottom: Nylon. Latex-free. | 544 | 10 | 860 |
| HoverMatt SPU Link 39" | HM39SPU-LNK-B | 180 | 1980 | Top: Non-woven polypropylene fibre. Bottom: Nylon. Latex-free. | 544 | 10 | 990 |