HoverMatt Air Transfer System is multifunctional and makes patient transfers, boosting and repositioning easier, while taking care of the carers working environment. A cushion of air beneath the inflated HoverMatt reduces the force required to move a patient by 80-90% and enables caregivers to safely transfer patients without lifting or straining.
By reducing injuries related to lateral transfers and repositioning, the HoverMatt helps to improve staff retention while meeting legislative guidelines for safe patient handling.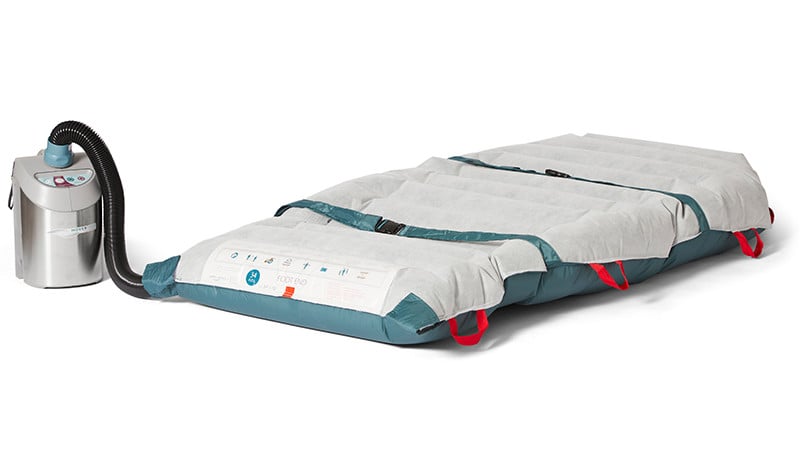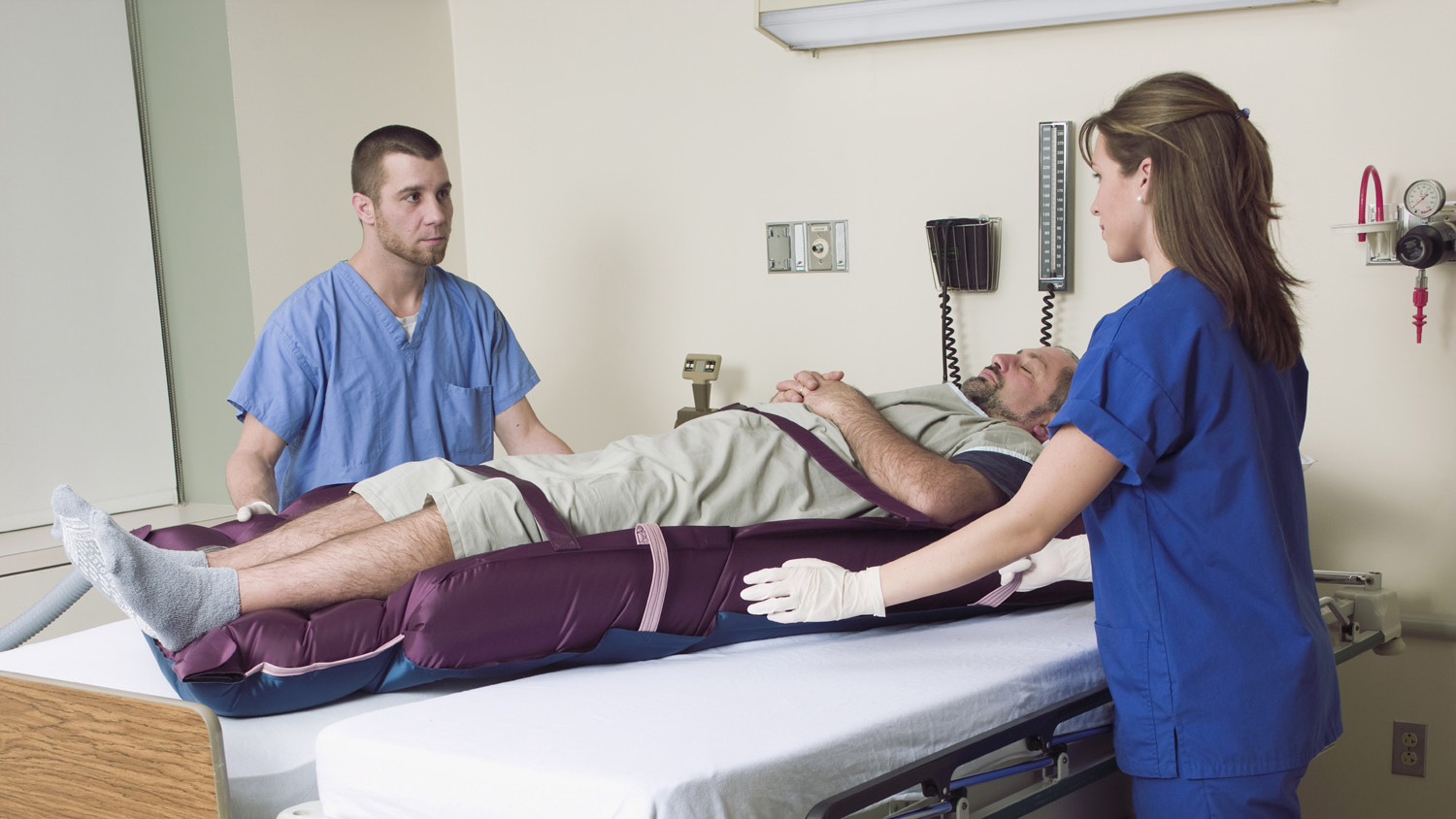 Improves patient comfort & safety
Inflated mattress cradles the patient while moving them in a stable position, reduce/minimize skin shear and bruising and provides comfort for patients, especially in pain.
Soft non-woven breathable disposable matt can be left comfortably under the patient for maximum use.
Reduces cost
Air-assisted technology is proven to reduce workplace injuries and associated costs by 50-100% when implemented into a Safe Patient Handling Program.
Reusable HoverMatts have a life span of at least five years when properly used and maintained.

Facilitates care throughout the facility
With a 544 kg weight limit, one device can be used for multiple patient handling tasks across the hospital - from emergency, radiology, OR, intensive care and ancillary departments.
Minimizes infection control risk
The HoverMatt SPU single patient use mattress improves patient safety by eliminating the risk of patient-to-patient contamination.
The heat-sealed reusable HoverMatt offers superior infection control that prevents cross-contamination by keeping microorganisms out. This unique construction eliminates the needle holes of a sewn mattress which can be potential bacterial entryways.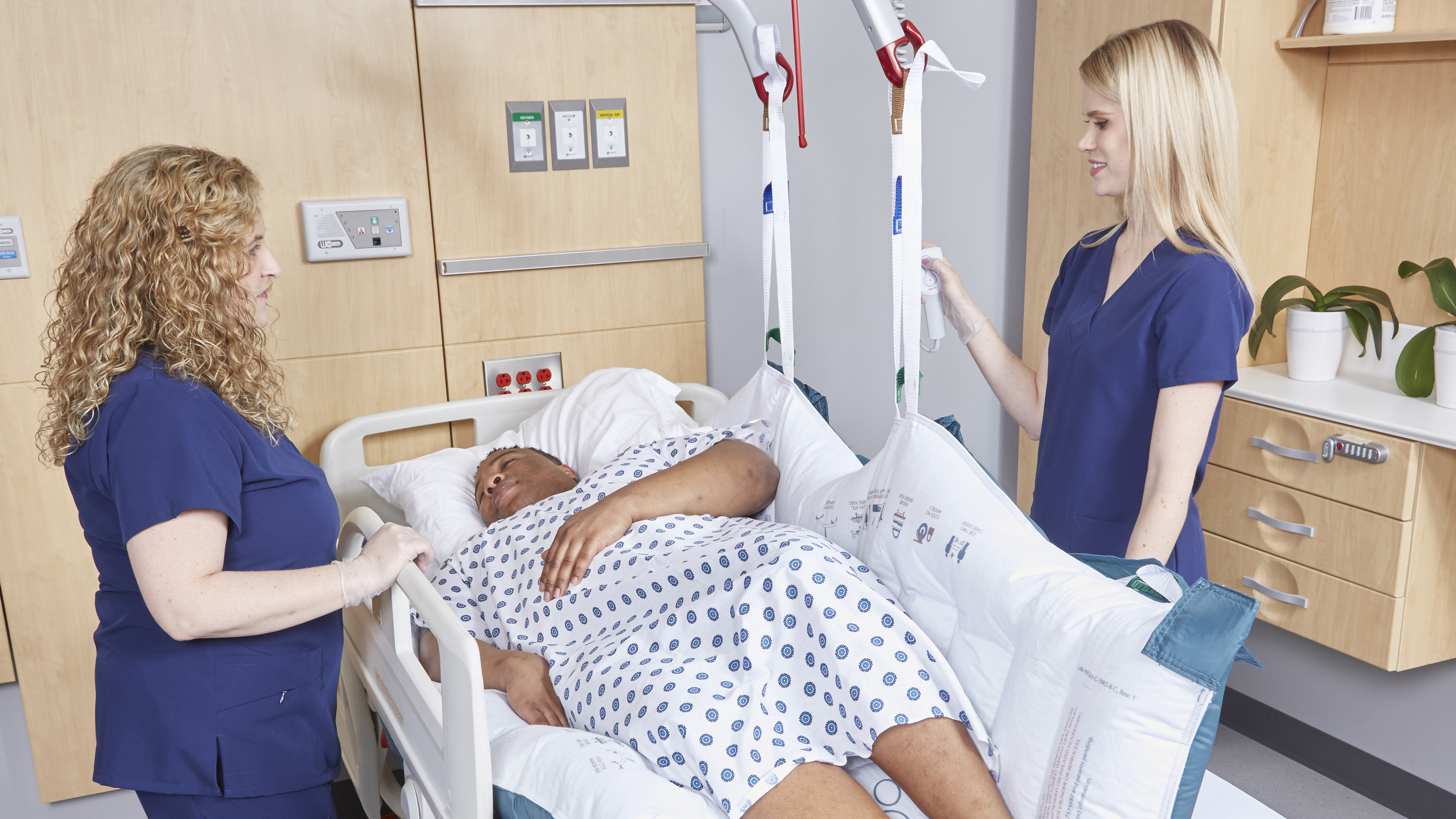 The prevalence of pressure ulcers is a primary concern, as they can lead to a decline in a patient's health and additional healthcare costs. Therefore, reducing pressure and minimizing friction and shear are significant factors for wound care management.
The disposable HoverMatt can be left under patients to assist with transfers and repositioning while mitigating these wound care risk factors. As it makes turning and repositioning easier for caregivers, the use of HoverMatt can also help to improve adherence to turning protocols.
Friction and shear
When the HoverMatt is inflated, the patient is moved on a stable cushion of air, reducing friction and shear caused by the opposing pull forces of the tissue and bone.
Pressure Mapping
There is <1% difference in interface pressures between the low air loss baseline measurement and the HoverMatt. These pressure mapping results conclude that there is no increase in the risk of pressure ulcers using HoverMatt, allowing clinicians to leave it under the patient for all-day care safely.



Baseline Measurement: Low air loss mattress, sheet, pressure mapping device, 90 kg patient

Low air loss mattress, sheet, pressure mapping device, deflated HoverMatt,
90 kg patient
Videos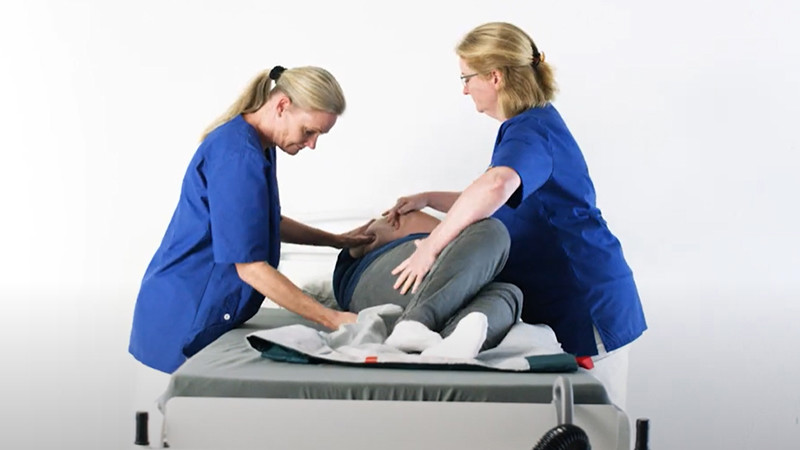 HoverMatt SPU - How to place the mattress under the patient
The HoverMatt makes transfers and repositioning easier for caregivers while protecting patient safety. The HoverMatt reduces the force required to move a patient by 80-90%, enabling caregivers to safely transfer patients without lifting or straining.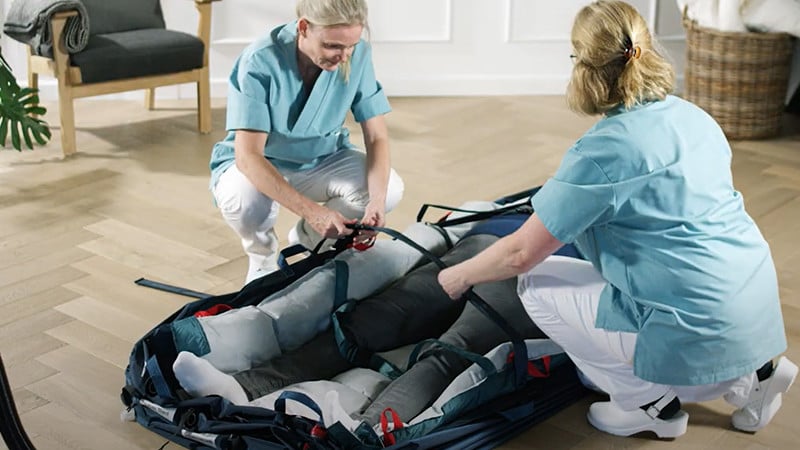 HoverMatt SPU & HoverJack - Move a person from the floor
The HoverJack Air patient lift, together with the HoverMatt, is used in the event of a patient fall to gently lift the patient in a supine position from the ground back up to bed or stretcher height.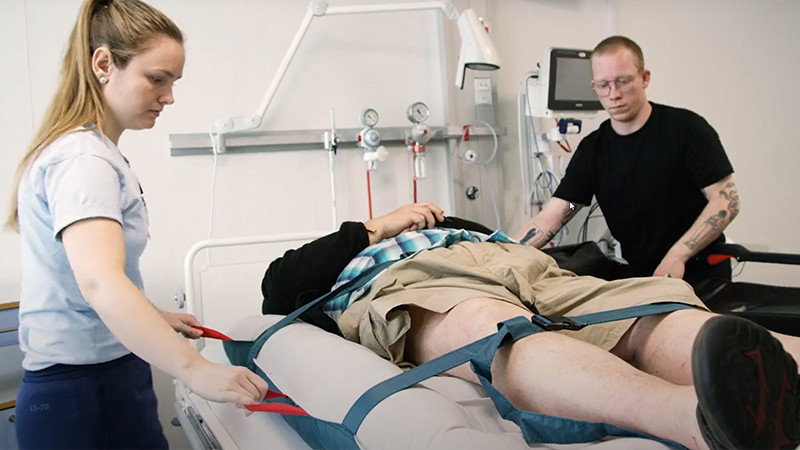 HoverMatt SPU - Ambulance paramedics arriving with a patient at the hospital
The HoverMatt SPU can follow the patient into the hospital and be used for the first lateral/horizontal transfers without any pain for the patient or strain for the hospital staff. The HoverMatt Spu can stay under the patient after transferring to an X-ray, CT or MRI scanner.