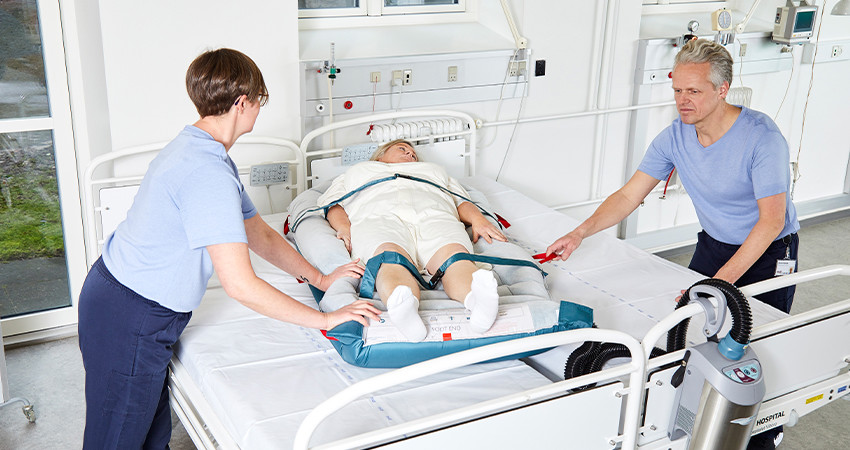 Benefits of HoverMatt Air Transfer System at Danish Hospital
By using the HoverMatt Air Transfer System, the two operating room departments at a major Danish hospital have been able to increase patient safety and comfort, free up time required for patient transfers, and reduce work-related injuries.
The case
In 2021 Etac was contacted by the work environment consultant at a major Danish hospital in East Jutland, regarding challenges with lateral patient transfers from operating room tables back to hospital beds. In several cases, the patients were unable to help in the lateral transfer, for instance, due to spinal anesthesia. This meant several staff members, sometimes four or five were required to support the transfer to the hospital bed. These transfer procedures are associated with several issues and potential risks, for instance:
Pain, friction, and skin shear for the patient
Attrition of employee's musculoskeletal system
Occupational injuries
The hospital ward had until this point used aids such as slide sheets and sliding boards, which had had some supportive effect, but was now looking into improving and optimizing the transfer process.
What did Etac do
Etac started by identifying which specific situations and patients were most in need of an optimized process. The outcome was to focus on cesarean section patients and Etac recommended to utilize a Single-Patient Use (SPU) Air Transfer System, which makes transfers, positioning, and proning easier for healthcare professionals while protecting patient safety.
After a successful period using the solution for cesarean section patients, the ward decided to expand the usage to involve other patients. Today the solutions are also used for instance for bariatric patients, hemiparesis patients, alloplastic patients, and special vascular surgery patients.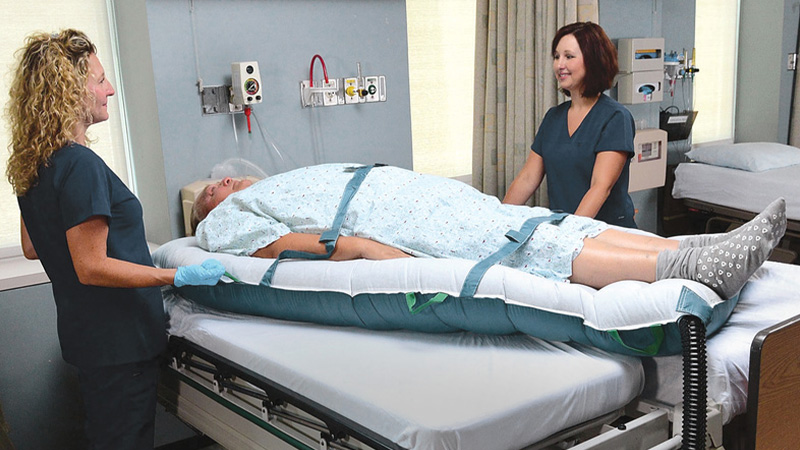 The outcome
The utilization of HoverMatt SPU Air Transfer System has reduced the number of staff members needed for the transfer from operating table to bed, which has resulted in more optimized usage of staff resources.
Words from Operating Room Coordinator
"Using the HoverTech products three staff members are enough for all transfers; One anesthesia, one nurse and one porter. Before, transfers often required 4-5 staff members. This frees up staff time so that we can start preparing for the next patient faster, saving time between surgeries."
In addition to saving valuable time for the staff, the ward has also seen how the solution has contributed to reducing work-related injuries and increased comfort and safety for patients.
"This procedure prevents work injuries, and it is more comfortable and less painful for patients. We experience patients feeling safer and less stressed. It also makes it easier to place the patient properly on the operating table."
The HoverMatt Air Transfer System significantly reduces the force required for patient transfers
With the use of Air Transfer Systems a cushion of air beneath the inflated HoverMatt reduces the force required to move a patient by 80-90%, which enables caregivers to safely transfer patients without lifting or straining.
By reducing injuries related to lateral transfers and repositioning, the HoverMatt helps to improve staff retention while meeting legislative guidelines for safe patient handling.
Product efficacy: Initial sustained force comparison patient handling lateral transfer techniques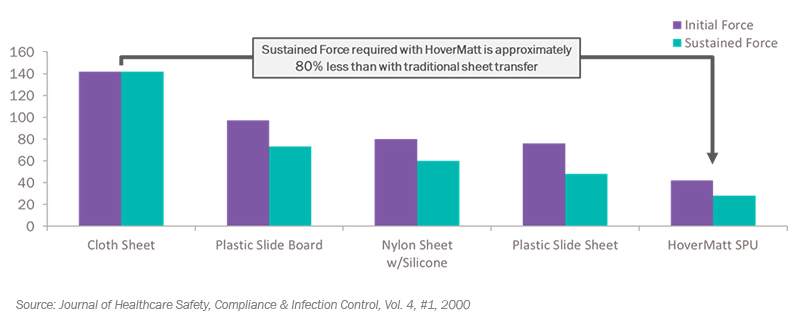 HoverMatt SPU Mattress
Advanced breathable textiles enable caregivers to confidently leave the product under their patients
Go to product page