A timeless mobile shower commode chair
Clean can best be described as an old classic. Or better yet, as the original. With multiple design awards and more than 20 years to its name, it's a best-selling shower commode that maintains its position to this day. The success has led to numerous copies and attempts to imitate, but Clean remains the original.
At the same time, Clean is more relevant than ever. As the population grows increasingly older, the need for smart bathroom aids has never been bigger. This might explain why Clean is still on top of its game. With a slim, hygienic and manoeuvrable design, it meets the demands of care facilities as well as home environments perfectly.
Go to product page
An innovation of its time
Clean was released in 1999, the same year as the Euro was introduced as a currency and PayPal was deemed one of the worst business ideas of the year. At the time, it was one of the first mobile shower commodes with a rear-opened seat. The launch was a result of a close co-operation with rehab professionals as well as industrial designers, and set a new standard for mobile shower commodes to come.
But true to Etac's principle of always striving to do better, we did not settle there. Like with all our products, Clean has been continuously improved over the years, and throughout that process we have always made sure that the classic Clean, remains a modern Clean. But how does that translate into the future?
Ready for tomorrow's challenges
The United Nations projects that 20% of the world's population will be over 60 years old in 2050. Today that number is 12%. As people grow older, they will increasingly be cared for in their homes – a forecast that has a vast impact on the requirements of future bathroom aids.
Assistive devices will need to fit into confined spaces and be manoeuvrable in domestic settings. Functionality will have to be more intuitive, as aids will progressively be operated by users, their relatives and varying care staff. With more caregivers working in home environments, ergonomic working conditions will be even more crucial. Sustainability will also be vital, requiring products with maximum life expectancy, that can be reconditioned and re-used. These trends make us confident that Clean's success to date, will continue in the future.
The characteristics of Clean
Mobile shower commodes need to be versatile as they are used when showering, over toilets as well as by wash basins, and for transportation to and from the sanitary room. Clean has been developed with attention to every single detail, so that users and carers will have a positive and safe bathroom experience.
One of Clean's most significant traits is its great manoeuvrability. With a width of only 50 cm, it can easily go through doorways and fit where space is scarce. The wider push handle provides improved grip for caregivers, making the chair extremely easy to operate. The seat has a rear opening to facilitate access and is comfortable due to its anatomical shape. The Clean family consists of three models, each with unique features to enable the best match to varying users.
Essential product features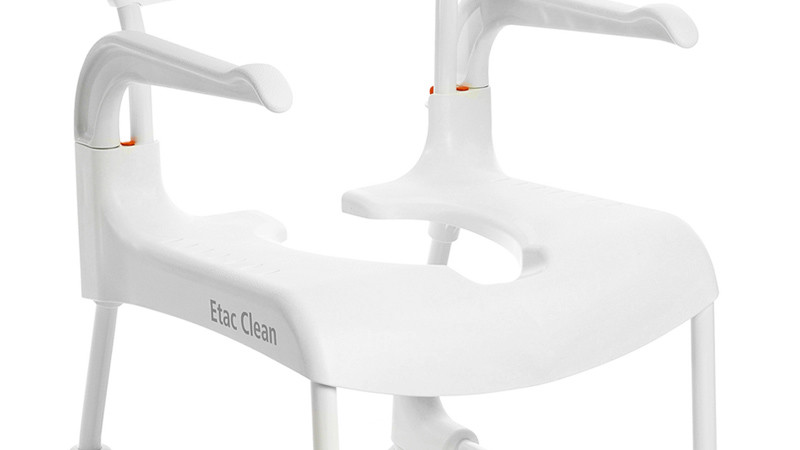 Exceptionally hygienic
Clean is the only chair on the market with a one-tube frame, which means there are no weldings or exposed screw heads. These qualities are particularly hygienic as they simplify cleaning and prevent corrosion. With a strong and durable design, Clean lends itself well to reconditioning and reusage.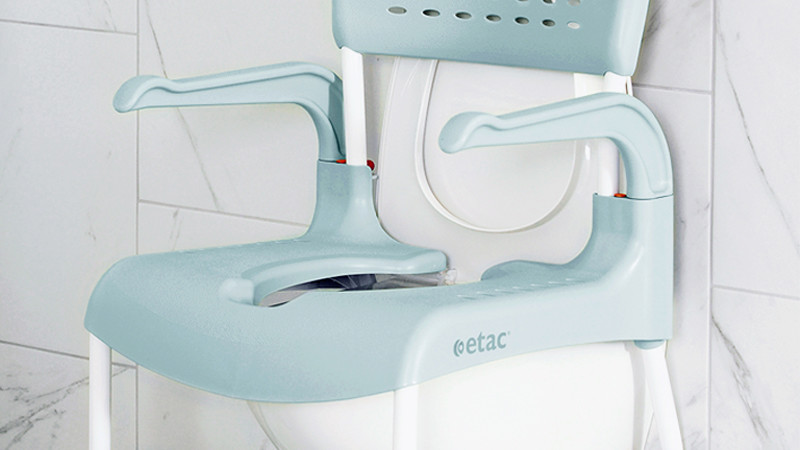 A tight fit over various toilet models
Thanks to the operating handle's upright position, the chair can be placed flush to the wall. This makes Clean a perfect fit over wall-mounted toilets as well as floor-mounted models. While neat in size, it is also roomy, providing a large and comfortable seating area that accommodates different body shapes.
Ergonomic and comfortable footrest
Users of mobile shower chairs usually sit barefoot, which is why we've paid extra attention in designing the footplate. It is softly curved to provide good comfort for the feet, which are also protected by the side supports. The one-piece footrest is unique and can easily be stowed away under the seat when not in use.
Defined by relevance, not by age
So, how many products can you think of that are still relevant after more than 20 years? By today's standards, the Euro is by all means a valid currency, but few people would describe PayPal as a poor invention. Ultimately, we can only know what worked and what didn't with the advantage of hindsight.
A common notion is that a classic is constituted by the length of its history, when in fact, "old" usually amounts to obsolete. From our perspective, a classic is not defined by how long ago it was invented, but first and foremost by how long it stays relevant. Let us introduce you to the Clean. Sprung from the 90's, fit for the future.