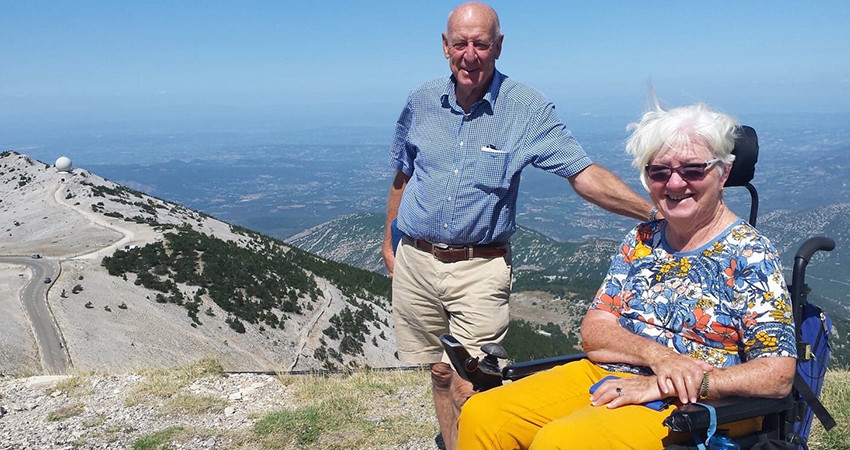 Meet Liz - a world traveler
Meet Liz Love, 78 years old and C5.C6 incomplete quadriplegic but most importantly: 'world traveler'.
Liz and her husband Arthur Love, now retired school teacher and engineer from Newcastle, Australia, have always been enthusiastic travelers. Their trips have taken them to many spots across the world, and for a few years they also lived in Vancouver, Canada.
In 2015 when Liz suffered an accident and became C5.C6 incomplete quadriplegic, the couple did not have high hopes of maintaining their active and adventurous lifestyle of travelling the world. The following year they received a Molift Smart 150 and the mobile hoist quickly became a loyal companion in their daily life.
"We use the hoist every day for about 6-10 lifts and transfers. We don't only use it at home in the house, we also bring it with us, for example to the dentist's office to make sure that Liz can get into the dentist's chair."
The hoist has become an integral part of maintaining Liz's quality of life on a daily basis, but the question still remained if the couple could continue fulfilling their passion for traveling the world?
In 2017 they set out for their first trip abroad since the accident, and they did not hold back.
"We did a 100-day round-the-world trip, including four weeks in La Ciotat in the south of France, four weeks in England, a ten-day Norwegian cruise, two weeks in Montreal, one week in Vancouver followed by a seven-day Alaska cruise."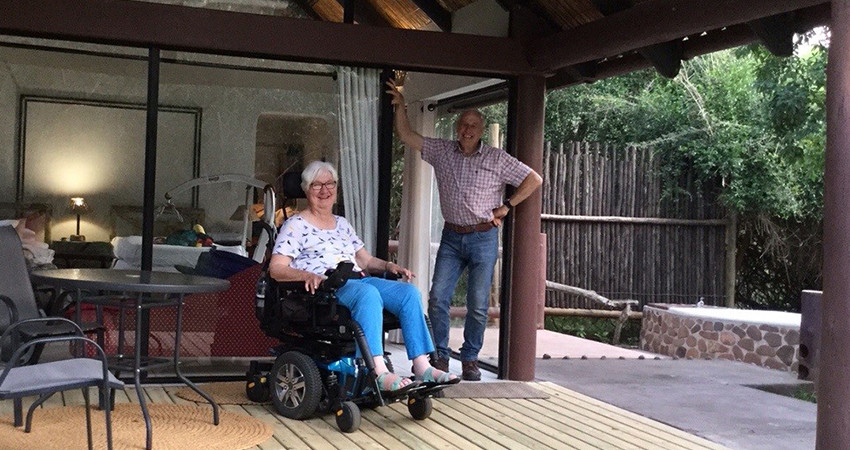 Liz and Arthur say it was a big step to prove to themselves that they could still do the types of trips they love - and they most certainly did! The next year they went to South Africa for a two-week safari with a company that specializes in wheelchair clients, and in 2019 they returned to La Ciotat in France where they have friends.
When we asked what role the Molift Smart 150 has played during these trips we got a swift response:
"Without the hoist we would not be able to go on these trips. It's an essential part of every trip we make. It's light for travelling and fits into our allowed baggage along with my wheelchair."
So where are Liz and Arthur now? You guessed it, after a two-year travel break during Covid they are once again back in La Ciotat, France.

Etac's mindset is to create possibilities, and we are proud that our product is playing a role in enabling Liz and Arthur to follow their passion for travelling the world.

Molift Smart 150
Molift Smart 150 is designed to be easily wheeled and transported to where it is required. It is designed for home care, travelling and easy storage. Molift Smart 150 is foldable in one piece without using any tools.
Go to product page