R82 Pondus
Pondus is a digital product from R82 and consists of two plates and the Pondus app.
It is a tool used to assess the force applied during standing in one of the R82 standing frames. Pondus will allow caregivers and healthcare professionals the possibility of getting real-time readings as well as post-use readings to better learn and understand what weight-bearing has occurred during setup and standing session of the child.
Pondus gives you individual readings from the right and the left plate telling you how much force is applied to each plate by combining high frequency data from three pressure sensors in each plate. The data is displayed in the app as a time series graph and can also be exported.
This will allow for reflections on how to use and adjust the standing frames to accommodate the individual child. It provides a tool to objectively measure the effects of adjustment actions and product positioning and whether the same degree of alignment is achieved throughout the entire standing session.
Discover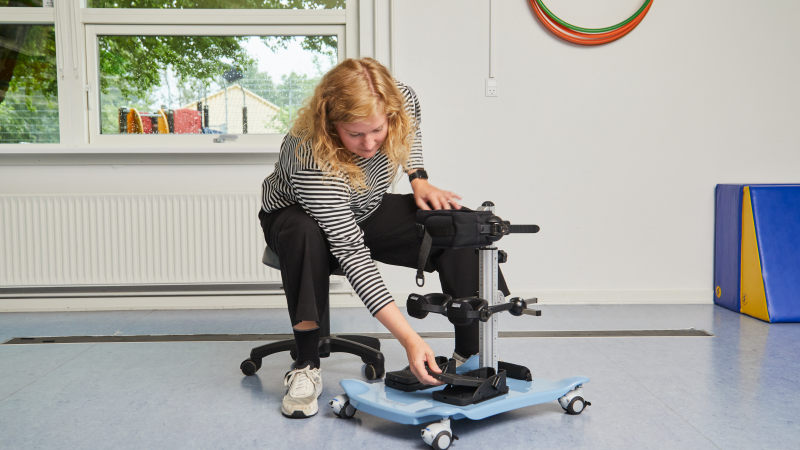 Pondus workflow in app - Video
A video guide to help you through the workflow with the Pondus plates and the app.
Support positioning in a standing frame
Get real time feedback on the force applied through the Pondus pressure plates. This provides objective assessment to reflect on the settings and position of the standing frame that affect the weight-bearing.
Objective evaluation of the standing session
Evaluate the recent standing session to see what kind of weight-bearing has occurred. Two data options, either a fully detailed report on your mobile device or exported as pdf or .csv to access the raw data input.
Compatible with all R82 standing frames
Easy and guided mounting using adjustable sandals available for all R82 standing frames.
Easy application of Pondus
The two plates are easy to use and install in any R82 standing frame. Download the app, select the plates to use, choose the standing device and begin the standing session with the child.
| | Size 2 | Size 3 | Size 4 |
| --- | --- | --- | --- |
| Item number | 860002 | 860003 | 860004 |
| Height, vertical (mm) | 20 | 23 | 26 |
| Length (mm) | 190 | 245 | 295 |
| Maximum rated load (kg) | 120 | 120 | 120 |
| Maximum user mass (kg) | 120 | 120 | 120 |
| Width (mm) | 105 | 138 | 150 |
Documents
Download of user manuals are intended for expedient purpose only. The products in reference may be subject to change without prior notice and reader's discretion is advised to ensure coherence with product version and article number as well as the appropriate translation.