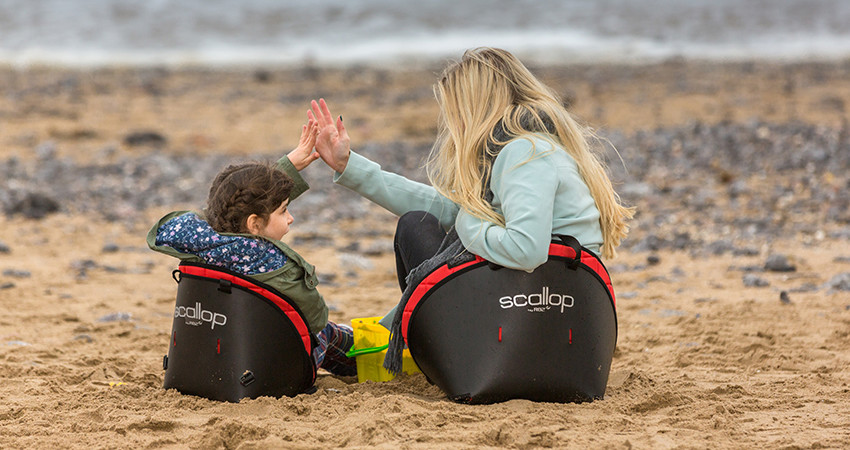 R82 Scallop is a versatile and portable product for floor sitting
R82 Scallop The Scallop is designed to aid in floor sitting and to add extra support whilst sitting on a chair.
The Scallop is designed to aid in floor sitting and to add extra support whilst sitting on a chair. It is used by children and youngsters with mild to moderate disabilities. This lightweight, portable, and versatile product is the perfect aid to enable participation in everyday activities with comfort, support and ease.
The Scallop comes in four sizes and can cater to infants from 9 months right up to adulthood. There are two playful colour combinations to choose from, Red & Blue or Green & Grey. Whatever combination you choose, both cushions can be removed from their shells and machine-washed at 60° for easy cleaning. The Scallop allows users to move while being seated and supported. It provides stability without preventing movement. Whether you are going for a picnic in the park, learning in school, the Scallop is the perfect product to bring along.

Case stories about R82 Scallop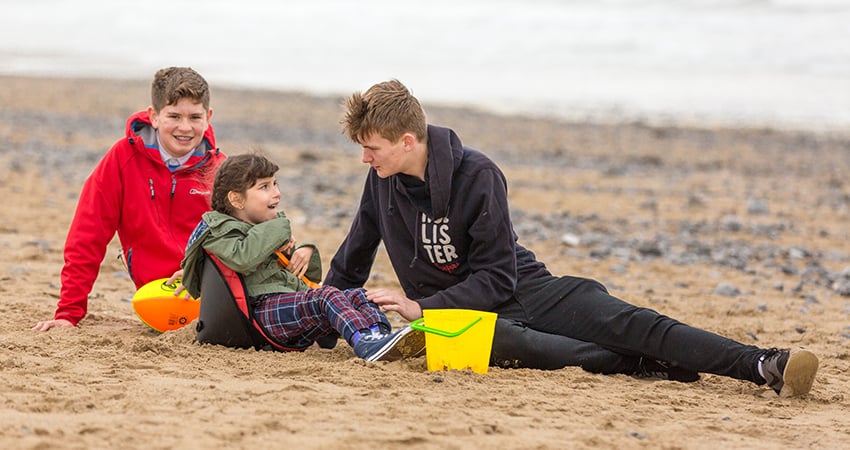 Evie's case story
Meet Evie, age, 7, Cerebral Palsy (ATNR hypertonia with extensor spasms) Spastic quadriplegia
We had the great pleasure of meeting Evie Hopkins from Swansea, Wales, where the Scallop originally came from. Evie had been using the Scallop for 3 weeks, during this time Evie has used the Scallop in a variety of places and situations.
Evie's mum, Karen, tells us all about their experience with the Scallop.
Evie's diagnoses
"My daughter, Evie was diagnosed at four months old with cerebral palsy, spastic quadriplegia. Evie has total body involvement, with her right side being more affected. She is unable to sit independently and whilst this is a target for her, she flexes when her legs are crossed or when you take support away from her, when sitting. This results in Evie being unable to maintain position and she tips over to the side; which affects her confidence when trying to sit independently. It's a vicious circle of lacking confidence/heightened anxiety – flexing/extension and tipping over.
Great strides
Evie has made great strides when one considers her starting point – her prognosis was that she will be unable to walk, communicate through a computerised aid, be fed through a tube and be unable to toilet/sit/walk …
Evie has achieved many of these feats; yet sitting independently has yet to be accomplished.

Being part of the fun
Evie's communication skills are well developed and her desire to actively participate in all around her is high. Whilst we are able to facilitate some inclusion, Evie feels that she is unable to be fully included in many activities that are important to her, such as playing board games at the table, the PS4 (FIFA football) on the floor and small world play. Going for meals tends to involve Evie sitting on the end of a table due to limited room for manoeuvring her wheelchair.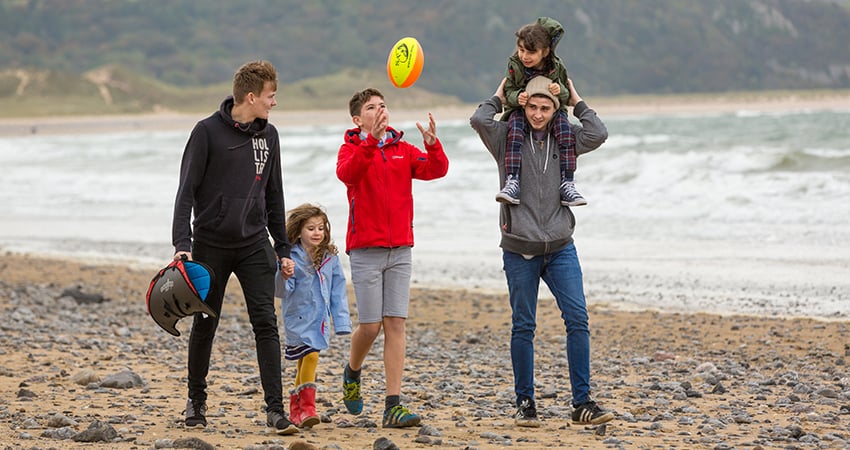 Outdoor adventures
Although we live by many beautiful beaches and are a family who enjoy water sports and beach activities, we don't tend to visit the beach as much as we used to or like to; because it's a bit boring for Evie since most of the time an adult has to prop her between their legs. We are then unable to play with Evie to the degree that would be beneficial to her – building sandcastles, digging etc. The alternatives we have previously tried, such as sitting Evie on a child's beach chair have resulted in Evie toppling over when she reaches to do something.
Scallop a life changer – FIFA has never been this fun
The introduction of the Scallop to facilitate Evie's inclusion has been life changing for Evie. She is now able to actively participate in many activities which weren't previously possible. She sits in the scallop on a normal chair at the table and plays board games, Playmobil small world, playdoh, colouring … with her brothers and sisters. Evie loves playing FIFA with her brothers and for the first time ever, she sits on the floor with confidence. Evie is able to concentrate on what she is doing rather than worrying and panicking about whether she is able to maintain position.
More engaged and at eyelevel with peers
Evie has used the Scallop in school and it is particularly useful during circle time and music. Previously, Evie would be sitting in her wheelchair or specialist seat (which looks like a baby's highchair) and would be on a higher level than her peers, who would sit on the carpet. Now Evie is sat on the floor with her peers, playing instruments, talking … which makes her feel fully included. The school reported that Evie "Is more engaged".
Party time
Evie is a popular child in her class and is invited to all birthday parties. Previously I have had to vet the venues for access and particularly the seating arrangements. Whether Evie is able to attend the party or not is based on my findings. Recently, Evie has been invited to two birthday parties, one at the cinema and one more traditional, at her friend's home. Evie used the Scallop in both. The more limited room in her friend's house was not an issue (previously, Evie wouldn't have attended) since she sat at the table with her peers in her Scallop. Evie has been invited to cinema parties before and whilst she was able to attend; the seating for people with a disability is in different areas, she would be sat away from the majority of her friends. Evie was able to sit in her Scallop in amongst her friends.
Eating out
The Scallop has been particularly useful when eating out. It is so lightweight that it is very portable and easy to take. In Restaurants, Evie's wheelchair is too low for her to access the table, cutlery, food appropriately. The Scallop resolves this issue since Evie is able to sit in the Scallop in a normal chair, where she is at the correct height to eat.
Interacting as we've always wanted to
Taking Evie to the beach is now an absolute pleasure because I feel it is purposeful for her now. She is able to sit in the Scallop and we can sit in front of her, interacting as we've always wanted to, in the way in which we have been able to do with our other children – building sandcastles, knocking them down with pebbles, digging etc. is easy now since we don't need to concentrate on supporting Evie in sitting.



Evie's thoughts
Evie reports that she "Likes sitting up on her own!" (Without us physically supporting her) … "Because I can do it myself and don't need you to do it for me!"
Evie's favourite thing about the Scallop is "Sitting on the floor playing FIFA with Joseph and Ethan".
Evie shares "I like taking my Scallop to school because I can sit close to my friends!"
It's the small things
It's the seemingly small things that make life easier for disabled children and their families. I think the Scallop fits into this category. It's not expensive, it is lightweight and portable; meeting its targeted need excellently. We will definitely be taking it on holiday with us next year!"


_______________________________________________________________________________________________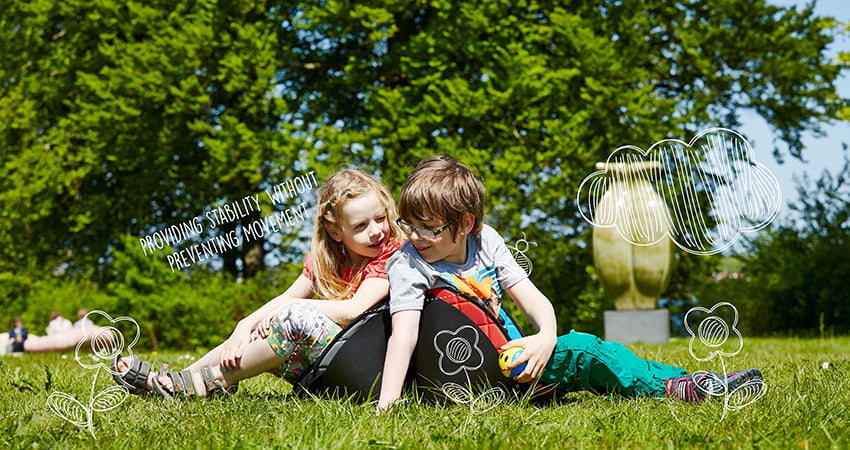 Kristoffers case story
Read how the Scallop made an instant impact on Kristoffers life.
Kristoffers' story (Age 10, Cerebral Palsy)
We had the pleasure in visiting Kristoffer at his school to try the Scallop. Kristoffer is a wheelchair user and finds it very difficult to sit on the floor. He relies on leaning forward in a rounded shape to keep himself balanced and finds it extremely difficult to do activities with his hands without falling backwards.
On our visit we played a game of catch with Kristoffer while he was sat on the floor without any aid. Kristoffer was unfortunately unable to play catch without falling backwards when he raised his arms to catch the ball.

"Can I take it home?"
Kristoffer

"Kristoffer is normally very nervous of new products. I'm suprised how well he instantly took to the Scallop."
Kristoffer's therapist
"Can I sit back in that seat?"
Kristoffer
We then offered the opportunity for Kristoffer to try and play the same game of catch while using a Scallop. Kristoffer sat in a size 3 and the results were fantastic! Kristoffer was not only able to catch the ball but also throw it back. Kristoffer sat in the Scallop comfortably and had a great time playing ball.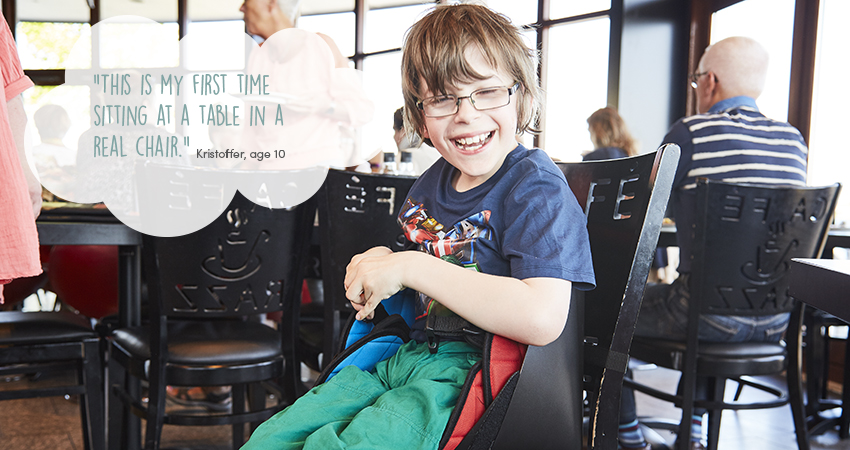 The Scallop offered Kristoffer the support he needed without preventing his ability to move while sat in the product. The Scallop gave Kristoffer, who is normally very nervous of new products, confidence to reach up and catch the ball without fear of falling backwards. Kristoffer was very vocal about his experience using the Scallop.
The Scallop provided Kristoffer the opportunity to play on the floor with confidence for the first time!

Dining with the Scallop
We later met Kristoffer's family, his mum, his sister Kirstine and his friend from school, Daniel. The whole family took the Scallops out for a test drive! They first visited a restaurant where for the first time Kristoffer was able to join his family at eye level around the table sat in a chair. This was a fantastic and emotional moment for both Kristoffer and his mum. For the first time Kristoffer was given the freedom and confidence to feed himself and join in with all the fun around the table.
As the scallop is extreamely lightweight, it was easy for mum to pop the product over the handle bars of Kristoffer's wheelchair and move about easily. The family then embraced the sunshine and went to sit in the park for some ice-cream. The whole family was able to sit together in their own Scallop to relax and Kristoffer was able to play ball with Daniel and Kirstine with confidence.
_______________________________________________________________________________________________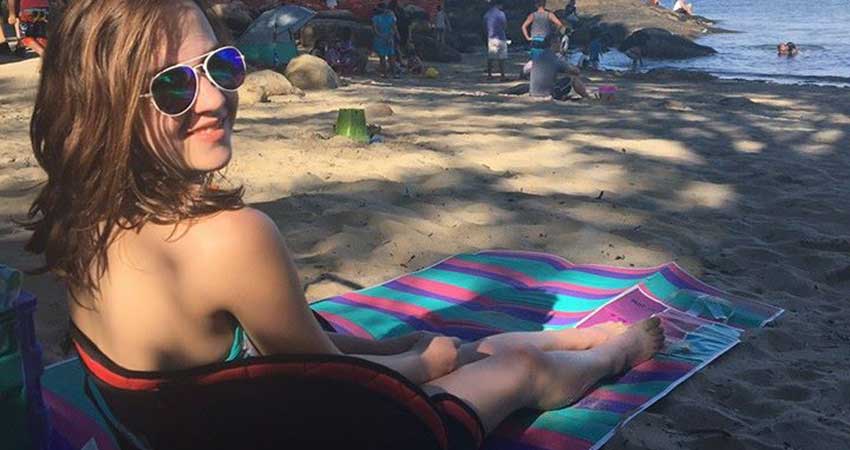 Sara's case story
Read about the Scallop helping Sara with her invisible disability
At first glimpse Sara looks like your everyday teen. Slender, tall, pretty, Sara loves the outdoors as much as she loves museums and making music with her band where she plays guitar. What you don't see is that she lives with an invisible disability.
Most days, Sara appears happy and healthy, and no one could guess that she lives with a metabolic neuromuscular disorder. Her condition results in low muscle tone and weakness, and inability to maintain adequate energy throughout the day. Sara cannot sit unsupported for a length of time. Her core strength is weak and she tires too quickly. When she does, she uses her Convaid EZ Rider to rest.
Enter the Size 4 R82 Scallop
All summer long Sara and her R82 Scallop have been inseparable as it provides just the right amount of support to keep her from tiring. It is also an attractive seating aid that doesn't draw attention.
It has, however, been the subject of curiosity along the Eastern Seaboard where Sara and her family have enjoyed summer holidays. The R82 Scallop's extreme pliability and bright colors blend right into a vacation landscape. Then, when the R82 Scallop quickly and easily folds into an unassuming tote – a feature that doesn't scream special needs – it makes it easy to carry along for quick and easy seating with a hint of support, enough to keep Sara comfortable and conserving energy.
Sara uses her R82 Scallop at home, at the beach and at the park
An avid reader, Sara particularly likes to use her R82 Scallop while reading or for sitting, such as when she plays video games (rumor has it that she is pretty good), floor sitting and especially outdoors.
The R82 Scallop has accompanied Sara on trips to the beach and outdoor concerts in the park, replacing the need to drag along a heavy beach chair.
Mom Alexis says, "The R82 Scallop is a wonderful piece of adaptive equipment that blends in seamlessly into any environment and doesn't make the user stand out as different-something that's very important for a teenager entering high school. Yet what sets it apart from others is its surprising amount of support. We have tried other floor seaters over the years which just didn't have what it takes to hold someone with weaker core strength upright. Most others fell short and allowed Sara to collapse backward. The R82 Scallop has just the right amount of support to keep Sara sitting comfortably for long periods of time without zapping her energy."
On a mission to build awareness about invisible disabilities
Because of Sara's condition, mother and daughter have become avid advocates on a mission to build awareness about invisible disabilities.
"Ninety percent of all disabilities are not visible. Millions of Americans live with chronic illnesses and physical limitations. But despite these alarming numbers many people living with these invisible disabilities are continually judged because they look so healthy. In many ways I'm glad that you do not see my child's illness, but just because you can't see it doesn't mean it's not there" says Alexis, adding that, "The R82 Scallop has made this summer easier and more fun for Sara, it's a great seating aid and wonderful addition to line of products available at R82 for people living with all types of disabilities."
_______________________________________________________________________________________________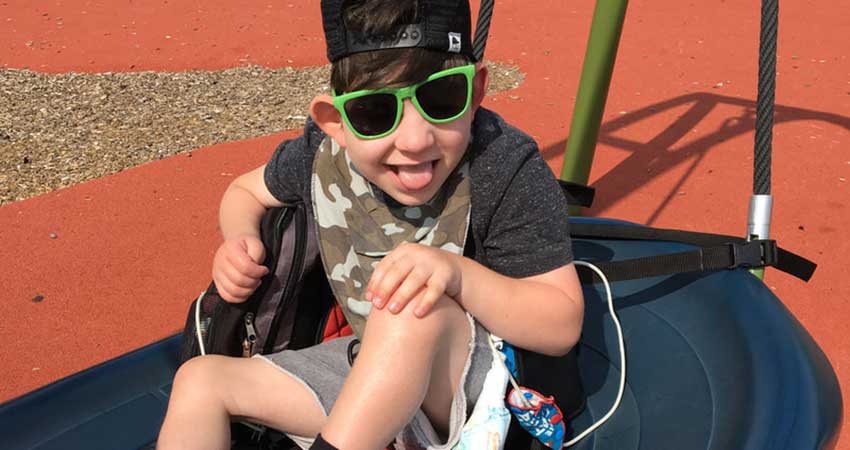 Silas's case story
Read how the Scallop helps Silas in his everyday life.
Our friend Silas got his Scallop today and it looks like he loves it! That huge smile says more than words!
Melly Brown, the mother of Silas blogs about the nitty gritty, raw truth about raising a child with special needs. She also reviews some of their favorite products and guess what…..the Scallop by R82 has been featured!
"With the use of the Scallop on the platform swing Silas was able to swing fast side to side, upright, without me having to sit with him holding his weight. That was one of our most favorite spots we have used the Scallop so far!"
Read the full blog here: http://www.silassaga.com/product-review/scallop-by-r82
_______________________________________________________________________________________________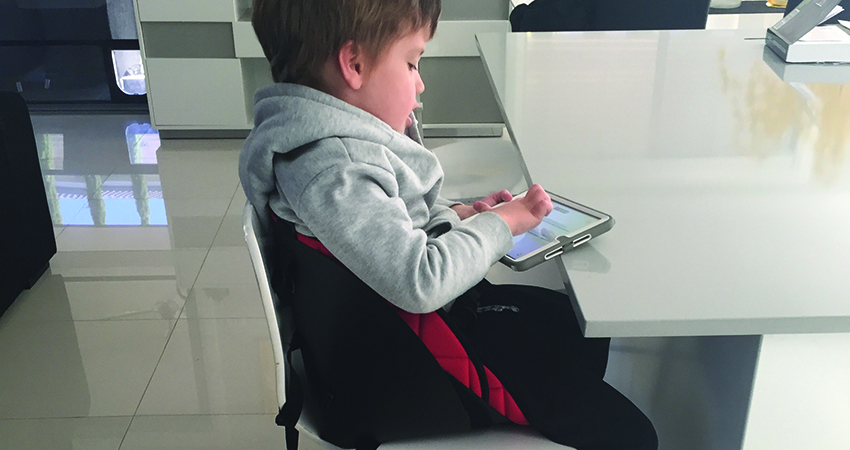 Jonah's case story
Read how the Scallop helped Jonah getting a better posture during meals and quiet time
Scallop took a trip Down Under to Australia to visit Jonah. Jonah's father, Tim, tells us about their experience using the Scallop.
"Jonah is very active and is always running around with his favourite toy, his iPad. Keeping him still and in a good position can be very challanging, however, he is a sensory seeker and loves feeling secure. When we tested out the Scallop, we used it in the two places he loves, which was our toy room and also on the kitchen stool where he eats all his meals.
When Jonah plays in the toy room he is often on the lounger or sitting on the floor in a 'w' seating position which is not good for his hamstrings, hips or knees. Due to his low tone and hypermobility, he usually has poor posture and trying to correct this is challenging as he is constantly moving around.
As soon as we placed Jonah in the Scallop he seemed very content and comfortable. He never wanted to get out of it and was even a little upset when we uncliped his belt. He sat in it well and liked the feeling of the sides of the shell wrapped around him as it made him feel secure and snug.
"The portability of the Scallop is great, it enables us to bring it along to help Jonah sit well. It is a fantastic help when eating meals around the table and helping him to feel secure."
Rebbecca & Tim, Jonah's parents
"We all loved the Scallop!"
Rebbecca & Tim, Jonah's parents
"He never wanted to get out of it"
Rebbecca & Tim, Jonah's parents
When Jonah sits on his stool for meals, he is always on his knees or moving around constantly. It is often difficult to keep him still and distractions often get him up off the stool. Once we placed him in the Scallop, he immediately dropped his legs down and sat contently with great posture whilst playing on his iPad. During meal times this is a perfect solution as he is able to sit happily and not run off during his meal times.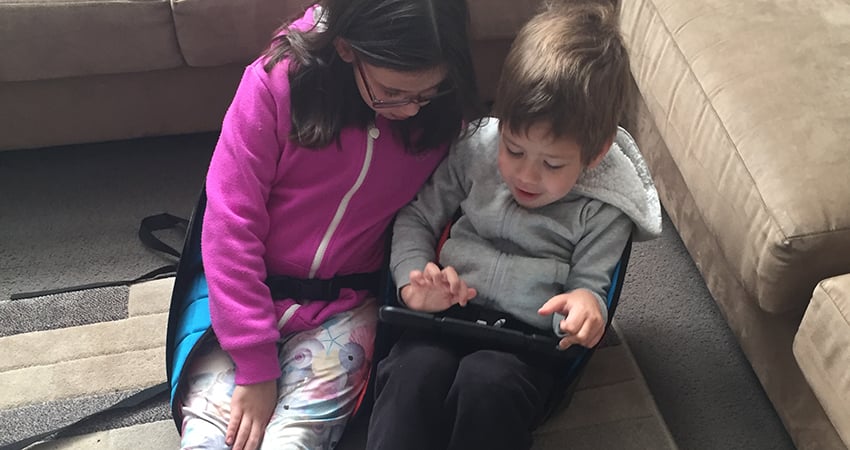 It was also a great opportunity for his sister Samantha, 8, to sit with him and play with the iPad as well. I can see a lot of versatility for the Scallop for Jonah and also Samantha. It can be used all around the house whilst playing and also helps during meal times. Often this is difficult as Jonah is jumping and running around and Samantha finds it hard to spend quality time with him."
_______________________________________________________________________________________________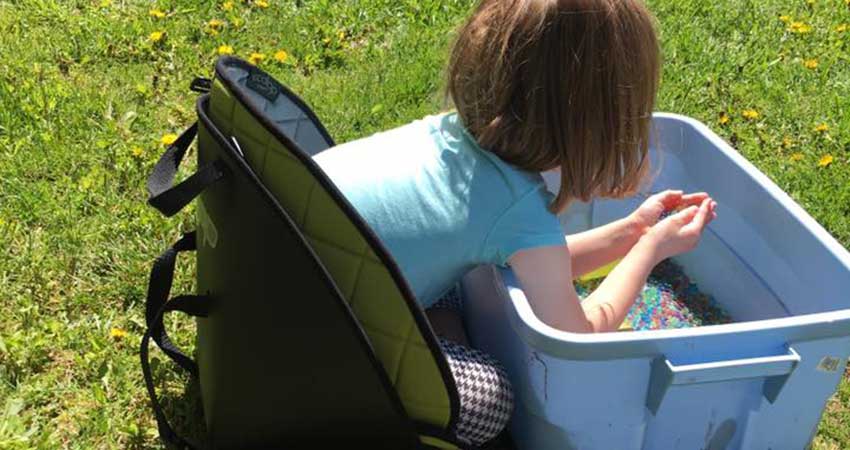 Teagan's case story
Read how the Scallop allows Teagan to participate in everyday events in school and at home.
"I am Loving it for her! Typically if Teagan floor sits it is in the 'W' position which is awful for her already dysfunctional joints! She would not have the stamina or stability to floor sit for any length of time before this position or just laying down and head propping! This chair will provide her that stability and offer her joint protection!"
"She has a large amount of involuntary movements between her Autistic Stimming and Dyskinetic movements and I love the way she can do them all freely while not worrying about her hitting her limbs off of hard equipment frames typical to SN seating!
Excited to try it out and about with Teagan too with how compact and light it is!"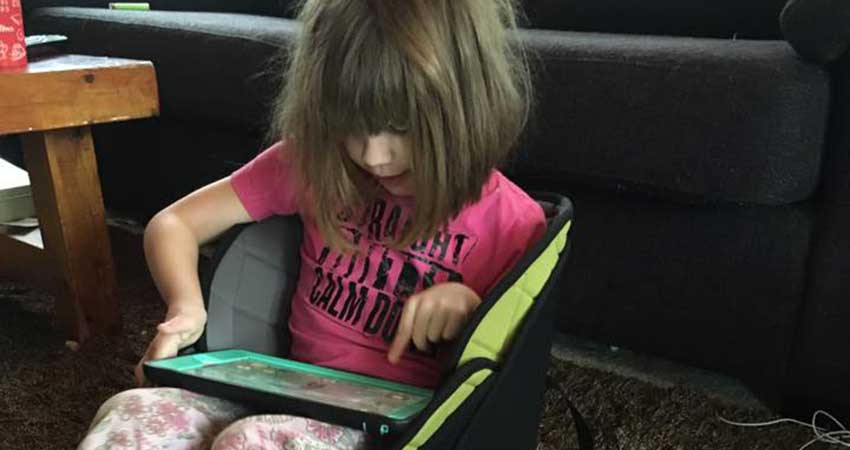 "My other favourite thing is that typically for floor time at school, Teagan would be in either a Cube chair, her wheelchair or activity chair, none of which actually sit flush to the floor to actually be at her peers level, which is important to us for inclusion, I love that it is so discreet, On the floor to allow for Full participation!"
Ashley, Teagan's mother
R82 Scallop
The Scallop is designed to aid in floor sitting and to add extra support whilst sitting on a chair.
Go to product page
Please note
A case story is used to show an individual product solution and the experiences related to its use.
The configuration and use of the product, including its accessories is determined based on the preferences of the user, their healthcare professionals, the environment, constraints and local market-specific preferences. The case story is only a supplement to the product's manual/assembly instructions and does not in any way replace these instructions. Products, sizes, configurations, accessories shown might not be available on all markets. Please contact your local sales organization for updated information on availability in your country.