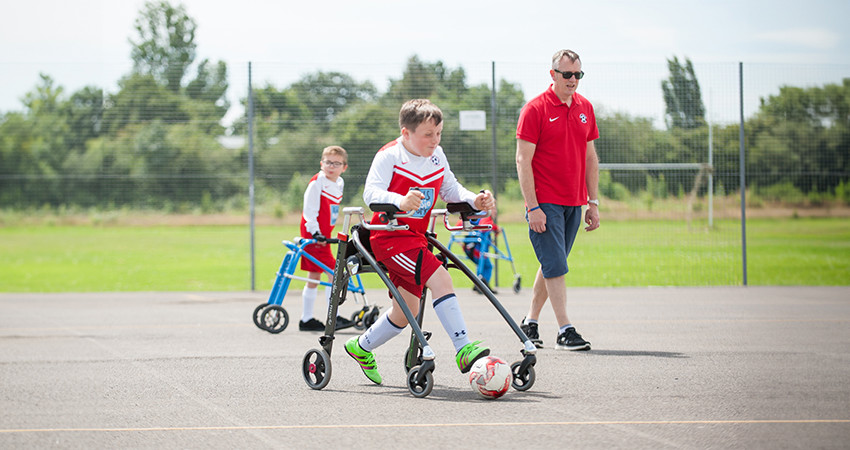 Etac's 2nd anniversary donation
Sponsoring the Dutch national frame football tournament for children with reduced mobility
We are glad to announce the second recipient of our 50th anniversary donations. This contribution of SEK 50 000 goes toward a frame football event in the Netherlands, providing a day filled with sports, fun and comradery for football-loving children.
On October 29th, it is time for the 2023 National Frame Football Tournament in Amsterdam. The event is organized by the Dutch football association, KNVB, and welcomes children from frame football communities and rehab centres around the country to participate.
As the main sponsor, Etac has worked together with the KNVB to put together an exciting set of activities for the participants.
The tournament will include five different playing fields with games such as precision shooting and dribbling through an obstacle course. Lunch will be available for attending children and their parents, and each football player will receive a goodie bag at the end of the day. Etac employees will also be volunteering to assist on site throughout the event.
What is Frame football?
Frame football is an adapted and inclusive form of football, designed for people who would normally use a walker or crutches.
The basis of frame football is the same as in regular football. It is played according to FIFA rules, but with some adjustments to the rules due to the use of a frame.
We are really happy to see our second donation go to the Dutch frame football tournament! Promoting activity and participation for children is especially close to our heart, and we are glad to be able to contribute to making football accessible for more kids. We wish everyone a great day on the 29th!
More about KNVB frame football
About Etac's donations
In connection to our 50th anniversary, we will make donations amounting to SEK 250 000 this year. This is the second in a series of five, and the contributions will be earmarked for organisations who work to encourage participation, inclusion, and engagement in their communities. Remaining recipients will be announced continuously, so stay tuned for more information throughout the year.