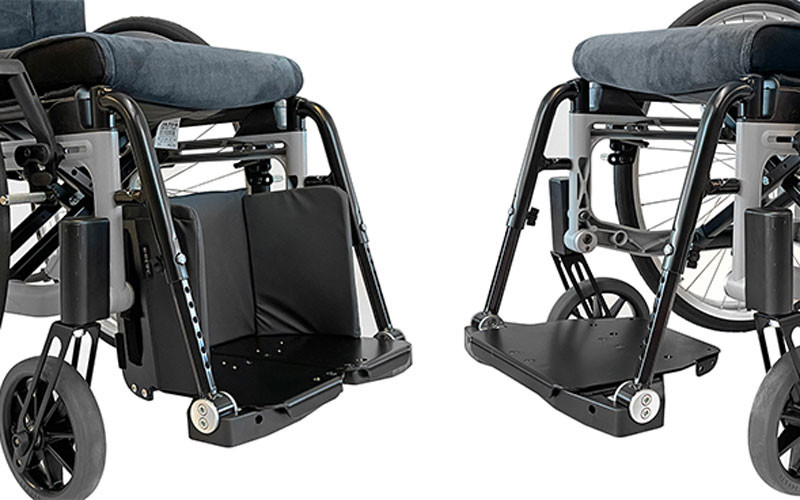 Add-On foot plate system
The Add-On foot plate system encourage movement in your feet.
By moving your feet, even if it´s small movements, you promote blood circulation and you´ll get activation from your hips down, which helps to avoid agitation, pain and discomfort by being too still, while sitting in a wheelchair. Small movements can especially be beneficial to an individual who has always previously been walking.
The Add-On foot plate system consists of a foot box, extended foot supports, a distal thigh support and a side protection for the foot plates to keep the feet from coliding with the castors.
They are all available as separate accessories. The foot box and the foot plates are available in different sizes.
Add-On Foot box
The foot box provides padding to decrease pressure when the feet are vulnerable. It is a gentle aid to help position the feet more comfortably on the existing foot supports.
Go to product page
Add-On Extended foot supports
The extended foot plates comes in three sizes, small, medium and large.
Foot plates Medium and Large (left and right) can be used separate or in pairs. Medium and Large can be linked together as a platform.
Go to product page
Add-On Distal thigh support
The padded inside of the distal thigh support is mounted on to the leg supports helping to align their legs and to distribute the pressure when the knee is pushing against it.
Go to product page
Add-On Side protection
The side protection is mounted on to the Add-On Extended footplates, to prevent the foot from coming in to contact with the castor.
Go to product page