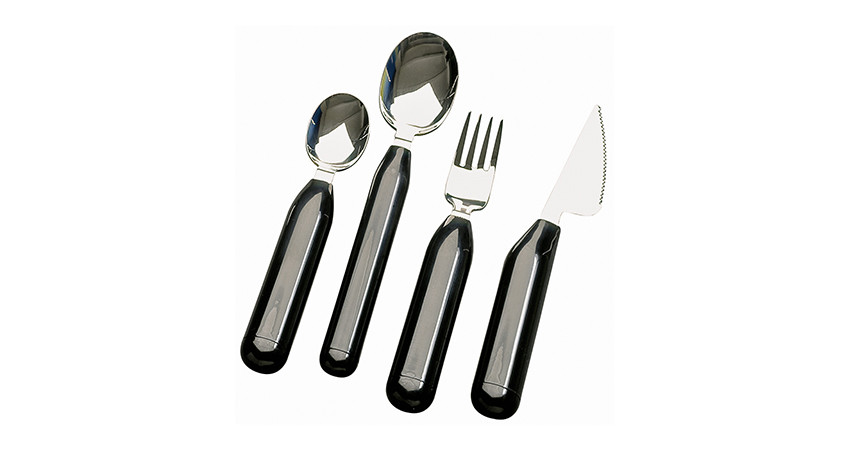 Etac appreciated for its form at Stockholm Design Week 2019
Part of Etac's success in quality is our focus on functional design. The ergonomic design features of Etac eating and drinking aids are exceptional and unique in the market. This would be why one of the organisers, Florensia Colombo, wanted to feature them in the exhibition "Creating atmospheres" at Stockholm Design Week (February 5-8 2019).
One of the designers of the featured products Etac Feed, Etac Tasty, Etac Light and Etac Relieve – Maria Benktzon – was contacted by the organiser.
Maria describes:
"Florensia got in contact with me after she had discovered the products at a Vitra Design Gallery exhibition. She liked their aesthetics and in particular that the cutlery had black handles. It's a neutral colour that's applicable in every environment or home. Even if you only have a few sets for the person(-s) that needs them for their functional aim, they can blend into both daily and festive table setup and look very nice."
The exhibition highlights the philosophy of Raami, Iittala's new dining collection designed by Jasper Morrison. Through "Creating atmospheres" Iittala addresses the concept of eating as form, interpreting the notion as both shape and as behaviour.
The two bring function and design together in a tasteful and exiting way, placed in a context of our human basic needs together with various objects with corresponding intentions of the Etac products previously mentioned, such as wooden eating sticks or air plane cutlery. Products with a forefront design that have set new standards and continuously contribute to today's designs as in the concept of this particular exhibition, namely that: Eating is form.
The concept and design of the exhibition is created by Ville Kokkonen and Florencia Colombo.