Why pressure mapping?
When placing a person on a preventive or therapeutic mattress, it is essential to ensure that the bedding material used does not adversely affect the mattress. At the same time, it is essential to consider the carer's workload, which may mean assistive devices such as sliding sheets are used.
We have carried out a pressure mapping to investigate whether in-bed systems have a negative effect on the function of a pressure-relieving mattress. A pressure mapping is a snapshot of the pressure of a particular person lying on a mattress during a predetermined period. The light blue colour indicates low pressure. The higher up on the colour scale, the higher the pressure the body part is exposed to.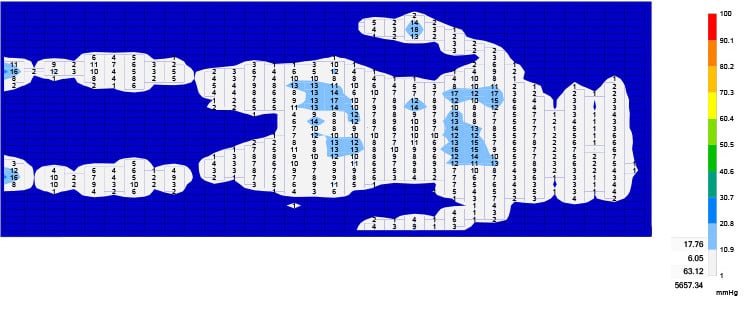 Example 1 - Air mattress without glide sheet
A person in a supine position on an alternating air mattress without a glide sheet.
These images show, regardless combination of Immedia in-bed system, almost the same picture of the pressure as when using the mattress without the in-bed system. A combination of an alternating air mattress and an in-bed system is thus possible without any significant change in the functions of the mattress. However, the in-bed system improves the working environment for the carers and minimizes shear to the bedridden person.
Get more insights about Immedia's in-bed systems and pressure mapping
Immedia pressure mapping folder
Above are just a few examples of pressure mapping with Immedia in-bed systems in combination with air mattresses. To get more insights and see the results with both foam and air mattresses, download the brochure or browse directly by clicking on the image to the right.
(PDF 32 pages, 3.5 MB)