A new range of unique positioning cushions
Positioning a bedridden person is a vital intervention, especially if they are not able to do micro and macro movements on their own. With the proper posture, the person can relax and experience fewer problems, e.g., pressure injuries, pain and discomfort, stress, anxiety, and depression.
LeanOnMe means "Support me". We want to support the patient to achieve rest and intact body functions, but also support the carer to achieve good working conditions. Immedia LeanOnMe can, through the easy-to-use cushions, provide support and maintain the ability to utilize the user's resources for repositioning and transfers.
The new Immedia LeanOnMe product range offers 13 positioning cushions in different shapes and sizes, which both users and carers can trust and rely on.
Who is LeanOnMe good for?
LeanOnMe is to be used when there is a need to support the body or protect exposed body parts when positioning a person who is unable to make micro and macro movements.
Especially the following individuals are at risk of pressure ulcers: bedfast, mobility limited, presence of Stage 1 or existing pressure ulcer, decreased perfusion, increased moisture and/or body temperature, poor nutritional status, advanced age, poor sensory perception, and general degraded health status.
Increase relaxation
Enclosing the user with positioning cushions stimulates the sense of touch and reduces anxiety, agitation, and anger, which can benefit the daily cooperation with the carer. Clear body awareness increases relaxation, focus, clarity of thoughts, positive energy, and a calm feeling.
Positioning cushions is an optimal therapeutic tool for those with self-harm, distressed or combative behaviour, or persons triggered by seemingly small stimuli in their environment, e.g., accidental, or unwanted touch.
Eco-friendly materials
LeanOnMe is produced with consideration of our footprint and ability to reduce waste. The cushions have a unique soft and skin-friendly surface made of sustainable and natural organic materials, making them very pleasant to lean on, even for users with sensitive skin.
The well-balanced filling is a mix of residual and recyclable material and provides the user with a stable resting position and enhances modeling ability. Both the textile and filling are very quiet, even for users with sensitive hearing.
Soft-touch or hygienic cover
All LeanOnMe positioning cushions are available with a soft-touch cover or a hygienic cover. Both are breathable, waterproof, and have a barrier against dust mites, bed bugs, bacteria, and fungi. Washable up to 80°C/176 F, or to be cleaned with a solvent-free cleaning agent, or a 70% disinfection solution.
Inspiration on how to use the LeanOnMe cushions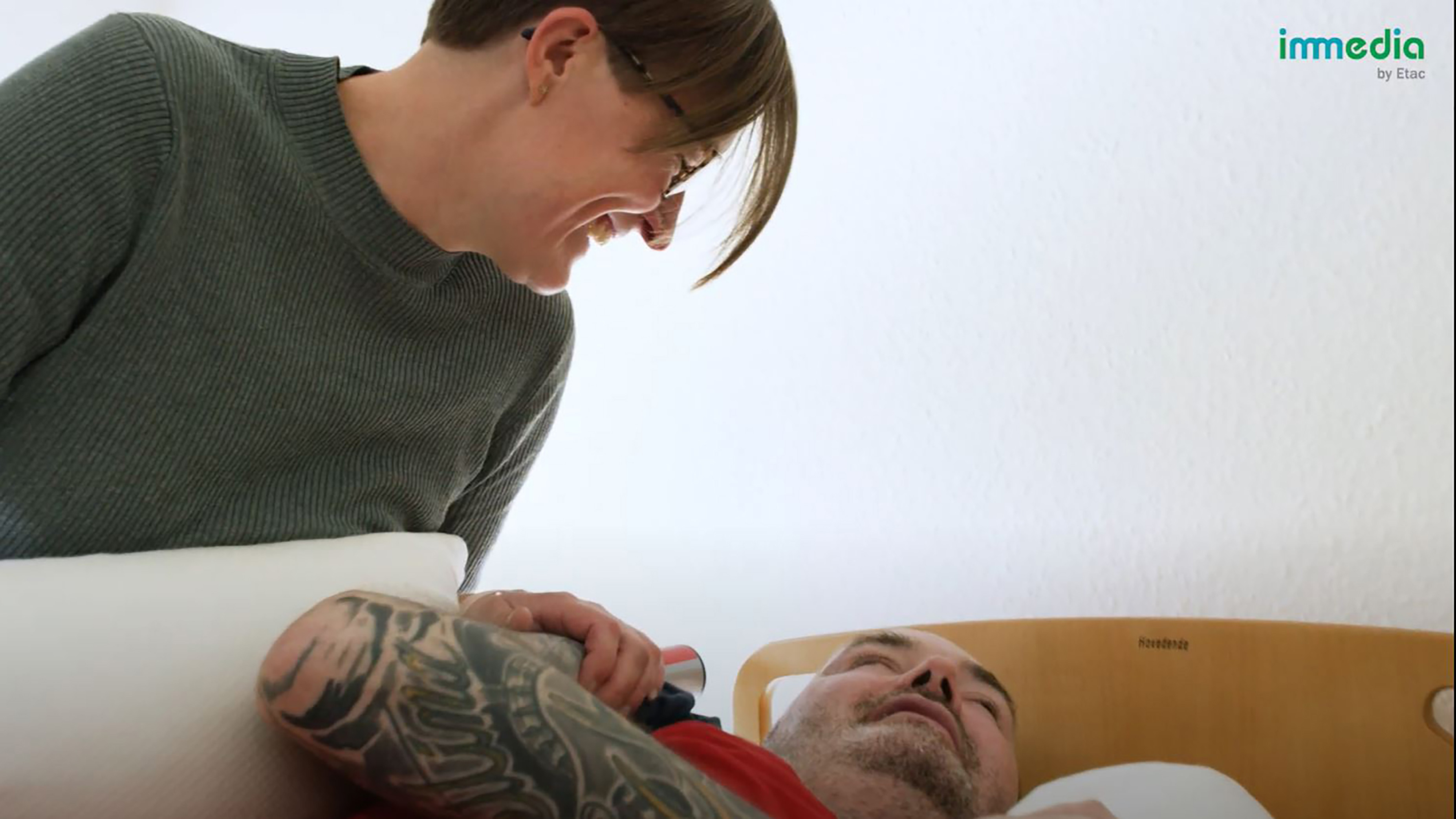 Lateral positioning
This video shows how the LeanOnMe Roll L can be hugged when turning from supine to lateral. By hugging the cushion, the person increases body awareness and reduces anxiety.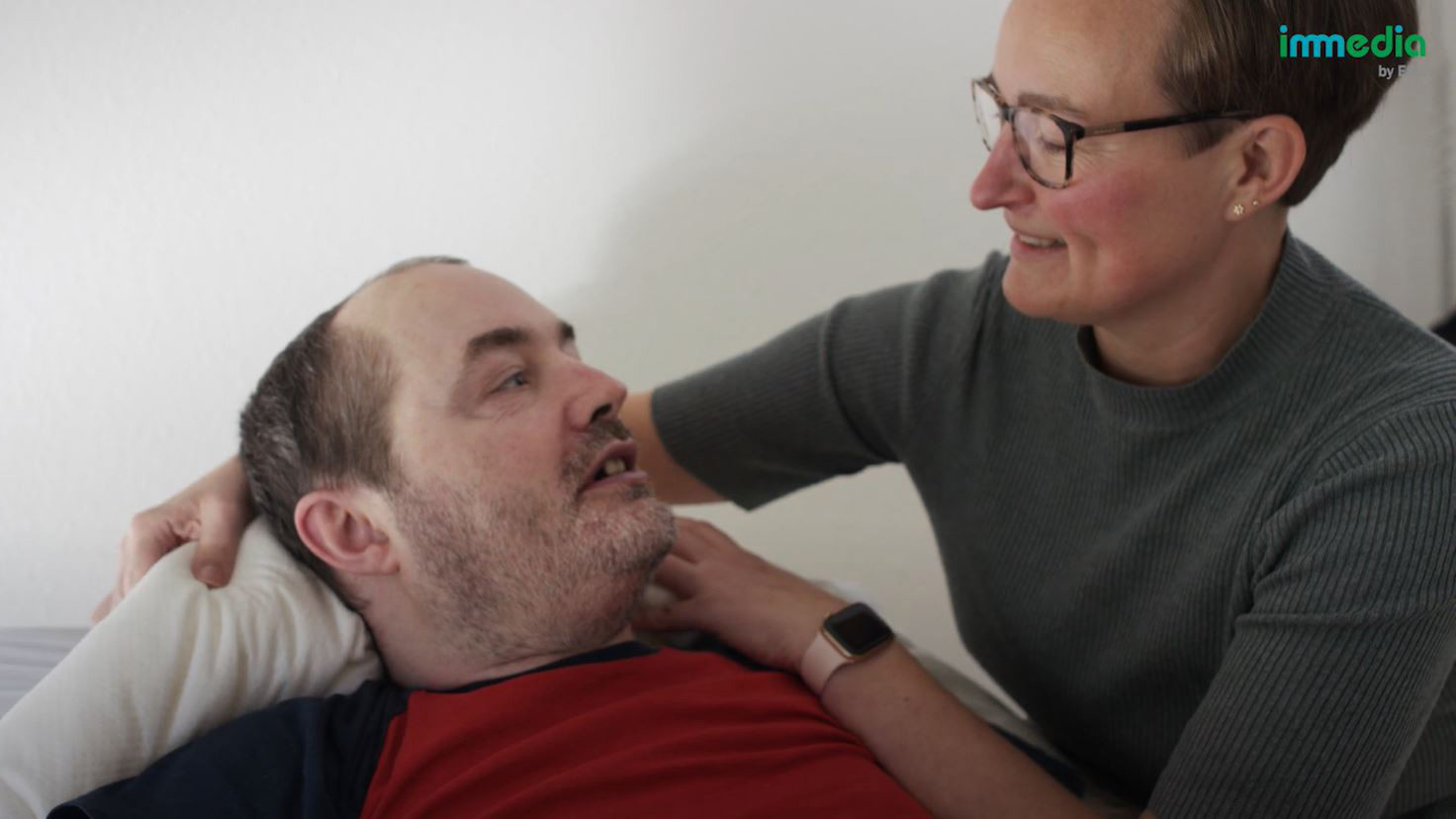 Supine positioning
The Immedia LeanOnMe cushions have a well-balanced filling and can easily be moulded into the desired position. See how to use the cushion Roll L and Channel for supine positioning.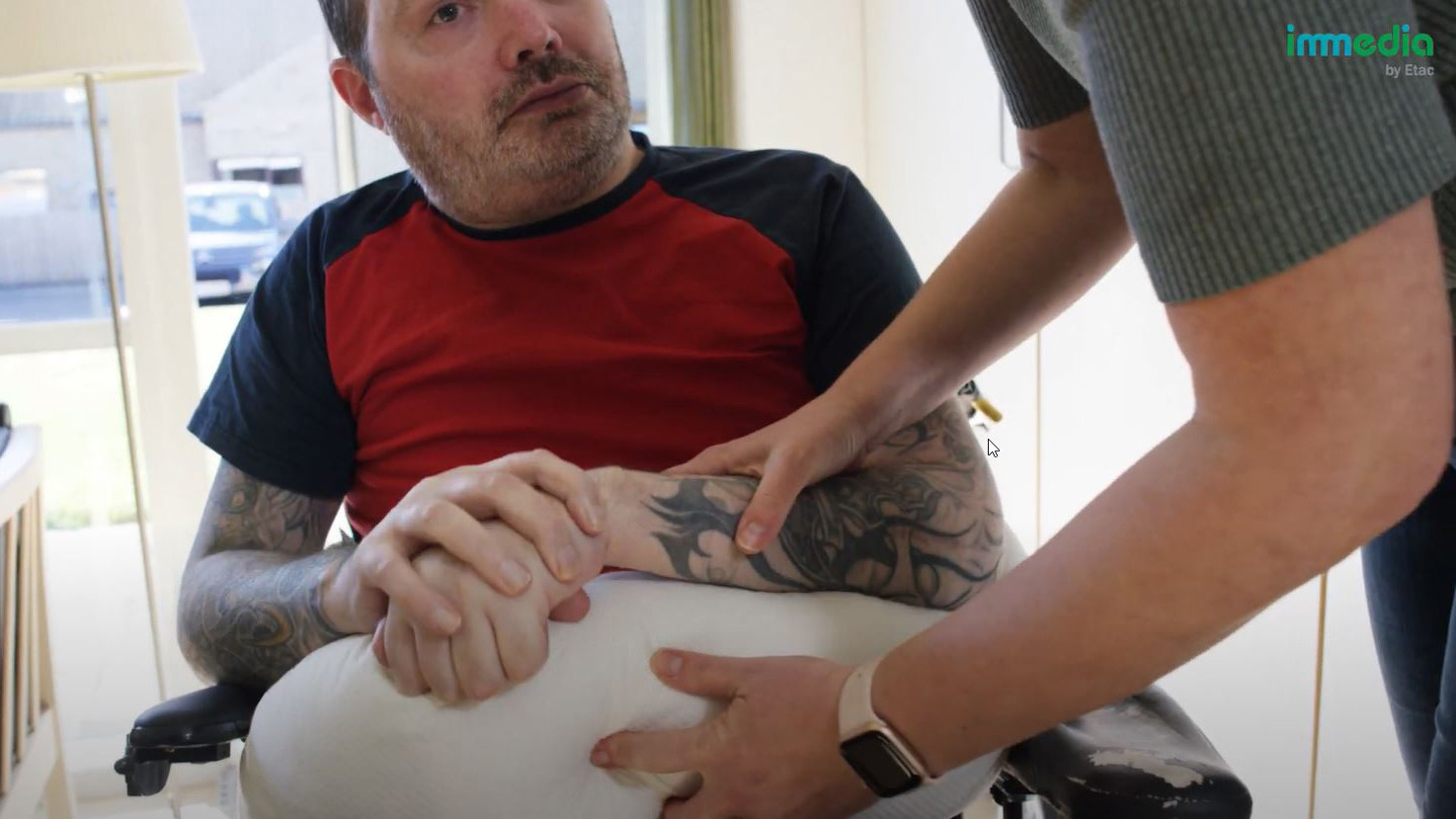 Stretching shortend muscles
See how the LeanOnMe Roll S can be held against the stomach to provide a calming and stabilizing effect when sitting, while LeanOnMe Mini is used to prop the hand open.