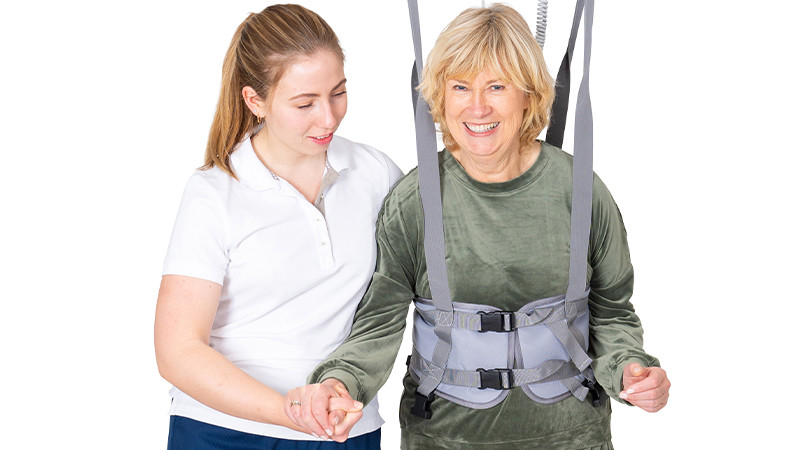 Extended range of Molift UnoSlings for single-patient use
Prevent the risk of infection and cross-contamination
Single-patient use (SPU) slings are commonly used in hospitals to enable safe and efficient patient handling for patients and caregivers and to prevent the risk of infection and cross-contamination. They also bring benefits of always being ready to use and save the institution from dealing with laundry logistics and expenses.
With the extended range, Etac now offers single-patient use slings for various situations and transfers, such as seated transfers, supine transfers, gait training etc. UnoSlings are made for high-quality, safe, comfortable and dignified transfers and stay with the patient until the patient leaves the facility or when soiled.
Molift UnoSling HighBack
The sling is suitable for most users in common hoisting situations, such as between bed and wheelchair or to the toilet.
Go to product page
Molift UnoSling Toilet
This sling has a wide leg-support opening and facilitates simple dressing and undressing.
Go to product page
Molift UnoSling Ambulating Vest
This sling is ideal for early mobilization activities such as walking, balance and gait training.
Go to product page
Molift UnoSling Repositioning Sheet
Designed for repositioning and turning in bed, as well as tranfers in a supine position.
Go to product page
Molift UnoSling LimbLift
This small aid can be used for temporarily lifting a leg or arm, for instance, dressing or examining pressure ulcers.
Go to product page
Molift Unosling StandUp
Molift UnoSling StandUp is for users with some weight-bearing capacity and needs support to be transferred from one seated position to another with a sit-to-stand device.
Go to product page
Molift UnoSling booklet
Download the Molift UnoSling booklet, or browse directly by clicking on the image to the right.