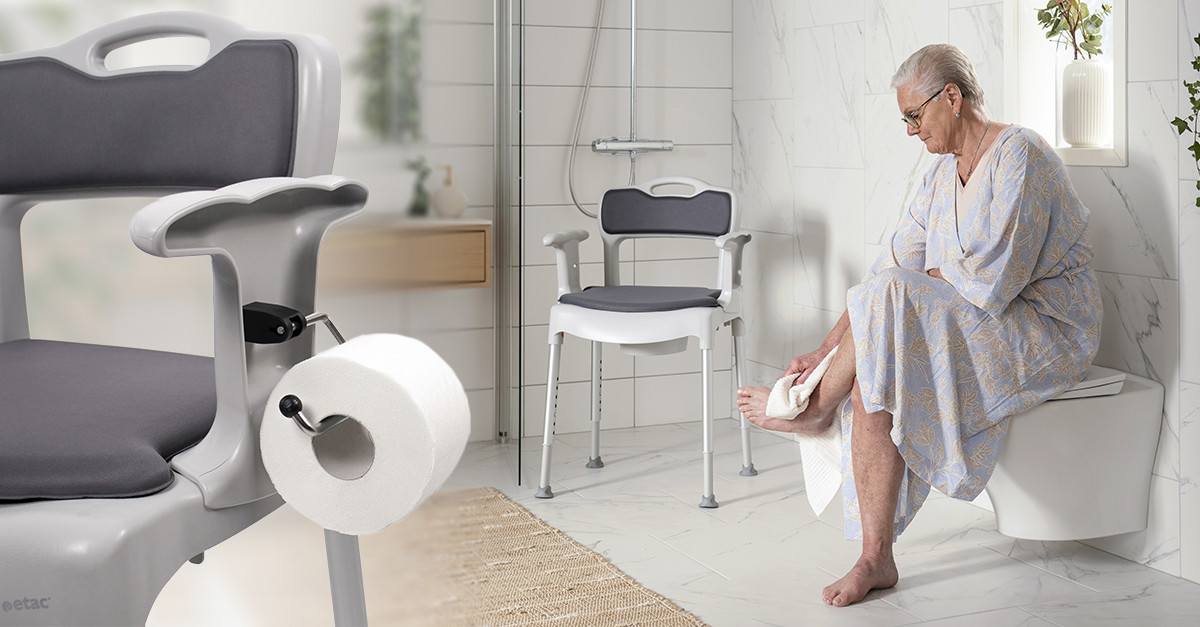 New bathroom accessory
Toilet paper holder for Swift Commode and Freestanding
We are pleased to introduce a toilet paper holder for Swift Commode and Swift Freestanding toilet seat raiser. The new accessory complements these toilet aids perfectly and provides a great addition to an already versatile range.
The toilet roll holder is positioned on the armrest, within easy reach for the user. It has the flexibility to be placed on both left and right sides, as well as with the opening facing forward or backward.
The Swift series is one of Etac's absolute best-sellers, and its clever principle of building blocks effectively allows users to customise the chairs to their individual needs. Although small, this latest addition provides even more alternatives within the range - and helps to ensure that it continues to meet users' expectations in the future.
Toilet paper holder
Paper within easy reach
A flexible holder that can be attached to both left and right armrest and with the opening facing forward or backward.
Go to accessory
Swift Commode
A smart toilet chair with three-in-one functionality
Swift Commode is a versatile product that can be used as a commode, shower chair or toilet seat raiser. It is excellent for people who need access to a toilet near the bed, since it provides functionality combined with a discreet design for the bedroom.
Go to product page
Swift Freestanding toilet seat raiser
Flexible, sturdy and easy to handle
Swift Freestanding is the perfect choice when you want a raised toilet seat easily and quickly. By simply setting it to the preferred height and placing it over the toilet, you have a seat height adapted to your needs and sturdy armrests that facilitate standing up and sitting down.
Go to product page