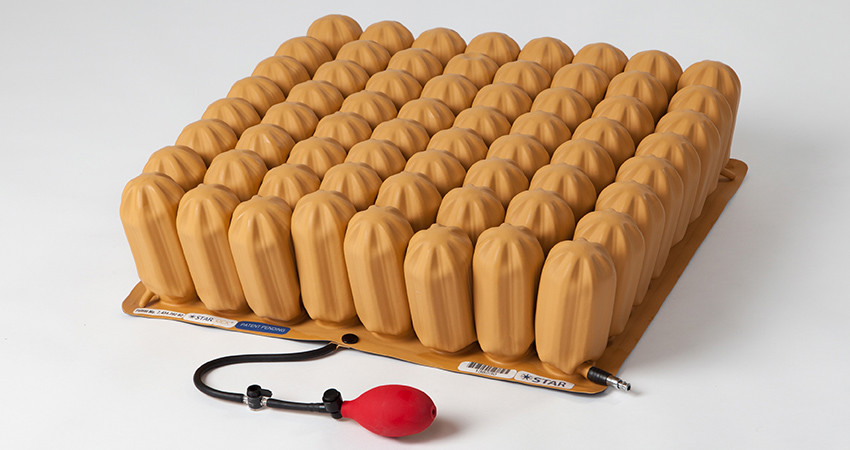 Etac Group strengthens portfolio with acquisition of Star Cushion Products Inc.
Etac, the Scandinavian specialist in world-class mobility solutions for elderly and disabled adults and children, with headquarters in Sweden, has acquired Star Cushion Products Inc. to strengthen its antidecubitus portfolio and deliver world-class pressure care.
Torben Helbo, Etac CEO, comments: With the acquisition of Star Cushion Products Inc. Etac will be able to deliver cohesive and holistic pressure care solutions to wheelchair users. To achieve the best posture for maximized occupational performance, a stable base with appropriate support and pressure distribution is critical. We can now deliver this through the Etac portfolio and hence offer users healthier and more active living in a wheelchair. The multi-celled air cushions will be included in our 'Shape Up!' postural initiative and support our new Ability Based Seating™ wheelchair concept."
The Star Cushion product range is based on proven multi-celled air solutions that deliver world-class pressure care and comfort. Through utility and unique patented unique designs, Star Cushion has leveraged air-based technology so wheelchair users have the greatest choice in terms of positioning, stability and pressure redistribution. This is vital for wheelchair users with back pain, poor posture, tissue viability issues, pressure sores or circulation problems. Leading products such as the Star Lock, Galaxy and Stabil Air create possibilities for better pelvic alignment and lower trunk stability.
Star Cushion Products Inc. was founded in 1995 and is a family owned business based in Freeburg, IL, US. Star Cushion began with manufacturing the one chamber Standard Air cushions and has been a specialist in quality therapeutic wheelchair cushions for 20 years. The Star Cushion ethos is focused on delivering better quality of life for all wheelchair users. This is realised through provision of therapeutic air cell cushions and support surfaces that provide exceptional quality, product performance and continued innovation. These core values align perfectly with Etac's mission that state: "everyone should be able to live a free and independent life and pursue their dreams regardless of any physical circumstances." Hence this strategic acquisition is a natural development for both businesses and ensures that the products remain at the forefront.
The parties have agreed not to disclose the purchasing price.
The Etac Group
With headquarters in Stockholm, Sweden, the Etac Group is a world-leading developer of ergonomic products that assist people living with restricted mobility. Its strength and competitive edge are delivered through a proven synergy of pioneering product design, excellence in service and a true understanding of end user needs.
The Etac Group delivers an award-winning range of brands: Etac (Bathing and Toileting, Aids for Daily Living and Wheelchairs), R82 (Paediatrics), Convaid (Paediatrics), Immedia (Manual Transfer) and Molift (Hoists and Slings). Owned by Nordstjernan AB, a family controlled unlisted investment company, the group currently has a turnover in excess of MSEK 1300 and employs an 800-strong team of talented specialists worldwide.