Introduction
This is a case story from Etac's product development, based on an example from Bathroom Aids.
It illustrates how insights about users and caregivers influence the design process and essential product features.
Background
Mobile shower commode chairs are used in homes as well as care facilities and need to be versatile as they facilitate both showering, toileting and transportation. Used primarily by people who require assistance, they have to accommodate the needs of caregivers as well as users.
Etac has developed mobile shower commodes for more than 30 years, and by cooperating closely with nurses, rehab professionals and users, we have gained a solid understanding of the challenges they face. However, when planning for the 2nd generation of Swift Mobil, we wanted to gain even further insights. So we went out and asked questions - to which we received clear answers.
We know - because we ask
Caregivers consistently confirmed that the most problematic aspect for them was limited access where they can neither see what they are doing, nor work in an ergonomic way. Users in return, would find it awkward and undignified to see the carer having difficulties to assist them.
Dignity, safety and comfort for users are our first and foremost priorities, but we need to provide caregivers with a healthy working environment as well. The survey enhanced how important easy access is to avoid unnecessary lifting or uncomfortable bending when assisting with personal hygiene. This, in combination with additional insights, amounted to 4 corner stones that became our guiding principles throughout the design process.
Key insights and design objectives
1. Ease of access
Easy access and avoiding strained working postures for care givers are the primary conditions for providing dignified, personal care. We need to design a seat area that is as open and accessible as possible.
2. Adaptability
Every person is different and it is essential to provide users with maximum options for customisation. The chair itself has to be as adaptable as possible, and the functions need to be simple and intuitive to manage.
3. Comfort
For the user experience to be as relaxing as possible, the chair must be comfortable. We need to provide pleasant support in the right places as well as softness and comfort for users when sitting upwards or while tilted.
4. Easy handling
Ergonomics, functionality and easy handling for all who use the product is vital. The chair needs to have accessible brakes, a simple and controlled tilting function, fit well over toilets and facilitate pan handling.
1. Design Solutions - Ease of access
Completely new seat design
Since closed seats with deep edges and covered sides limit accessibility, we re-designed the seat to be completely open in the back. This decision was further reinforced by our survey, where 96% of the carers believed that a rear-opened seat would help them when assisting with personal hygiene.
The updated seat is completely flat, making transfers and re-positioning easier. It also prevents users from slipping down into a slumped position, which would make access harder and reduce comfort. There is a recess in the front to improve reach for those who can manage personal hygiene themselves. For users who need extra softness, there are additional comfort seats available.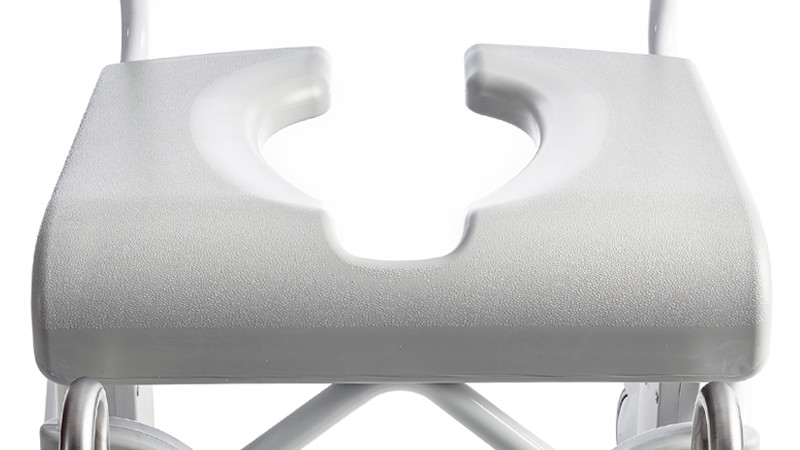 Designed for both men and women
The width of the pelvis is generally different in men and women, and on average the distance between the sitting bones is 20 mm longer in women. We therefore asked a large number of both genders to test and rate different seats, and based our design on those results.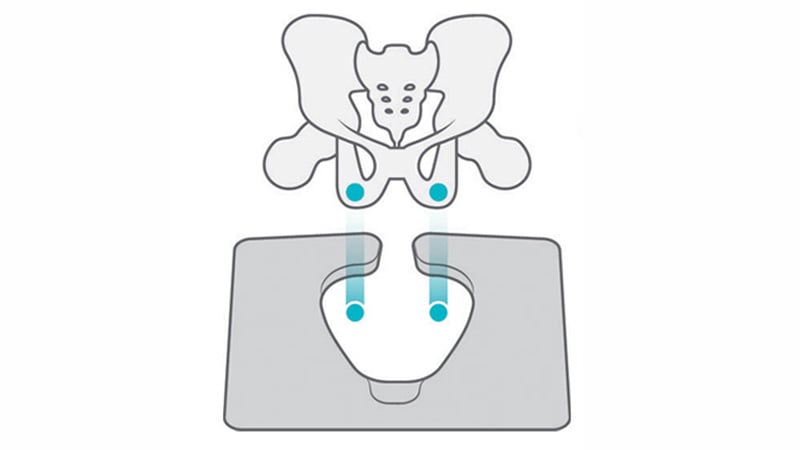 Easy access from several sides
The seat offers access from the sides as well as from behind. This improves visibility and ergonomics for the carer, who doesn't have to bend down so far. The curved edges allow users to change sitting positions easier, which can help them to carry out hygiene tasks independently.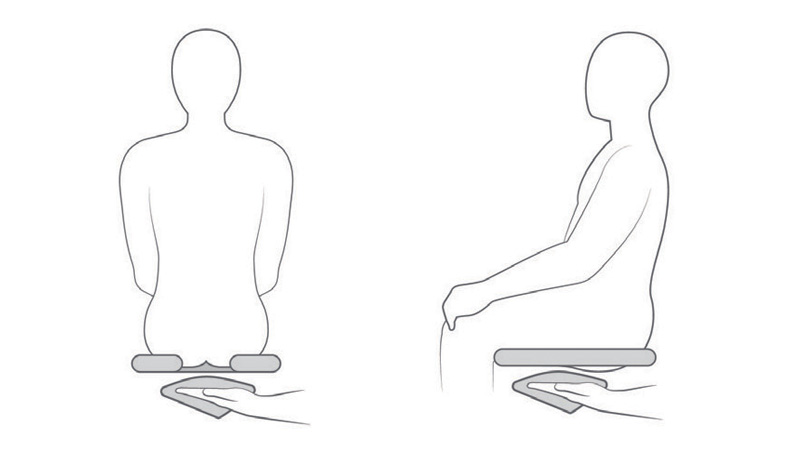 A balance between needs
The seat should ideally relieve pressure, allow for easy access as well as facilitate toileting. This is a difficult equation to solve since some of these requirements are contradictory. Our design is based on the solution that best provides a balance between them.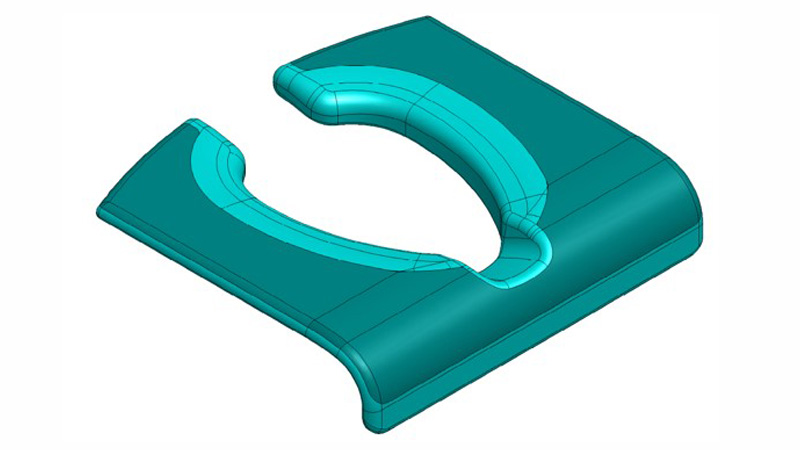 2. Design Solutions - Adaptability
Many adjustments as standard
The best way to meet users' individual needs is by providing maximum flexibility. Subsequently, one of our main objectives was making Swift Mobil-2 as adaptable as possible, which is why it comes with adjustable seat height, legrests, armrests and back support as standard.
Additionally, there is a large assortment of accessories as well as different models. The tilt-in-space version has a multi-adjustable head rest that can be set in height, depth and angle. The maximum user weight was also increased to 160 kg, so the chairs can be used by more people.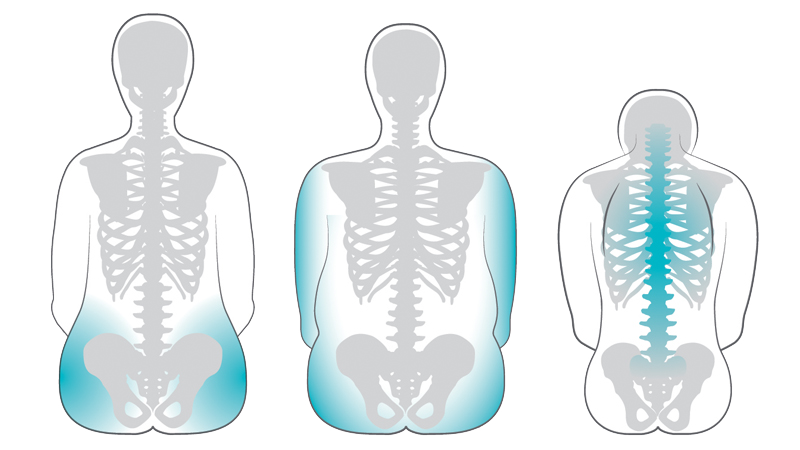 3. Design Solutions - Comfort
A chair shaped for people
Swift Mobil-2 is designed with overall soft edges for superior comfort. The footplates are rounded to comfortably support the arch of the foot and the soft backrest is adaptable to differently shaped backs, whilst providing effective lumbar support. It is easily adjusted through three Velcro straps.
In addition to the previously mentioned benefits of the seat, its unique pattern "Easy Clean" provides a perfect balance between comfort and friction. The areas in the vicinity of the opening, where the most sensitive parts take the weight while sitting, are instead completely smooth.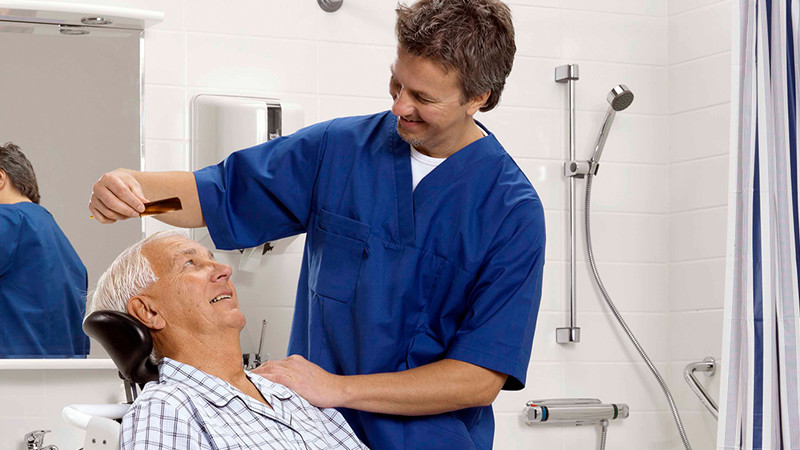 Flexible back support
The soft backrest accommodates curvature of the spine or other special needs. The straps around the push handle prevent it from slipping down and it can remain in place when adjusting the headrest.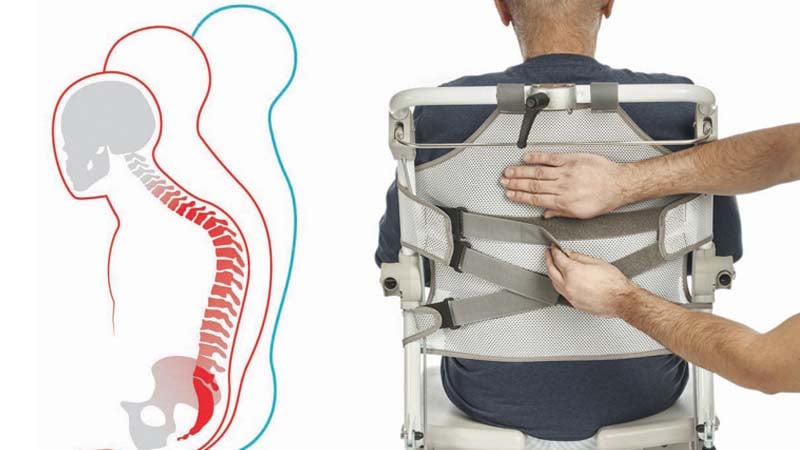 Watch the instructional video
Ergonomic footrests
Users usually sit barefoot, which is why we've paid extra attention to the design of the footplates. They are gently curved to provide instep and arch support, ensuring comfort, stability and relaxation.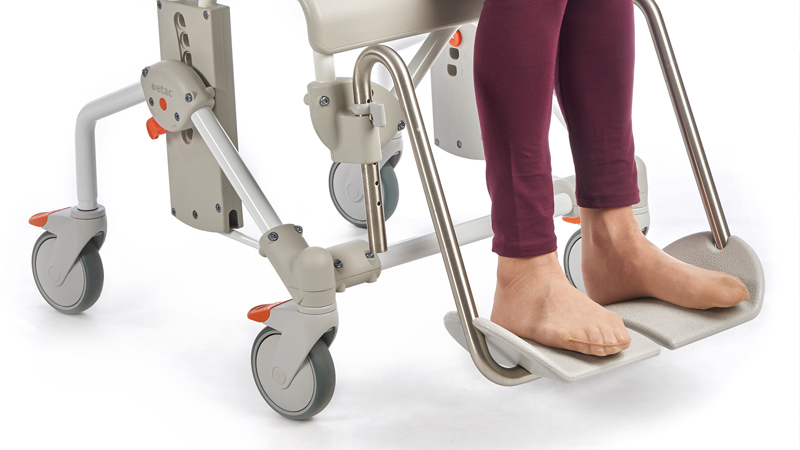 See our range of leg and foot supports
Soft seats
There is a range of soft seats available. They are softly contoured to fit the body and enable a good sitting position. The velvety and smooth surface provides added comfort in balance with the correct friction.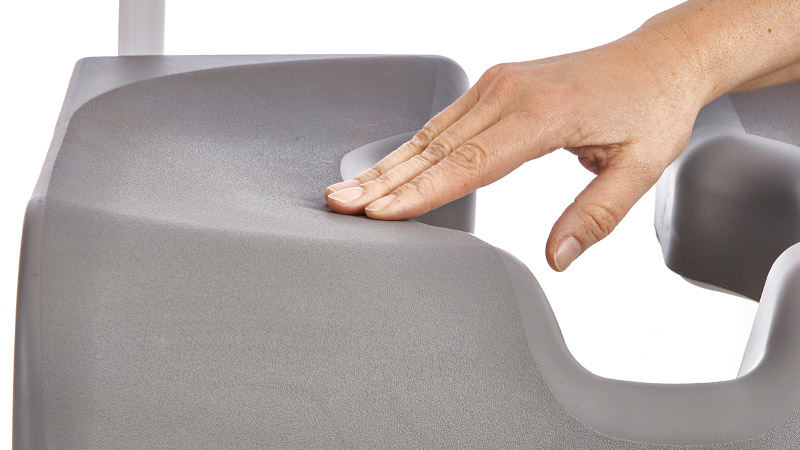 Discover our accessories
4. Design Solutions - Easy handling
Ergonomic and intuitive features
We have designed Swift Mobil-2 with great emphasis on functionality. It is easy to operate and manoeuvre, and important features can be accessed without strained working postures for the caregiver.
The tilt-in-space model allows for comfortable and controlled tilting from the side. This also enables maintained eye contact between user and carer, which effectively makes the process smoother and safer for both parties. The seat's Easy Clean surface prevents dirt from clustering, making wiping and cleaning easier than with traditional friction patterns.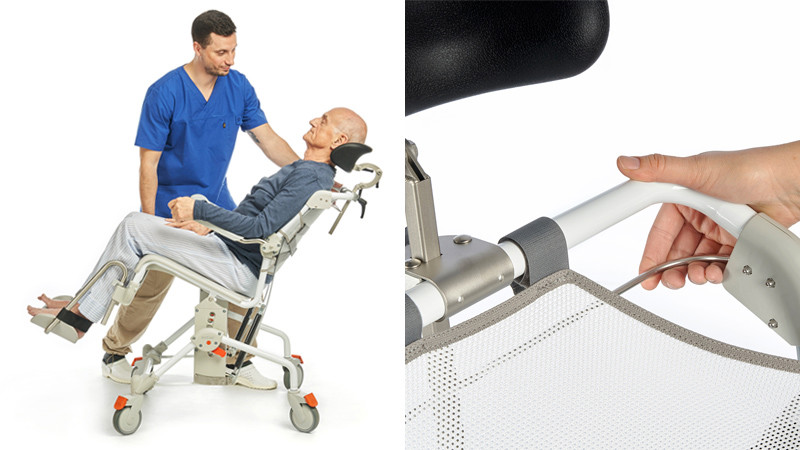 Easy Clean Friction pattern
A cross section of Easy Clean compared to traditional friction patterns.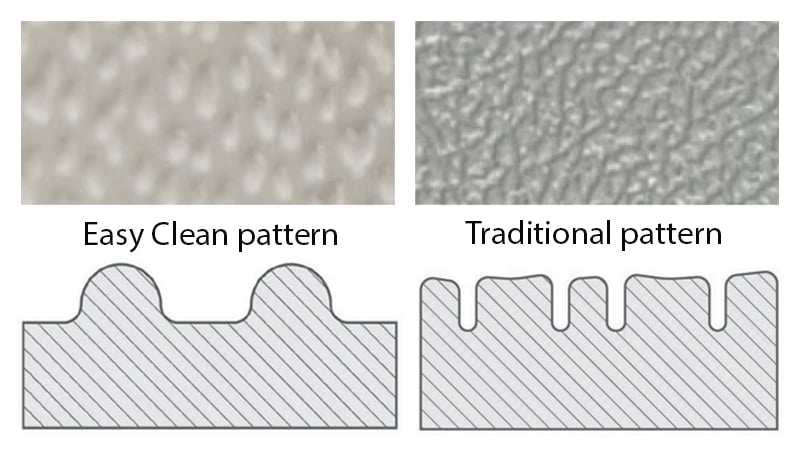 Accessible brakes
The brakes on all 4 wheels are easy to reach, lock and unlock.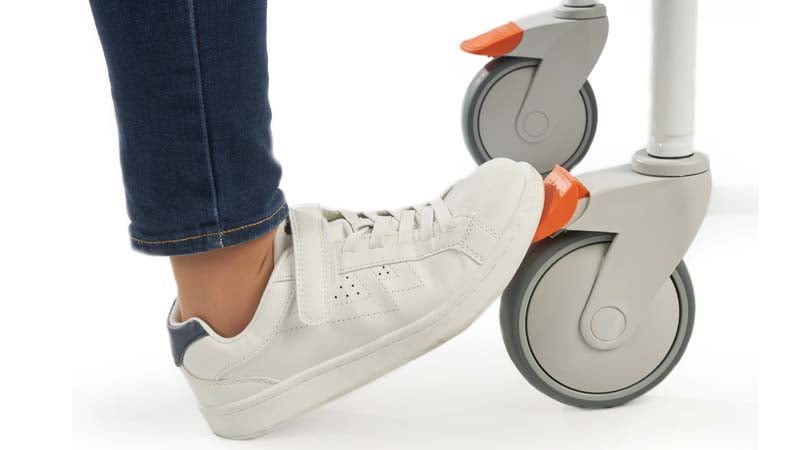 Simple pan handling
The pan has an anti-splash function and a unique self-locking mechanism when lifted.