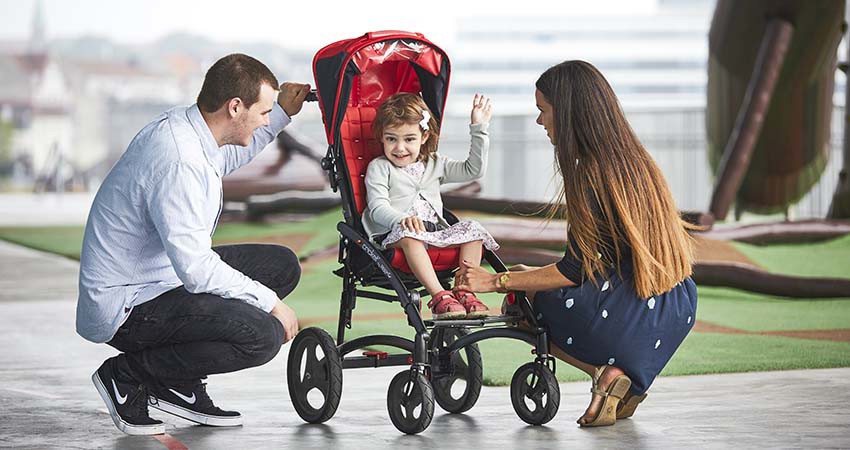 Cricket - Takes you places
Explore the experience of the smoothest ride - from city to tougher trails, in sun and rain.
Isabella is a shining star! No doubt about that! She is the most beautiful little girl, a princess with a capital 'P' and a winning personality that shines through. She is four years old and has bilateral cerebral palsy with a GMFCS level II as a result of premature birth. Isabella's spasticity primarily affects her legs, especially the left, but she has almost normal function of the hands, despite small involuntary movements. Isabella is a highly sensitive girl, which is not atypical for her type of brain injury.
We had the pleasure of spending a day together with Isabella and her family in the city of smiles – Aarhus, DK – which incidentally ranks second on Lonely Planet's list of places to go in Europe 2016. Come and visit if you get the chance and spend some time at Dokk1 as we did with Isabella and her family.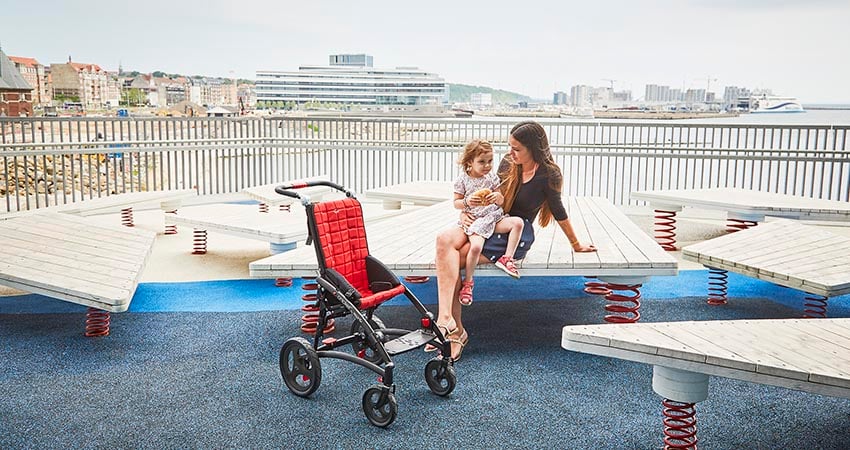 Isabella tires easily and her legs need a rest now and then. She enjoys the support of the Cricket. It creates a stable base with good support for the pelvis and ensures excellent seating balance – which is exactly what Isabella needs.
"The Cricket suits Isabella perfectly. She needs to sit comfortably in an upright position with support around the hips, which she does in the Cricket buggy."
Camilla, Isabella's mum
Cricket's lightweight frame is the most compact on the market. The durable frame is designed to support and provide stability for the buggy. 360° turnable front wheels ensure a smooth ride, making it easy to steer. Puncture-proof wheels for exceptional performance. Explore the experience of the smoothest ride - from city to tougher trails, in sun and rain.
The Cricket folds easily into any car, is approved to carry 43 kg and complies with ISO 7176-19 for safe transport in vehicles.
R82 Cricket
The Cricket is a lightweight foldable buggy designed to suit you and your child's needs and lifestyle.
Go to product page
Please note
A case story is used to show an individual product solution and the experiences related to its use.
The configuration and use of the product, including its accessories is determined based on the preferences of the user, their healthcare professionals, the environment, constraints and local market-specific preferences. The case story is only a supplement to the product's manual/assembly instructions and does not in any way replace these instructions. Products, sizes, configurations, accessories shown might not be available on all markets. Please contact your local sales organization for updated information on availability in your country.