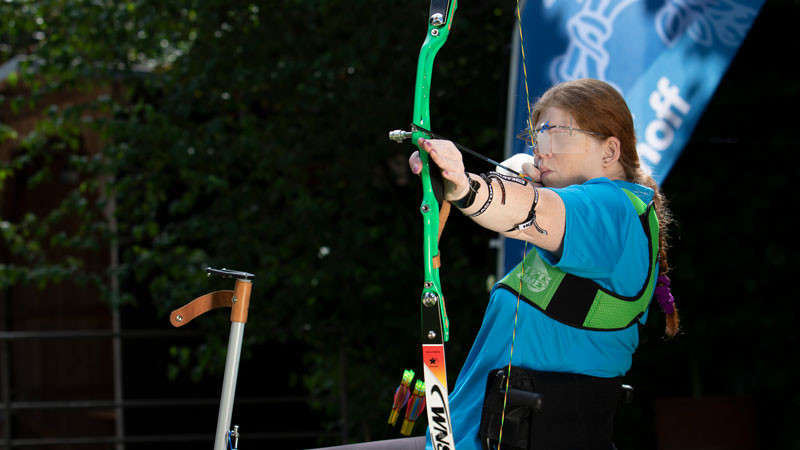 2B back support - The right support for a champion
Meet Claudia Schäfers, national champion in archery.
This is Claudia Schäfers own story about how the Etac 2B back support gives her the stability and support that she needs to perform her best and to be successful in archery while sitting in a wheelchair.
"
It may sound a bit stupid, but a wheelchair is very suitable for archery provided you are stable. By using a wheelchair and sitting upright, wheelchair users build up muscles in their shoulders and arms, which serve them very well in archery.
2B back support – the team player to rely on
With the support of Tingelhoff and the 2B back support I'm not alone at the top anymore.
The thing I like about archery is that I alone am responsible. That may sound a bit strange if you've ever enjoyed playing team sports yourself, but the problem I see with team sports is that you never know if you've won, whether you contributed to it yourself, or whether it was the others that pulled you through with them. In archery, you're all on your own. Performance depends on you, and you alone. If you shoot badly, you get a bad result, and if you shoot well, you get a good result. That's what I enjoy.
It turns out, my wheelchair is also a crucial part of my achievements. And together with Florian my mobility specialist from rehab dealer Tingelhoff, I can now say that I´m a part of a team, and I´m not alone at the top anymore.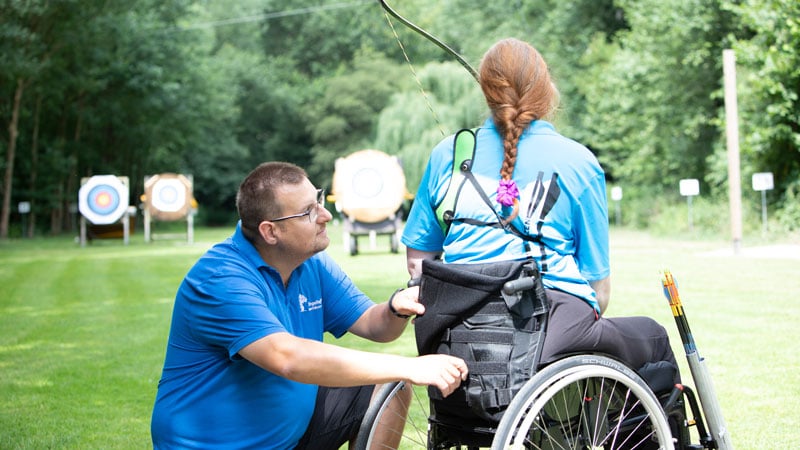 Tempted to participate in the Paralympics
I shoot with a child's bow in order to have as light a bow as possible. My bow weighs just 1.5 kg, and I fire with a pulling force of 16 pounds. At a distance of 40 m, the arrow isn't supposed to reach the target at all. Everyone is always amazed when I manage to hit the target at all.
I'm definitely tempted to switch bow and participate in the Paralympics, but unfortunately, I can't hold it because of its weight.
I must be secured in the wheelchair as if wearing a corset. In archery, you have to keep your body in a fixed, stable position. You must not change your body position when firing, you can only turn your head and aim.
In addition to this, I also have a scoliosis. I sit a little rotated to the right. The back support therefore needs to support the scoliosis and promote symmetry as much as possible. And, of course, the wheelchair must also stand securely with as little movement as possible. Optimum stability is essential in archery.
The possibilities with the Etac wheelchair
Oliver from Etac and the company Tingelhoff showed me the possibilities with the Etac wheelchair. They arranged for me to try this with the 2B back support, which I currently use.
With the 2B back support, my seated position is far more relaxed, and without it I get problems with my spine after a short time. Using the 2B back support, I can move, rest, sit at my desk and I don't get any pain at all. It's a luxury back support for me. My back is in a position where it feels comfortable and I don't have to constantly correct my posture. I also have the Star air cell cushion from Etac, which for me is sitting perfection.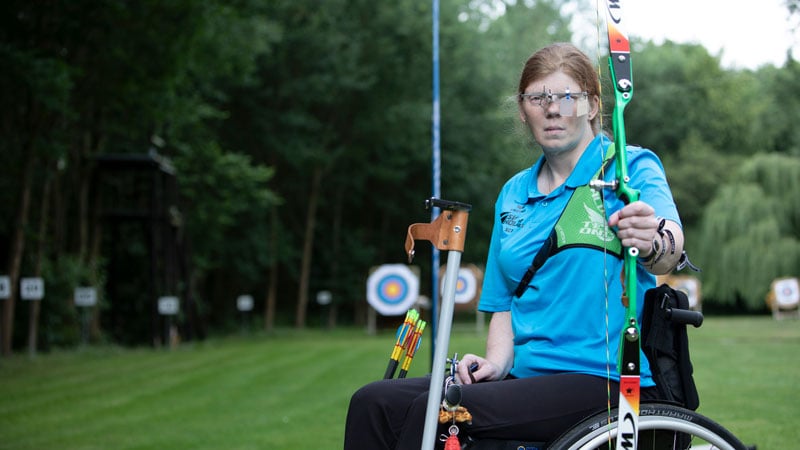 Now thanks to the support and comfort of the 2B back support, I feel supported to be able to live my life and to focus on my targets, like an arrow going straight to the target and me enjoying life.
And this is where team play triumphs. Now my wheelchair is adjusted to perfection. Me and Florian have worked together and we make a great team.
"
Etac 2B back support
The 2B back support gives you the support and stability you need.
The curved tube creates a discrete side support. The tension adjustable upholstery has comfort shields preventing pressure in sensitive body zones.
Please note
A case story is used to show an individual product solution and the experiences related to its use.
The configuration and use of the product, including its accessories is determined based on the preferences of the user, their healthcare professionals, the environment, constraints and local market-specific preferences. The case story is only a supplement to the product's manual/assembly instructions and does not in any way replace these instructions. Products, sizes, configurations, accessories shown might not be available on all markets. Please contact your local sales organization for updated information on availability in your country.