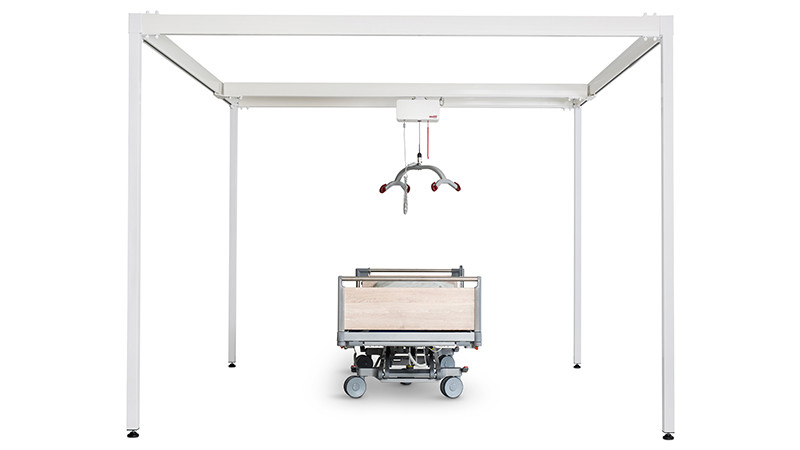 Molift Quattro improves working conditions and patient safety at New Zealand hospital
The Assessment, Treatment, and Rehabilitation (AT&R) Unit at Hawke's Bay Hospital works with the rehabilitation of patients who are frail and elderly, have had a stroke, or are recovering from surgery. 
The unit has improved its working environment for staff through the investment in three Molift Quattro ceiling hoist systems.
The new systems have had a positive impact on the unit's possibilities of providing rehabilitation, and have proven to be beneficial for staff as well as for patients:
"Our staff really enjoy it, it's very easy to use and it's safer for the patients too. The maneuverability of it is excellent and once patients are in the hoist, it moves very smoothly along the rails both sideways and lengthways across the room."
The project was delivered by Etac's local distributor Cubro. To learn more about how the AT&R Unit at Hawke's Bay Hospital uses the ceiling hoist system for safe rehabilitation activities, please visit Cubro's website to read the full story.
Benefits of ceiling hoist systems 
Ceiling hoist systems offer a range of benefits for caregivers and users, for instance:
Reduce manual lifting activities to minimize strain and risk of injury for caregivers

Can be designed as a straight rail or a room-covering solution

Higher lifting range and does not occupy floor space, compared to mobile hoists
Benefits of free-standing units / gantry systems 
A free-standing unit/gantry ceiling hoist system is a rail system that does not require any intervention to the room's wall or ceiling when installed. This comes with several benefits when a fully installed track system is not an option.
Ideal for temporary needs for a ceiling hoist system

No need for fixed installment into the room's structure

Easy to assemble and dismantle. Can for instance be moved between different rooms in the institution
Etac offers gantry systems with both straight and traverse rails.
Molift Quattro
The Quattro provides excellent stability when there is a temporary need for a room-covering ceiling hoist system.
Learn more about the Quattro 
Molift Duo
Molift Duo is easy to install and ideal for temporary, easy transfers. For instance to transfer a bedridden patient to and from a wheelchair. The Duo´s height is adjustable and comes in four different rail sizes.
Discover the Duo