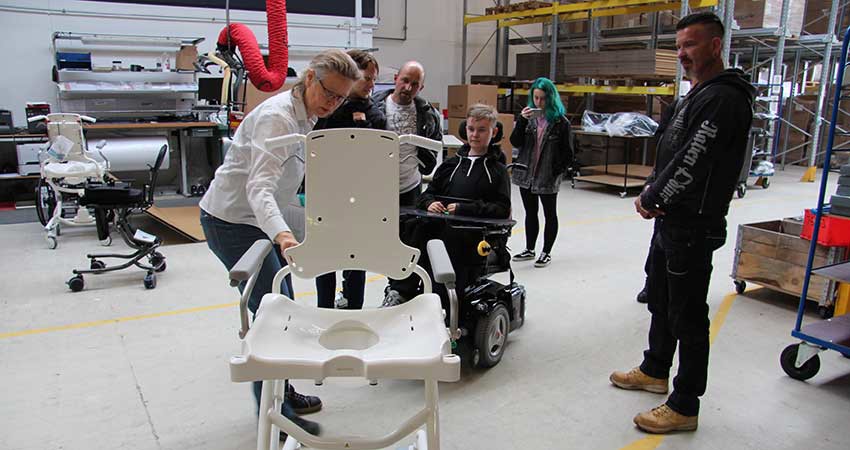 Lego loving Leon enjoys trip of a lifetime
Read how Leon got to spend a day in Legoland and visit R82
Lego loving Leon enjoys trip of a lifetime
With a little help from friends, family and a local motorbike club, 14-year-old Leon got to live his life long dream of going to Legoland. Like many boys, Leon Hannemann can get carried away for hours playing with his Lego.
The 14-year-old, who has muscular dystrophy, has been a lifetime fan of Lego, and the tiny building blocks also serve to maintain his fine motor skills.
For many years, Leon has dreamt of travelling to Legoland in Billund, Denmark. And, while the family tried to make a trip to the theme park in 2010, bad weather led to that day out being cancelled. Several years later, though, a special event at Legoland – a Star Wars exhibition - was too good to miss.
A dream come true with a little help from friends
However, Leon's Aunt believed there was a way to make Leon's dream come true. She contacted an old friend of hers, Peter Hoedt, president of the German motorcycle club Raben Odins - The Ravens of Odin.
"I set up a fundraiser online and shared it on Facebook in May. The post went viral, and support came in for Leon from the entire club and a lot of people who don't know us, or Leon," says Peter Hoedt. The fundraiser was a great success, so tickets for the Hanneman family, Mr Hoedt and some other helpers, were booked for a trip to Legoland, Denmark, as well as other fun excursions.
"We are speechless," said Leon's mother, Antje Hannemann. "All the help that we have received is so amazing that it is hard for any of us to put into words. We are very touched by it."
Visiting R82
Part of the trip included a visit to R82's factory in Gedved, Denmark – the factory which produces the Flamingo chair that Leon uses in the bathroom - as this is near to Legoland. Here, he also got to see other products like the Heron.
"The Flamingo is a very important aid for Leon," says Antje. "It gives him great security during shower time, and it was very exciting for all of us to see how it is produced."

Leon was impressed by the metal production of the Flamingo chairs. Meawhile, Leon's father, Sven, was very impressed by the modern R82 factory.

"I have worked in construction and visited factories before, but I have never seen anything like this," said Sven. "It is incredible that you have such a clean and healthy environment, with everything in order and no stress. It was very nice to see."
Visiting Legoland
Next, the main part of the trip took place – Legoland. Leon was able to enjoy the Star Wars exhibiton, explore the Sea Life Centre and take a tour of the park.
But there was to be one more surprise. Due to the success of the fundraiser, Leon was able to spend the night at Legoland, in a Ninja themed cottage. For Leon, it was a trip of a lifetime. It also showed how, with some help, planning and determination, great things are possible. "I found it very nice there, especially the Lego Sea Life," says Leon.

"There should be more people who do anything to fulfill such a wish. You are the best and have a special place in my heart!" He added. "Once again, a big thank you to all those who have made it possible for me and my family to go to Legoland Denmark."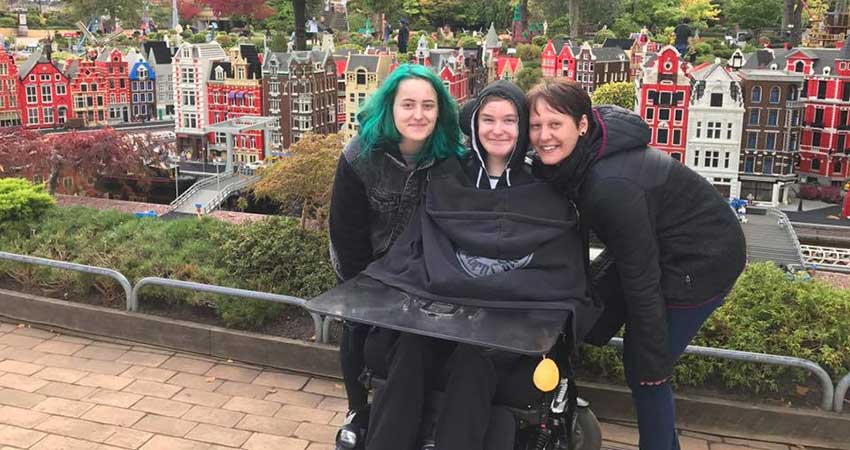 R82 Flamingo
The Flamingo is a toilet/bathing chair available in 4 sizes and suitable for children and youngsters.
Go to product page
Please note
A case story is used to show an individual product solution and the experiences related to its use.
The configuration and use of the product, including its accessories is determined based on the preferences of the user, their healthcare professionals, the environment, constraints and local market-specific preferences. The case story is only a supplement to the product's manual/assembly instructions and does not in any way replace these instructions. Products, sizes, configurations, accessories shown might not be available on all markets. Please contact your local sales organization for updated information on availability in your country.