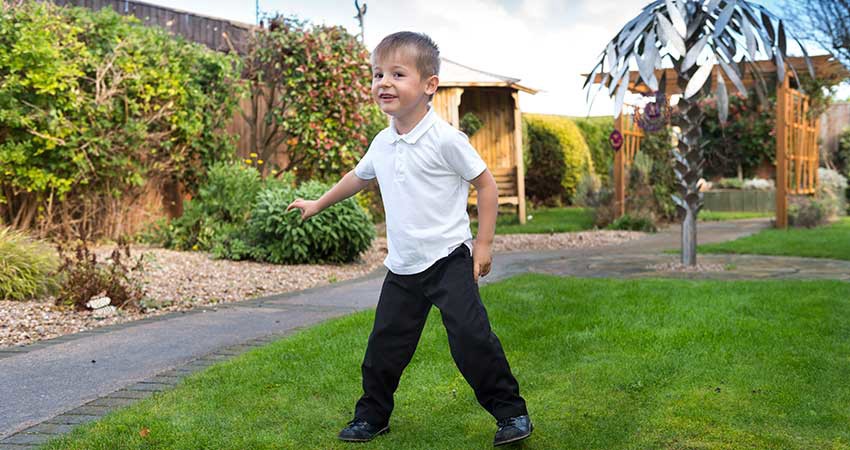 The difference a Crocodile can make
Read how Alfie achieves goal of independent walking with R82's Crocodile
Alfie and his R82 Crocodile
Alfie Farrar, age 5, has recently mastered the skill of independent walking utilising R82's Crocodile walking aid as part of a combined development programme across his home and school environments.
Alfie, who has Global Development Delay (GDD) and low muscle tone, joined Humberston Park Special School in Grimsby, Lincolnshire, two years ago. At that point, Alfie was not stepping independently or exploring his environment and used a walker with full support which he tended to hang in rather than stand. Frances George, Specialist Physiotherapist, MSc, BSc, HPC, MCSP and Lead Therapist at Humberston, assessed Alfie's functional abilities and decided to reduce all the support on Alfie's walker immediately which resulted in improvements in standing ability and independence. However, as the walker was too wide across Alfie's arms, he was still struggling to turn and control his movements. With the goal of independent walking, Frances felt Alfie would benefit from trying R82's Crocodile, a responsive walking aid with lightweight, flexible support, which would challenge balance and coordination and help Alfie achieve a normal walking pattern.
Frances comments: "On moving Alfie to a small Crocodile, he made amazing progress. His stability began to improve in the controlled therapy sessions so we began to adjust the Crocodile to encourage higher end walking development and the freedom to move easily without restrictive support. From this point, we were quickly able to concentrate on independent standing, cruising across gaps and taking first unaided steps. We reduced the dependency on the walker and increased distance and time spent walking and standing independently." As Humberston promote an integrated approach, once a child has achieved a target in therapy sessions the same level of progress is encouraged throughout the whole school environment and in the home setting. Alfie's parents worked with Frances to provide a consistent approach at home, reducing the support he had in his Crocodile to the point that Alfie was walking in the walking aid with no support at all. Frances continues: "It is so important that a child's development programme runs throughout the entire day ensuring every opportunity can be maximised.
A year on, Alfie is now walking independently around both school and home. He no longer requires the Crocodile and has made amazing progress. Having the correct expertise and equipment for a child is paramount. I feel strongly that if Alfie had remained fully supported in a traditional walker, and his therapy programme had not been integrated, he would not have developed his current skill set. Employing the versatile and adjustable Crocodile allowed us to reduce the support and challenge Alfie's dynamic standing. The integrated approach enabled us to maximise the opportunities Alfie had to practice and develop his motor skills. As a result, he developed balance, stability and coordination in standing and stepping which are essential skills for taking first independent steps." Alfie's parents are delighted with his progress and feel the Crocodile has played a key part in helping achieve independent walking.
Alfie's Mum, Debbie, comments: "We always hoped, like many parents, that Alfie would be able to walk however we were not sure how or if this was achievable. Seeing Alfie use the Crocodile for the first time was amazing – he was moving and walking all around and just didn't want to stop. It allowed Alfie to move and step in any direction he wanted whilst providing the right amount of adjustable support he needed to help develop his skills and confidence. Without the Crocodile, Alfie would not have developed as quickly as he has – I think everyone should have one!"
R82 Crocodile
The Crocodile is a walking aid for children and youngsters with disabilities, who need supplementary assistance with their daily walking.
Go to product page
Please note
A case story is used to show an individual product solution and the experiences related to its use.
The configuration and use of the product, including its accessories is determined based on the preferences of the user, their healthcare professionals, the environment, constraints and local market-specific preferences. The case story is only a supplement to the product's manual/assembly instructions and does not in any way replace these instructions. Products, sizes, configurations, accessories shown might not be available on all markets. Please contact your local sales organization for updated information on availability in your country.