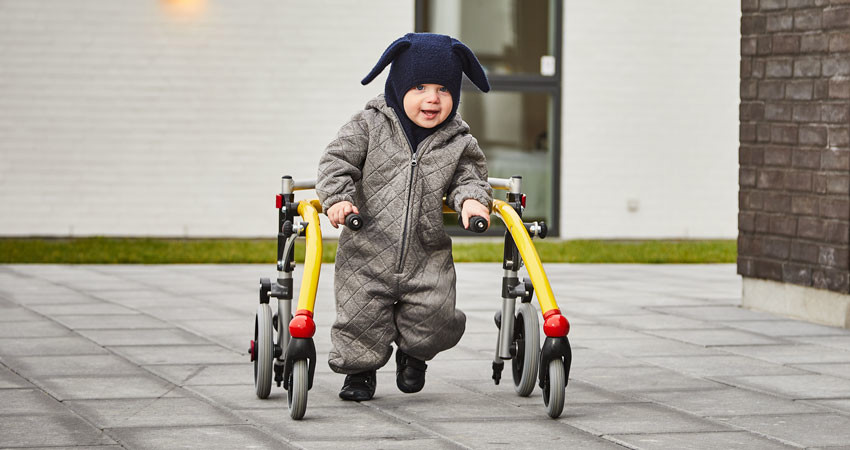 Meet Oscar
Oscar has recently been diagnosed with unilateral right sided spastic cerebral palsy due to periventricular leukomalacia. We met Oscar when he was 16 months old.
Oscar lives in Frederikssund, Denmark with his mother, father and older brother.
Oscar has recently been diagnosed with unilateral right sided spastic cerebral palsy due to periventricular leukomalacia. We met Oscar when he was 16 months old. At the time he was able to move in and out of sitting and floor sit with both hands free to manipulate objects. Furthermore, he crawled on hands and knees, pulled to stand and took steps holding on to furniture.
He has been classified at Gross Motor Function Classification System (GMFCS) level I or II and will be expected to be able to learn to walk independently between the age of 18 months to 2 years, without the need for any assistive devices.
Oscars family and physiotherapist decided to let Oscar use the Crocodile with the accessory "My first steps" for a short period of time to allow Oscar to experience the freedom of walking. Furthermore, they were of the opinion that using the Crocodile could support the achievement of the gross motor milestone of walking.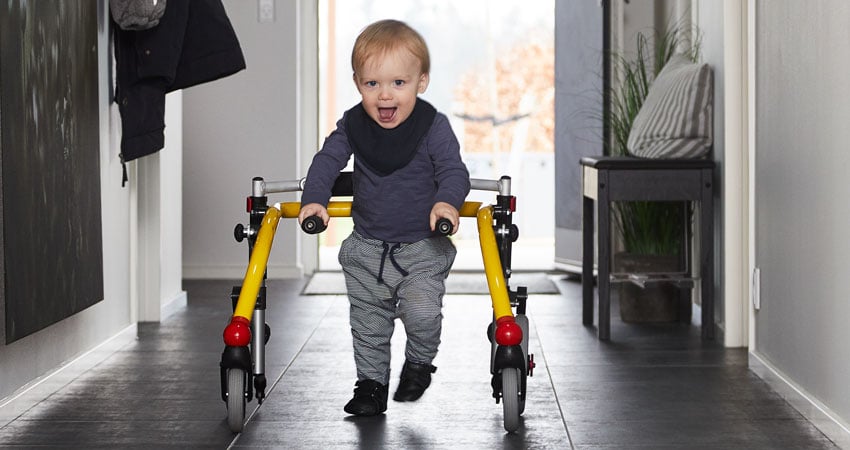 Configuration of the Crocodile
The Crocodile was configurated with the accessory, Starter Kit - My first steps, which included a height adjustable front brace, where the handles are placed closer to the body, a set of anti-tips for safety and a set of bolts to shorten the frame. The Crocodile was initially set up with anti-reverse wheel stop, resistance on the back wheels using the tension adjustment and with directional locks on the front wheels using the directional stabilizer. Oscar instantly figured out how to walk forward using the support from the Crocodile. When the anti-reverse stop was unlocked, Oscar was able to use the Crocodile to walk in both directions.
Oscar is standing in the Meerkat to allow him to weight bear on both legs during standing. Furthermore, the Meerkat could be used to challenge his segmental development of trunk control.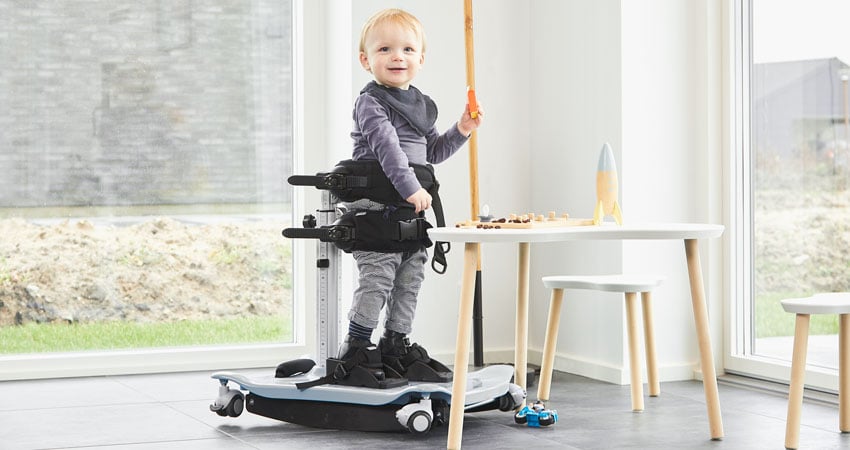 FACTS
Cerebral Palsy
Cerebral palsy is the name for a group of lifelong conditions that affect movement and co-ordination, caused by a problem with the brain that occurs before, during or soon after birth.
The symptoms of cerebral palsy are usually not obvious just after a baby is born. They normally become noticeable during the first two or three years of a child's life.
Symptoms can include:
Delays in reaching development milestones – for example, not sitting by eight months or not walking by 18 months
Seeming too stiff or too floppy
Weak arms or legs
Fidgety, jerky or clumsy movements
Random, uncontrolled movements
Walking on tip-toes
The severity of symptoms can vary significantly. Some people only have minor problems, while others may be severely disabled.
Reference: https://www.nhs.uk/conditions/cerebral-palsy/
GMFCS
GMFCS stands for Gross Motor Function Classification System
GMFCS looks at movements such as sitting, walking and use of mobility devices. It is helpful because it provides families and clinicians with a clear description of a child's current motor function, and an idea of what equipment or mobility aids a child may need in the future, e.g. crutches, walking frames or wheelchairs.
Generally, a child or young person over the age of 5 years will not improve their GMFCS-E&R level so if, for example, a child is classified at a Level IV at the age of 6 then it is likely that they will need to use a mobility device throughout their life.
GMFCS-E&R is used for infants under 2 years of age through to the 18th birthday. GMFCS-E&R is published in several different languages and a Family and Self Report Questionnaire is available.
The CanChild website has full details on GMFCS-E&R - visit it here
R82 Crocodile
The Crocodile is a walking aid for children and youngsters with disabilities, who need supplementary assistance with their daily walking.
Go to product page
R82 Crocodile Starter Kit
The Starter Kit will make the Crocodile walker usable for the smaller children. The Crocodile Starter Kit will give them the opportunity to be able to stand and walk with their peers.
Go to product page
R82 Meerkat
The Meerkat is a simple upright standing frame with adjustable support for feet, knees, pelvis and chest.
Go to product page
Please note
A case story is used to show an individual product solution and the experiences related to its use.
The configuration and use of the product, including its accessories is determined based on the preferences of the user, their healthcare professionals, the environment, constraints and local market-specific preferences. The case story is only a supplement to the product's manual/assembly instructions and does not in any way replace these instructions. Products, sizes, configurations, accessories shown might not be available on all markets. Please contact your local sales organization for updated information on availability in your country.