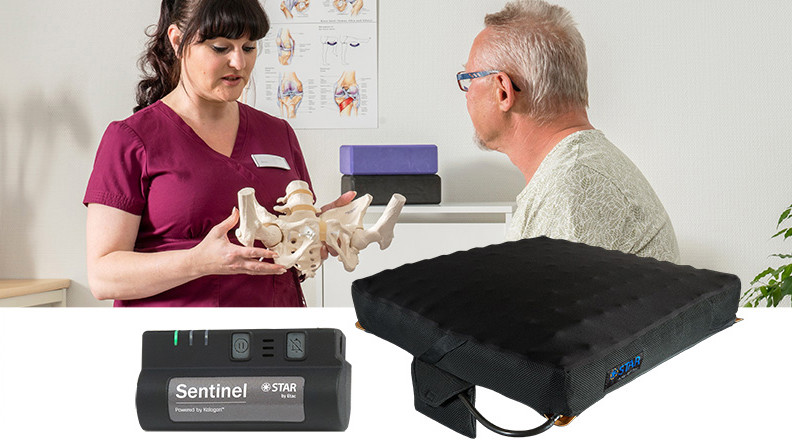 Etac and Kalogon announce new partnership
Etac and Kalogon announce new partnership to expand access to smart cushion technology for wheelchair users
The partnership will enhance Etac's Star cushion line and expand access to Kalogon's innovative smart cushion technology for wheelchair users.
Etac, a world-leading developer of ergonomic assistive devices and patient handling equipment, and Kalogon, a leader in smart seating solutions, today announced a new partnership to bolster the quality and availability of smart seating cushions for wheelchair users worldwide. The two companies join forces to enhance Etac's Star cushion product line powered by Kalogon's revolutionary air management system.
Etac's range of Star vertical air cell cushions is respected by clinicians worldwide to support individual needs for pressure redistribution. With solutions for stability and positioning in the StabilAir and StarLock cushions, the Star brand is known for blending trusted pressure care solutions with innovation to increase value to the end user.
"Etac has a 50-year legacy of promoting user abilities and independence through our assistive devices, and teaming up with innovative companies like Kalogon ensures we can continue to lead the state of the art in pressure care," said Magnus Björkqvist, SVP wheelchairs and pressure care, Etac.
"Kalogon's air management systems are a game changer in our space, and together we can deliver the latest pressure care solutions on the market to everyone who needs them."
Kalogon's range of smart cushion products combines machine learning and patent-pending air cell technology to redistribute weight and increase comfort by maintaining blood flow in wheelchair users. A connected app enables wheelchair users, caregivers and clinicians to personalize their experience based on each user's specific needs. Early customers of Kalogon's Orbiter reported significant improvements in overall comfort, accelerated healing, and an ability to sit up to two times longer. Recently, Kalogon announced the pre-order for its Booster product, powered by its Air Management System (AMS). This controller enhances most existing air flotation wheelchair cushions to control and maintain pressure set by a clinician.
"Partnering with Etac gives Kalogon a competitive edge, leveraging their strong reputation and go-to-market strategies," said Tim Balz, CEO and founder of Kalogon. "Combining our innovations in smart seating with Etac's expertise in pressure injuries is a win-win for our businesses and customers."
About Etac: Since 1973, Etac has been committed to improving quality of life for the individual, family members and caregivers. Through our specialized product brands, we offer state-of-the-art solutions for a wide range of daily needs and care settings, for people at all stages of life.
Star is our range of vertical air cell cushions for pressure care, designed to support individual needs for pressure redistribution, stability and positioning.
About Kalogon: Kalogon revolutionizes the way the world sits through technological innovation, cutting-edge research and an obsession with user experience. By prioritizing empathy-driven design and embracing inclusivity, we aim to set a new benchmark in seating solutions for those who spend an extended time sitting, inspiring positive change in the industry. Our ultimate goal is to empower individuals to lead active, seated lives with enhanced comfort and well-being. Learn more at https://www.kalogon.com.
Etac media contact:
Marika Törnqvist
marika.tornqvist@etac.com
Kalogon media contact:
Heather Sliwinski
heather@changemakercomms.com