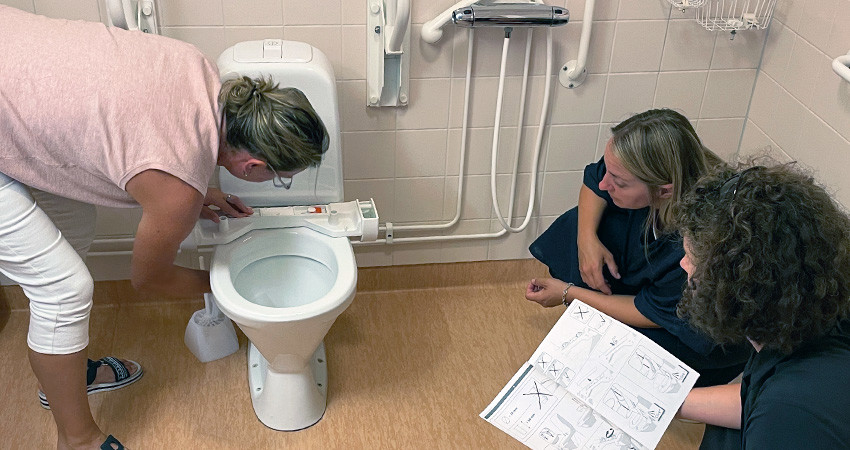 Etac participates in university research project
Can residential bathrooms meet tomorrow's care needs by using innovative equipment and assistive devices?
That's one of the topics the Ergonomics Division at KTH Royal Institute of Technology* (KTH) investigates in the project "Making bathrooms safer for all". The purpose is to research, identify and develop norm-breaking solutions within the bathroom area to increase functionality, improve work environment for caregivers as well as user autonomy and safety.
As part of the project, KTH now initiates an experiment that will compare three different bathroom designs and evaluate how they affect ergonomics for caregivers.
Project background
The population is rapidly aging, and with limited nursing home availability there is a rising need for older people to age in place with the assistance of homecare workers. However, most residential bathrooms were not designed to accommodate a user, a caregiver and the assistive devices that may be needed.
Consequently, poor bathroom design can pose a high risk of injury to both caregivers and users, or force a move to a nursing home. In order to address this problem, it is vital to better understand the challenges of bathroom care in private homes and develop effective solutions for the future.
The experiment
KTH will conduct an experimental comparison of different bathroom layouts and equipment to investigate:
1. Is it possible for a well-equipped home bathroom to perform similar to a nursing home bathroom?
2. How much better is the well-equipped home bathroom than the standard home bathroom?
The study will compare three different bathroom designs:
- a standard nursing home bathroom
- a standard 'miljonprogrammet' apartment bathroom (a Swedish public housing programme*)
- an apartment bathroom upgraded with assistive equipment
Evaluation methods
The performance of the bathrooms will be evaluated in terms of:
Care workers' postures and movements of the back and arms
(measured through workwear with motion sensors*)
The 'spaghetti' path map of the workers' movements through the bathroom during the tasks (registering patterns through video recordings)
Users' interactions with safety equipment (e.g. number of handholds)
Participants' perceptions of safety, usability, and satisfaction (interviews)
The experiment will take place in a new clinical training centre at a care home for the elderly, with the participation of health care workers. The first study findings are anticipated to be available in 2023.
For more information about the project, go to KTH's web page Bathrooms for all.

Partners and participants
The project is funded by Afa Försäkring (Afa Insurance) and the study is being conducted by the KTH Ergonomics Division in partnership with Verklighetslabbet (Reality Lab), using equipment provided by Etac and other medical equipment suppliers.
*References and external links
- KTH Royal Institute of Technology
- Miljonprogrammet
- Workwear with motion sensors