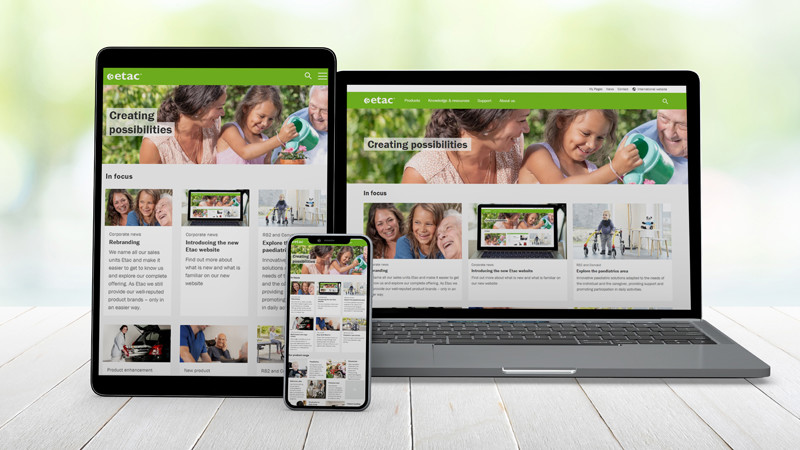 Welcome to our new website
We are very excited to welcome you to our new website that reflects our corporate rebranding from R82 to Etac and that makes it easier and faster to navigate and access comprehensive information about our company, brands and products.
We are very happy to welcome you to our new Etac website that reflects our name change from Etac | R82 to Etac, making it easier to get to know our company, interact with us and explore our full product offering.
Instead of having to navigate through different websites, you will be able to find all of Etac's brands, products and resources in one place*. We also make it easier and faster to navigate and access comprehensive product information and updates.
Selected benefits
Complete product range
Find all of Etac's product categories and brands (R82, Convaid, Molift, Immedia, Star and Etac) in one place.*
Easier navigation
New filter functions to ease navigation of our product range. Filter on product brand, product type, functionality and more.
User-friendly product pages
Explore accessories, documents and videos directly under the product instead of navigating between different pages.
"Our new Etac website is an important milestone in our rebranding and besides reflecting our new name and visuals, it also offers enhanced functionality, a sleek and responsive modern design, together with easy navigation. I'm happy to welcome you all to our new UK website"

Shawn Clarke
Managing Director, UK
* Etac has recently acquired Ki Mobility and the ambition is for Ki Mobility's UK organisation to join Etac.
As for now, it is business as usual so please continue to place orders, interact with sales personnel and generally communicate with Ki Mobility as you always have.