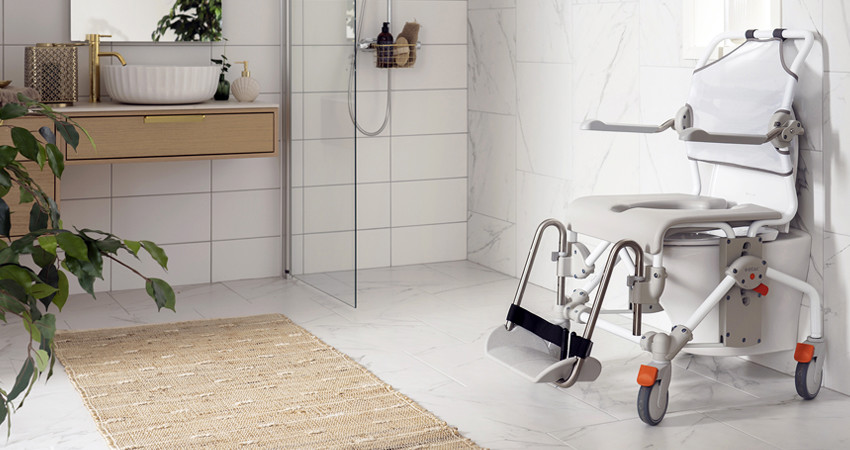 New Swift Mobil variant with upright back
Designed for optimal fit over wall-mounted toilets
Etac continues to expand the Swift Mobil-2 family by introducing a new variant specifically developed for wall-mounted toilets. Wall-mounted toilets grow increasingly common, but for some models it can be difficult to get an exact fit over the toilet seat when using a mobile shower commode chair. The shower commode ends up further from the wall than intended, resulting in a less optimal position over the toilet seat opening.
Therefore, Etac launches a new model with an upright back, especially designed for an ideal fit over wall-mounted toilets. Thanks to the modified backrest, the chair can be placed flush to the wall and positioned perfectly over the toilet seat.
This new variant is recommended when the shower commode's primary use is over a wall-mounted toilet. If it's instead used over floor-standing toilets or with a pan, the standard Swift Mobil model with a more angled back frame is the best choice.
The upright back is also available as a separate accessory that can be used to replace a standard angled back if needed. It is compatible with all standard Swift Mobil models, except for tilt variants.
This latest addition to the Swift Mobil series is part of our continuous work to provide users with maximum options for customisation. The product range includes adaptable main products and a wide range of accessories. Discover our complete range of accessories here.
Upright back
An upright back especially designed for a closer fit over wall-mounted toilets. The backrest enables the mobile shower commode chair to be placed flush to the wall and the seat positioned perfectly over the toilet opening.
Go to product page
Etac Swift Mobil-2
The Swift Mobil-2 is a flexible attendant-propelled shower commode chair that gives carers the best possible access for personal care tasks. It is easy to manoeuvre and can be customised to many different user needs.
Go to product page