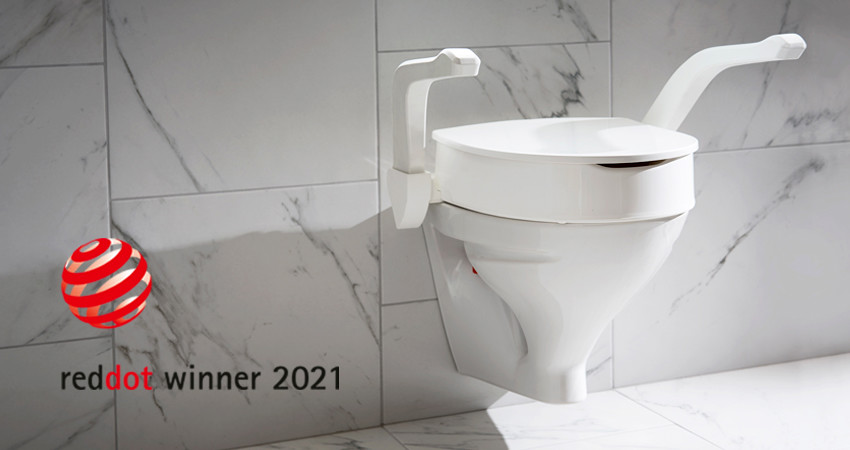 Red Dot Design Award to Etac My-Loo fixed!
Etac receives yet another prestigious award for excellent product design
It is with great pride we can announce that the innovative toilet seat raiser Etac My-Loo Fixed, has received a 2021 Red Dot Award in the discipline Product Design.
The Red Dot is one of the world's most sought-after seals of quality and a testament to an outstanding design achievement. The expert jury assesses a number of factors including functionality, ergonomics, durability, ecological compatibility and degree of innovation. The award winners will be showcased in an online exhibition as well as the Red Dot Design museum in Essen.
My-Loo was designed as part of "Next Level", an initiative to challenge conventions and create a whole new generation of toilet aids. The concept was developed in collaboration with skilled designers from Myra Industrial Design and set the highest requirements on everything from safety and function to aesthetics. The result is an innovative toilet seat with sweeping lines and excellent ergonomics, with a given place in any modern bathroom. It also has a unique and patented arm support solution, providing flexibility and individualised support.
"Winning the Red Dot Design award is the best recognition we could have hoped for. It confirms that Etac products meet the highest standards of innovation and quality – exactly what we set out to do when we designed My-Loo fixed and started our journey with Next Level toilet aids. 'Design drives development' has always been Etac's guiding principle, and we are convinced that My-Loo will create new possibilities for users as well as prescribers." – Maria Sundbäck, Product Manager for Bathroom & Daily Living Aids at Etac