Mobility aids
Our product solutions aim to support children's ability to walk and moving around using equipment by providing support for the arms, pelvis region and for some of the solutions also the trunk, head and legs.

The use of a lightweight walking aid can help to support the child's development of independent walking, or to compensate for a lack of development.
Enabling the child to walk or move around using equipment will let the child apply different loads on their bones, joints and muscles. This will make it possible to develop new skills and prevent secondary consequences of the health condition from affecting the child.
The target users of our wailking aid solutions range from children with severe impairments who need comprehensive support, to children with mild to moderate impairments who can stand independently and need a solution that allows them to walk.
Product solutions with mobility aids
Consider the child's needs to plan the best possible product solution.
Our Measurement and clinical examination sheet can be a good starting point to take the most important measurements and access the most important functional abilities.
Find our Measurement and clinical examination sheet below.
To be able to decide between our types of walking aids, it is relevant to consider if the child is able to fully weight bear on their lower extremities (legs) or need support from a seat. Furthermore, the products position in front of or behind the child might be essential.
Find some of our case stories below and read about experiences with our lightweight paediatric walking aid solutions.
View clinical examination sheet
Discover more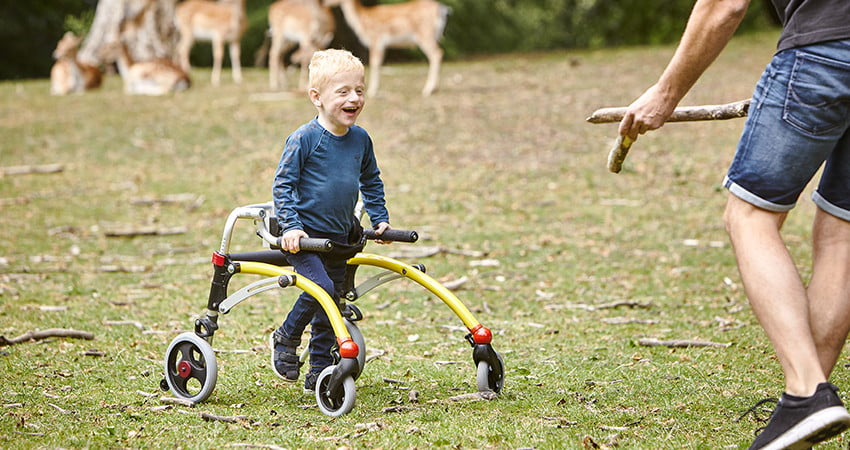 Crocodile video
Konrad and his family took the Crocodile to the park for a day with adventure an fun.
R82
Measurements and clinical evaluation
Size and accessories
Our paediatric product solutions most often consist of a main product and accessories, that when combined match the needs of the user and caregivers.
The size of the main product should be chosen to allow as much growth as possible without compromising the child's need for support.
On our product pages you can learn more about the sizes available and configuration of the main product
The large range of accessories can be used to individualise the type and amount of support provided by the child or to improve the work condition for the caregiver.