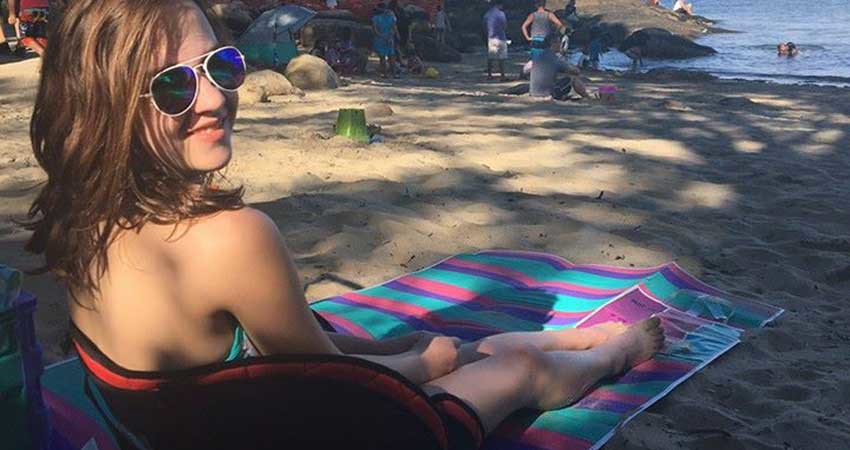 The R82 Scallop is a wonderful piece of adaptive equipment that blends in seamlessly into any environment
Read about the Scallop helping Sara with her invisible disability
At first glimpse Sara looks like your everyday teen. Slender, tall, pretty, Sara loves the outdoors as much as she loves museums and making music with her band where she plays guitar. What you don't see is that she lives with an invisible disability.
Most days, Sara appears happy and healthy, and no one could guess that she lives with a metabolic neuromuscular disorder. Her condition results in low muscle tone and weakness, and inability to maintain adequate energy throughout the day. Sara cannot sit unsupported for a length of time. Her core strength is weak and she tires too quickly. When she does, she uses her Convaid EZ Rider to rest.
Enter the Size 4 R82 Scallop
All summer long Sara and her R82 Scallop have been inseparable as it provides just the right amount of support to keep her from tiring. It is also an attractive seating aid that doesn't draw attention.
It has, however, been the subject of curiosity along the Eastern Seaboard where Sara and her family have enjoyed summer holidays. The R82 Scallop's extreme pliability and bright colors blend right into a vacation landscape. Then, when the R82 Scallop quickly and easily folds into an unassuming tote – a feature that doesn't scream special needs – it makes it easy to carry along for quick and easy seating with a hint of support, enough to keep Sara comfortable and conserving energy.
The R82 Scallop has accompanied Sara on trips to the beach and outdoor concerts in the park, replacing the need to drag along a heavy beach chair.
Mom Alexis says, "The R82 Scallop is a wonderful piece of adaptive equipment that blends in seamlessly into any environment and doesn't make the user stand out as different-something that's very important for a teenager entering high school. Yet what sets it apart from others is its surprising amount of support. We have tried other floor seaters over the years which just didn't have what it takes to hold someone with weaker core strength upright. Most others fell short and allowed Sara to collapse backward. The R82 Scallop has just the right amount of support to keep Sara sitting comfortably for long periods of time without zapping her energy."
On a mission to build awareness about invisible disabilities
Because of Sara's condition, mother and daughter have become avid advocates on a mission to build awareness about invisible disabilities.
"Ninety percent of all disabilities are not visible. Millions of Americans live with chronic illnesses and physical limitations. But despite these alarming numbers many people living with these invisible disabilities are continually judged because they look so healthy. In many ways I'm glad that you do not see my child's illness, but just because you can't see it doesn't mean it's not there" says Alexis, adding that, "The R82 Scallop has made this summer easier and more fun for Sara, it's a great seating aid and wonderful addition to line of products available at R82 for people living with all types of disabilities."
R82 Scallop
The Scallop is designed to aid in floor sitting and to add extra support whilst sitting on a chair.
Go to product page
Please note
A case story is used to show an individual product solution and the experiences related to its use.
The configuration and use of the product, including its accessories is determined based on the preferences of the user, their healthcare professionals, the environment, constraints and local market-specific preferences. The case story is only a supplement to the product's manual/assembly instructions and does not in any way replace these instructions. Products, sizes, configurations, accessories shown might not be available on all markets. Please contact your local sales organization for updated information on availability in your country.