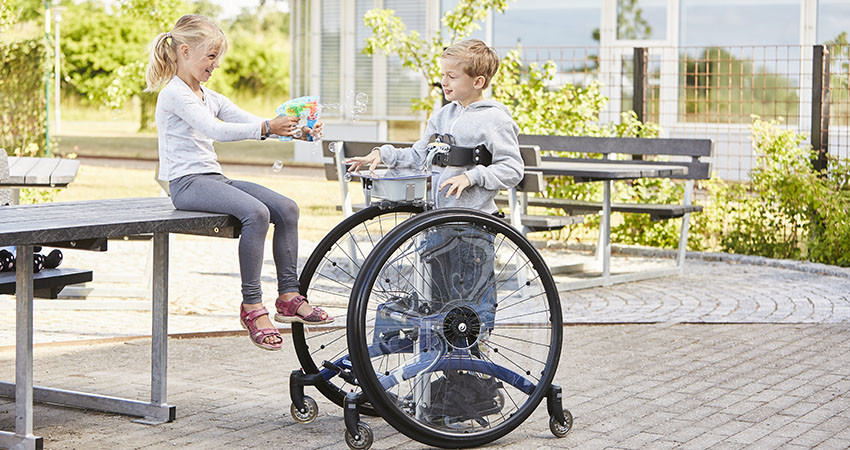 Ability and independence provided by Rabbit Up
The Rabbit Up enables Gustav to use his senses, pursue his curiosity and explore things
Meet Gustav
We had the pleasure of meeting 7-year-old Gustav in one of the world's most accessible office buildings: The House of Disabled People's Organisations in Taastrup, Denmark.
Ability and independence
We spent the morning with Gustav, his little sister Nanna and his mother Mia, who reminded us of the importance of being able to move about and be independent. Gustav has bilateral spastic cerebral palsy (GMFCS IV) and requires physical assistance for mobility and transfers in most settings. However, in the R82 Rabbit Up he showed us how it enables him to use his senses, pursue his curiosity and explore things and places in his surroundings that he finds interesting.

Gustav communicated with us using sounds and manual signs. While doing some colouring at the table with his sister Gustav communicated that he was bored standing by the table. As we didn't respond fast enough Gustav simply unlocked the central brakes of the driving wheels and drove away from the table.

Playing and having fun
Nanna enjoyed making soap bubbles and throwing balloons to Gustav while he was standing in the Rabbit Up. It was easy to see that they have something special together and she succeeded in challenging him to move
and to reach out. It was clear that Gustav felt completely confident with the support and stability provided by the R82 Rabbit Up.

The Rabbit Up with the driving wheels on gives Gustav the possibility of moving and exploring in his surroundings. Perhaps even more importantly, it allows him to leave situations that he does not want to be part of. That is true independence!


R82 Rabbit Up
The Rabbit Up is a truly adaptable stander. It is secure, reliable and adjustable, while also offering the independence to explore using the optional driving, quick release wheels.
Go to product page
Please note
A case story is used to show an individual product solution and the experiences related to its use.
The configuration and use of the product, including its accessories is determined based on the preferences of the user, their healthcare professionals, the environment, constraints and local market-specific preferences. The case story is only a supplement to the product's manual/assembly instructions and does not in any way replace these instructions. Products, sizes, configurations, accessories shown might not be available on all markets. Please contact your local sales organization for updated information on availability in your country.