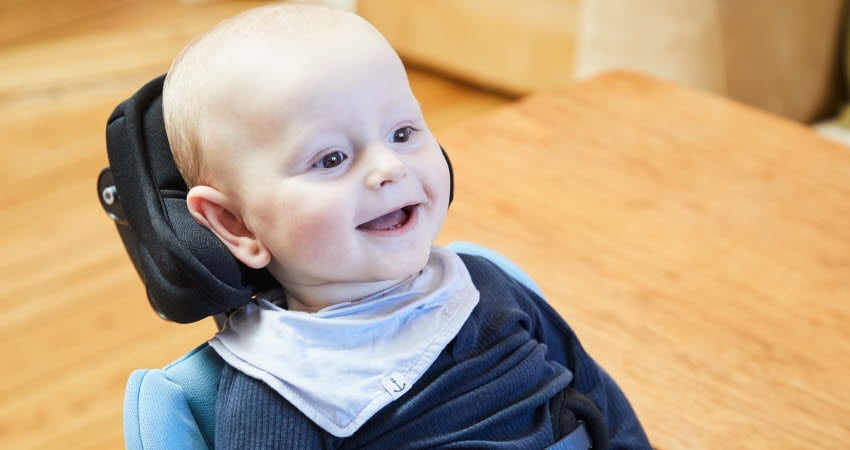 Early intervention with infant seating
The R82 infant seating provides Billy with postural support to his pelvis, legs, trunk, upper arms, and head and creates a soft and stable base for Billy to interact with the world around him.
On a beautiful winter day, we had the pleasure of meeting 9 months old Billy and his parents, Anja and Benjamin.
The meeting took place in the family's cosy 1-bedroom apartment in Copenhagen. They live close to the beach where they can go for walks and swims in the summer.
Billy is a smiling and attentive baby boy who loves to look at other people's faces and responds to smiles with laughter. He spends his days with his mother and father who are both on parental leave.
Billy has a rare disorder called Nonketotic Hyperglycinemia which is inherited genetic disorder. The disorder is characterized by abnormally high levels of the amino acid glycine in the body. Glycine is one of the building blocks in protein and is also used as a neurotransmitter which helps send signals to and from different parts of the brain. The glycine cleavage system is a process where two enzymes work together to help break down glycine. If one, or both, of the enzymes do not work optimally, the baby will have problems breaking down glycine and sending signals in the brain. The excess glycine, which is not broken down, builds up in tissue and organs, particularly the brain, causing intellectual disability.

Most children with Nonketotic Hyperglycinemia do not achieve normal developmental milestones such as sitting up and grabbing things, and will experience developmental delays and weak muscle tone, also known as hypotonia. Billy just gained head control and can keep his balance when sitting for shorter periods of time with manual support to his pelvis and/or lower ribs. He still develops his functional abilities and slowly acquires new skills, but at some point, the development will stop and some of Billys acquired skills might be lost over time.
For now, Billy eats solid food and drinks breastmilk substitute , but over time his level of function might decline, and he will need a tube to administer nutrition.
Anja and Benjamin looked forward to being able to sit him up in a seat so he could see and interact with the world around him, and they could still have their arms free for other activities.

Billy very much enjoyed sitting in the x:panda shape infant seating eating mashed banana with Benjamin and reading books with both Anja and Benjamin.
The R82 infant seating provides Billy with postural support to his pelvis, legs, trunk, upper arms, and head and creates a soft and stable base for Billy to interact with the world around him. The soft wedge creates a gentle seat pit, which supports Billy's pelvis keeping him from sliding forward in the seat. The side support belt gives him precise support for his trunk and helps him stay in the upright position. The support from the infant seating enables Billy to participate in many social and daily activities with his family which he enjoys very much. It was clear that Billy was very comfortable in the x:panda shape infant seating system and as his mother, Anja, points out, he could sit in the infant seating system for longer than they expected.

When Billy needs a break from sitting, tummy time and taking naps he enjoys a nice warm bath during which he uses his R82 Penguin to get the right support. Using the Penguin also frees up his parents' arms up for water play and other activities.

The infant seat provides supported seating for infants and thereby presents the opportunity for early intervention and facilitation of the child's participation and social interaction with parents, carers, and the environment.
Early childhood development is a crucial period that significantly impacts a child's cognitive, social, emotional, and physical growth. Neuroplasticity is most pronounced in the first 2-3 years of a child's life, allowing for rapid development. These first years of early childhood development are the best years for early intervention.
Read more about Early Intervention
R82 x:panda shape
The x:panda shape is highly configurable and provides tailored support to fit the individual needs.
Go to product page
Please note
A case story is used to show an individual product solution and the experiences related to its use.
The configuration and use of the product, including its accessories is determined based on the preferences of the user, their healthcare professionals, the environment, constraints and local market-specific preferences. The case story is only a supplement to the product's manual/assembly instructions and does not in any way replace these instructions. Products, sizes, configurations, accessories shown might not be available on all markets. Please contact your local sales organization for updated information on availability in your country.