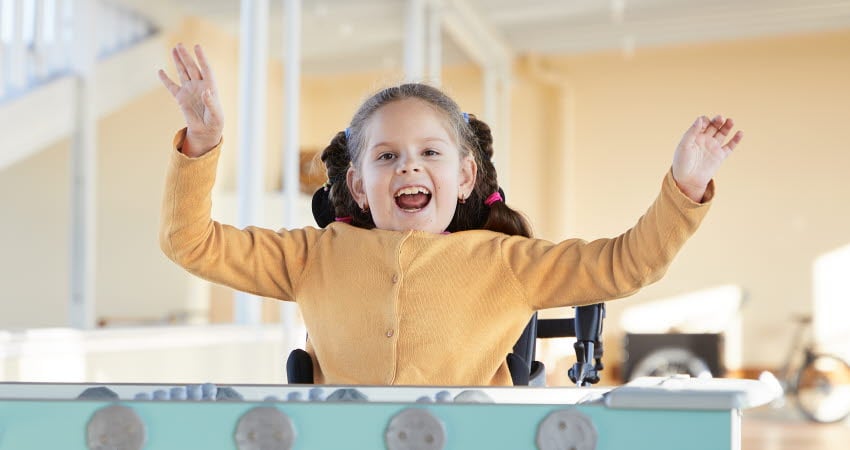 Active schoolgirl in x:panda shape
On a beautiful winter's day, we had the pleasure of meeting Anastasiia and her father Vasyl.
The meeting took place at Anastasiia's school, Friluft Skolen, in Copenhagen, where she attends 1st grade. Friluft Skolen is a school for children with disabilities and, in Anastasiia's class, there are 5 children with different assistance needs.

Anastasiia is an almost 8-year-old girl. She moved to Denmark with her mother and father from Lviv, in Ukraine, four years ago. She loves all types of cats, and her favourite toy is a robotic cat that she got for Christmas. Anastasiia loves to meet new people and speaks Danish, Ukrainian, and English.

Anastasiia has Spinal Muscular Dystrophy (SMA2). SMA2 is a genetic neuromuscular disorder that affects the nerve cells that control voluntary muscles. Children with SMA2 are able to achieve independent sitting; however, they are not able to stand or walk independently. Anastasiia uses a corset for added upper body stability, and braces on both ankles. Anastasiia's legs are not able to support her own body weight. When she needs to move to or from her wheelchair, she uses a hoist or gets manual support from her parents. Anastasiia uses standing frames several times a week, both at home and at school, to maintain and improve her muscle strength.
The x:panda shape was fitted with postural supports, which gave Anastasiia support to her pelvis, legs, chest, arms, and head. This support stabilises her body, which enables her to use her arms and hands for fine motor skills, as well as for fun activities with her friends and family. Anastasiia showed us just how skilled she is at drawing cats when her body is stable, allowing her arms and hands optimal movement. At school, Anastasiia needs her seat to provide stability so she can use her arms and hands for art class, or for doing fun school projects on the computers.
When Anastasiia does not attend school, she enjoys swimming at the local swimming club. The family often uses public transportation to get to the swimming club and around the city. Therefore, it is necessary that her seat is approved for transportation which, of course, the x:panda shape is.
R82 x:panda shape
The x:panda shape is highly configurable and provides tailored support to fit the individual needs.
Go to product page
Please note
A case story is used to show an individual product solution and the experiences related to its use.
The configuration and use of the product, including its accessories is determined based on the preferences of the user, their healthcare professionals, the environment, constraints and local market-specific preferences. The case story is only a supplement to the product's manual/assembly instructions and does not in any way replace these instructions. Products, sizes, configurations, accessories shown might not be available on all markets. Please contact your local sales organization for updated information on availability in your country.