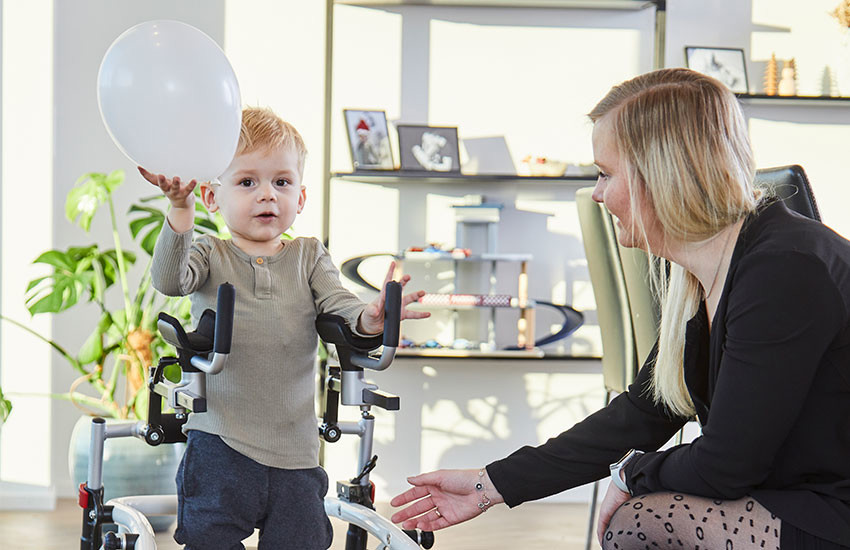 Crocodile 0 - Helping the smallest take their first steps!
A new member in the R82 Crocodile family is now available! The Crocodile size 0.
The R82 Crocodile size 0 is the smallest sibling in the family, suitable for children from approximately 60 cm and up to 105 cm of body height. Depending on the type of the accessories, the Crocodile can be used as a walker for children who can take full weightbearing or as a gait trainer for children, who can only take partial weightbearing.
With the new Crocodile size 0 two new accessories are also introduced: a surrounding support and a grip bar. For children who needs postural support for walking, the surrounding support can be useful. It is height, width, and depth adjustable and can therefore be used for support at both the pelvis area and the chest area. For some children it can be challenging to have the arms along the side to grasp around the side handles when practicing walking. Instead, it can be easier for the child to have the arms and hands in front of themselves, where it is easier to lean forward and create progress. The new grip bar makes it possible to do this as it is mounted between the two side handles creating a grip bar in front of the child.
The R82 Crocodile
The Crocodile is a walking aid for children and youngsters with disabilities, who need supplementary assistance with their daily walking.
The Crocodile walker aims for harmony, balance and rhythm. Placed behind the child, the frame allows freedom of movement and facilitates walking in the upright position. The adjustable handles can be individually adapted to a position conveniently close to the child's body providing maximum support and stability.
The Crocodile is light, easy to dismantle and safe and easy to use. Crocodile can be used just as effectively by a child who needs little support or by a child needing a fully supported upright gait trainer with all the accessories added.