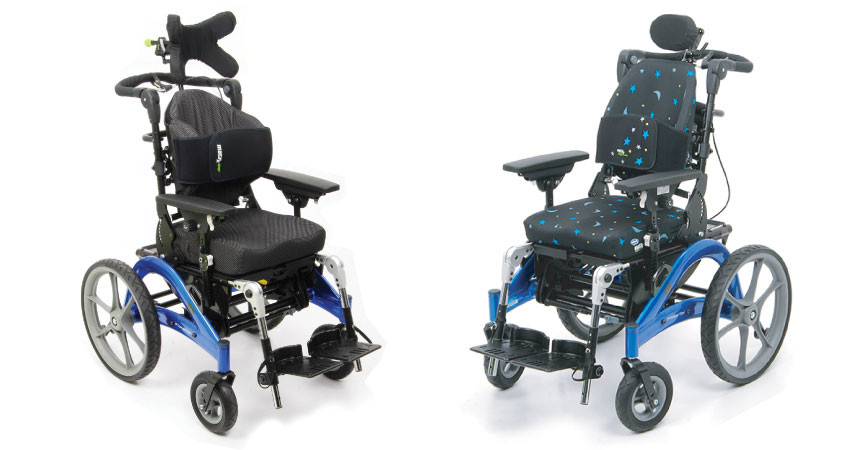 Convaid Flyer with Matrx Seating: A perfect partnership
Matrx seating and accessories are now available on the Convaid Flyer Order Form to improve convenience, positioning, and comfort for our customers.
Introducing Matrx seating and accessories on the Convaid Flyer wheelchair
The Convaid Flyer is a uniquely designed tilt-in-space wheelchair that has always accepted more complex adaptive seating options, but now Convaid has now partnered with Matrx seating to make it as easy as possible to order their portfolio of pediatric contoured configurable seating for a complete and optimal pediatric wheelchair solution.
As a wheelchair the Convaid Flyer is a lightweight, modular and portable wheelchair developed with youth-oriented aesthetics and growth. This seat depth, seat height, and width-expandable chair allows a child to grow freely, without worry of outgrowing the chair. Designed to offer complex rehab support, the Flyer comes standard with -5° to +40° of tilt, 30° of back angle adjustment, and offers 80 - 170° optional recline to achieve ideal positioning and support.
Coming in at only 30.7lbs in weight this modular wheelchair is the optimal choice for families on the move, making it easy to store in vehicle trunks while providing full positioning support at the point of your destination. Now that Convaid offers Matrx seating options the range of support has been widely expanded. Matrx is an established global leader, who has been committed to innovation, high quality and superior product performance. Convaid specifically decided to partner with Matrx due to the durability of their products, knowing that durability is a core feature of the Convaid products which must remain true for any partnered accessories.
The Convaid Flyer Order Form now displays 3 options of Matrx pediatric back options, 3 Matrx seat cushion options, 2 Matrx headrest options, Matrx laterals, and other Matrx trunk support accessories. With this range of complex positioning possibilities, the perfect set-up can be achieved for each growing child. Ordering the Matrx seating and accessories through the Convaid Flyer Order Form means that you will receive a fully assembled Convaid Flyer frame with the Matrx cushions and accessories pre-installed on your wheelchair order. Less time and fuss when you receive your order means more immediate comfort for your child! Visit the Convaid Flyer product page today to take advantage of this newest opportunity from Convaid. For more information on the Matrx options available on the Convaid Flyer please reach out to your local Etac representative.
Matrx Seating on the Convaid Flyer
Matrx seating and accessories while paired with the Convaid Flyer allow children and teens with complex seating needs to comfortably enjoy excursions with their family and friends!
Go to product page
Don't miss our upcoming webinar
Title: Convaid Flyer with Matrx Seating: A perfect partnership
Date: Wednesday, January 19, 2022
After this webinar, learners will understand the:
Target users of the Convaid Flyer with Matrx Seating
Benefits of center gravity tilt with contoured seating
Options and configurations for Convaid Flyer with Matrx seating
Order form process
Register today!