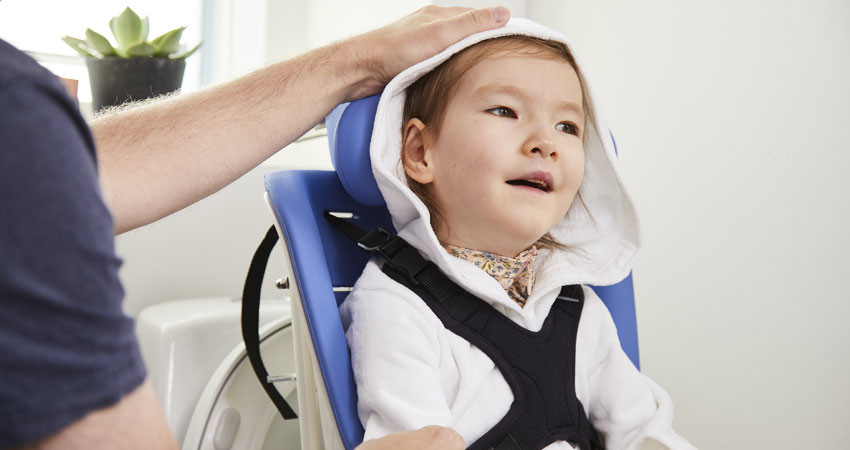 Meet Olivia
We had the pleasure of meeting 6-year-old Olivia and her parents, Morten and Wei in their cosy and accessible home to allow her to try the R82 Swan Curo for the first time.
Olivia was born in 2015 in Tianjin, China, where her she was diagnosed with cerebral palsy. She has been classified using the Gross Motor Function Classification System as level V.

Olivia participates in simple adapted activities using her hands by pushing a button and occasionally holding objects, equivalent to Manual Ability Classification System Level V. Olivia communicates using sounds, gestures, and facial expressions. Morten and Wei use manual signs to reinforce their speech to enhance Olivia's ability to understand them. During our visit, Wei showed Olivia pictures with communication symbols of the R82 Swan Curo and the new booklet that introduces children to potty training using the R82 Swan Curo.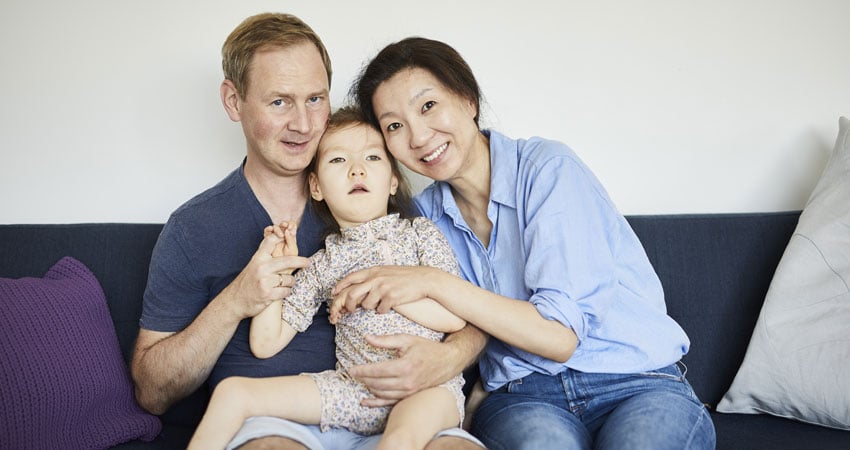 Moving to a different part of the world
Olivia and her family moved to Denmark in 2017. Morten and Wei decided to build a new one-family house in Denmark. Taking Olivia's needs for assistive devices and physical assistance into account, they have made a home with an inclusive environment for a child that needs wheeled mobility. Olivia's room is located next to her bathroom with a wide doorway without steps. This allows her to be transferred directly from the bed to the toilet/bathing chair and pushed in the chair between the two rooms.
Olivia has a range of different product solutions needed to support the various activities she participates in during the week. Olivia uses an R82 Stingray for outside mobility, an R82 x:panda on an R82 High-low frame for eating at the dinner table or relaxing in front of the television, preferably to a recording of the ballet "Swan Lake". Furthermore, Olivia uses an R82 Caribou for standing in the kindergarten.

Taking a shower or going to the toilet
For Olivia and her family, daily recurring activities like brushing her teeth, taking a bath, or going to the toilet require the right assistive devices to allow her to be as active and involved as possible. Due to its simple design, user-friendly and light weight, the R82 Swan Curo is easy to handle for Morten and Wei.
Olivia's physical impairments restrict voluntary control of movement and her ability to maintain the position of her head and trunk against gravity. The gas spring-supported tilt function changes the seat plan angle from upright to 20° backward tilt. For Olivia, the upright active position supports toileting, while the backward tilted and more relaxed position is great for washing her hair and participating in wellness activities such as having a foot bath.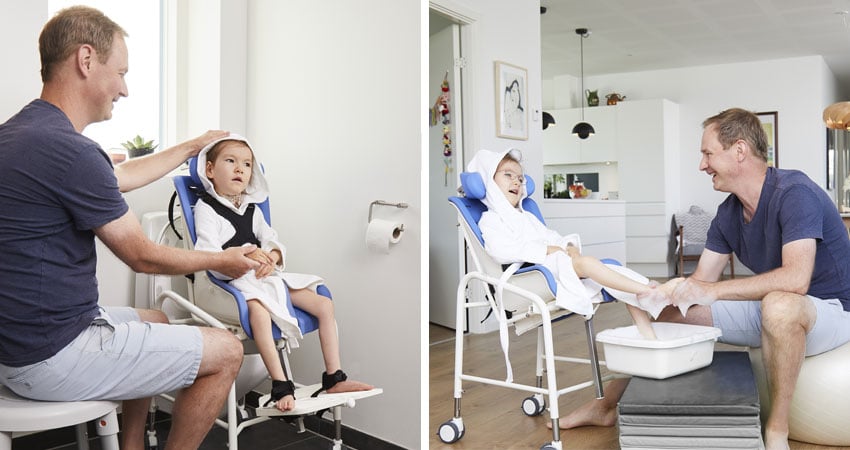 1) Olivia on the toilet in an almost upright position with her dad besides her on an Etac Easy shower stool.
The Swan Curo, with the narrow footprint fits perfectly into the toilet environment.
2) Olivia sits comfortably in a backward tilted position while Morten gives her a foot massage.
Deciding on the right size R82 Swan Curo
When choosing size, it is important to collect the child's measurements and measurements from the toilet and bathroom surroundings. Finally, the measurements are compared to the R82 Swan Curo measurements, to ensure the correct choice of size for the child and the surroundings.

Olivia's measurements were recorded and using the R82 Swan Curo Measurement chart, the optimal size for Olivia was an R82 Swan Curo size 2. This size provide support for Olivia's upper trunk and pelvis, and the added accessories provide support for her head and legs. In addition, Olivia is able to use the R82 Swan Curo size 2 even if her stature increases by several centimetres in height.
For further information about sizing and the considerations behind our choice, please see our measurement guide.


Different accessories for each activity
During our visit, our physiotherapist tried different types of accessories to see how they affected Olivia's ability to maintain an upright position. The need for and use of accessories will depend on the child's current size and abilities and the self-care activities they participate in.
We tried the following accessories:
Foot plate and ankle straps to keep the legs and feet in a stable position.
The combination was a success in the upright position (picture 1), In the backward tilted position, the ankle straps were not required (Picture 2).

Y-hip belt and Torso vest to help her maintain pelvis and trunk position (picture 1). The Y-hip belt keeps the pelvis in position in the back of the seat, providing the foundation or stable base the trunk is positioned on. When in an upright or almost upright position, Olivia requires frontal support on the trunk from the Torso vest to maintain the position of her trunk, and to control the position of her head for short periods of time.



Olivia tried two narrow head supports, the Head support no 2 with deep sides and the Head support no 3 with big sloping sides. Only small differences in their ability to support Olivia to maintain the position of head were observed. The choice between the two for Olivia depends on family preferences rather than professional arguments.



The tray servs as a support surface for her mirror and hairbrush. Some children might use the armrest/tray to support their arms to create a 'closed chain' between arms and trunk to help them maintain an upright position of the trunk and to generate thoracic pressure to achieve bowel movement.


FACTS
Cerebral Palsy
Cerebral palsy is the name for a group of lifelong conditions that affect movement and co-ordination, caused by a problem with the brain that occurs before, during or soon after birth.
The symptoms of cerebral palsy are usually not obvious just after a baby is born. They normally become noticeable during the first two or three years of a child's life.
Symptoms can include:
Delays in reaching development milestones – for example, not sitting by eight months or not walking by 18 months
Seeming too stiff or too floppy
Weak arms or legs
Fidgety, jerky or clumsy movements
Random, uncontrolled movements
Walking on tip-toes
The severity of symptoms can vary significantly. Some people only have minor problems, while others may be severely disabled.
Reference: https://www.nhs.uk/conditions/cerebral-palsy/
GMFCS
GMFCS stands for Gross Motor Function Classification System
GMFCS looks at movements such as sitting, walking and use of mobility devices. It is helpful because it provides families and clinicians with a clear description of a child's current motor function, and an idea of what equipment or mobility aids a child may need in the future, e.g. crutches, walking frames or wheelchairs.
Generally, a child or young person over the age of 5 years will not improve their GMFCS-E&R level so if, for example, a child is classified at a Level IV at the age of 6 then it is likely that they will need to use a mobility device throughout their life.
GMFCS-E&R is used for infants under 2 years of age through to the 18th birthday. GMFCS-E&R is published in several different languages and a Family and Self Report Questionnaire is available.
The CanChild website has full details on GMFCS-E&R - visit it here
R82 Swan Curo
The toilet and bath chair has a minimalistic design and is relatively small, making it ideal for many bathrooms and homes.
Go to product page
Please note
A case story is used to show an individual product solution and the experiences related to its use.
The configuration and use of the product, including its accessories is determined based on the preferences of the user, their healthcare professionals, the environment, constraints and local market-specific preferences. The case story is only a supplement to the product's manual/assembly instructions and does not in any way replace these instructions. Products, sizes, configurations, accessories shown might not be available on all markets. Please contact your local sales organization for updated information on availability in your country.