Etac Swift Commode
A smart toilet chair with three-in-one functionality
Swift Commode is a versatile product that can be used as a commode, shower chair or toilet seat raiser. It is excellent for people who need access to a toilet near the bed, since it provides functionality combined with a discreet design for the bedroom. Designed like an armchair, it has soft pads which are removable and conceal a pan.
The commode is equally suitable in the bathroom, as it can sustain wet environments and be used as a shower stool, with or without the pads. When placed over the toilet, it functions as a stand-alone toilet seat raiser. The chair can easily be adjusted to the preferred height, and the armrests offer stable support when standing up or sitting down.
Designed for flexibility
Swift Commode is light in weight and easy to move between the bedroom and bathroom. At the same time, it can accommodate larger users with a maximum user weight of 160 kg. It is height-adjustable between 42-57 cm, and can be set with a slight anterior tilt to further facilitate standing up.
Easy assembly and cleaning
Swift is easy to assemble without the need for any tools. Armrests and back support can just as easily be removed if needed, which also simplifies cleaning. The chair has smooth surfaces and is non-corroding. The seat pad, back support pad and pan are included as standard.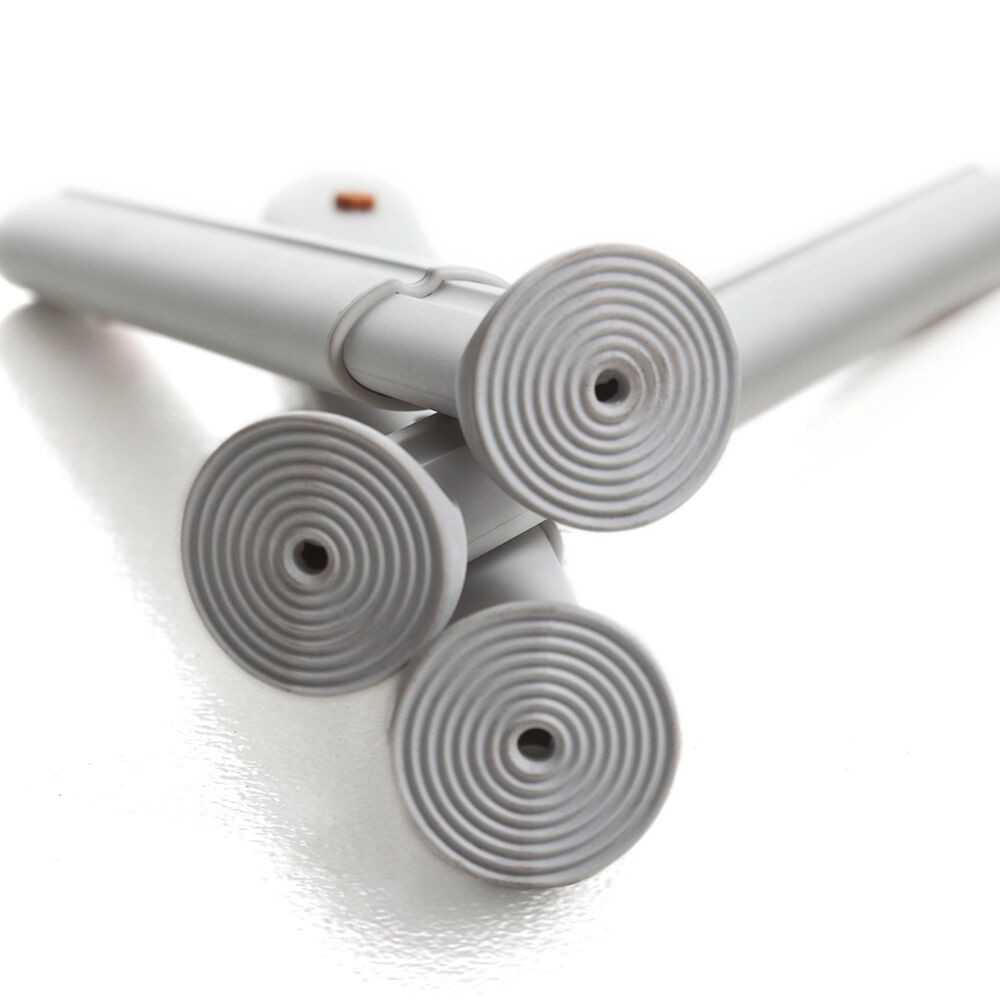 Dependably stable
The chair has a large footprint which makes it extremely stable. The legs' responsive, non-slip ferrules adapt to the floor and provide an excellent grip on wet or uneven surfaces.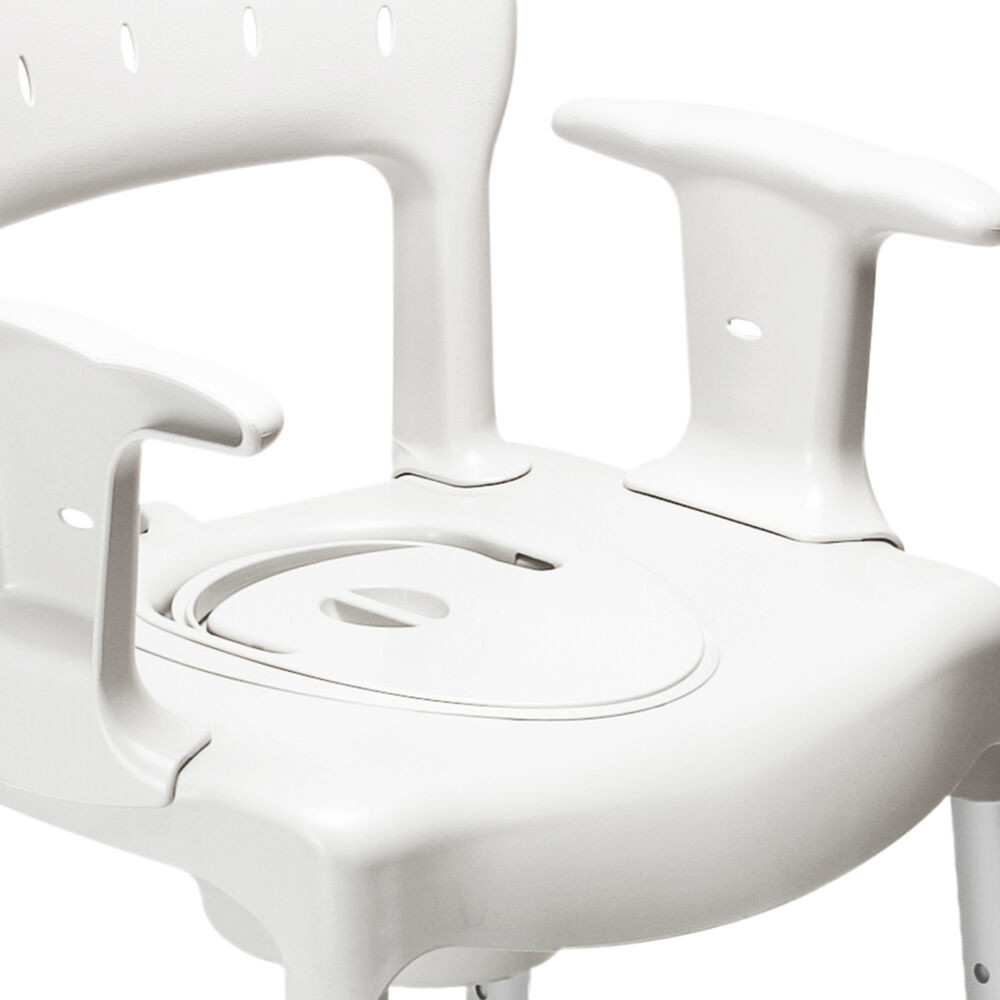 Pan with integrated, self-locking lid
The well-designed pan fits smoothly and becomes one with the seat. It has an upright handle that automatically locks the lid when carried, as well as a handle in the back.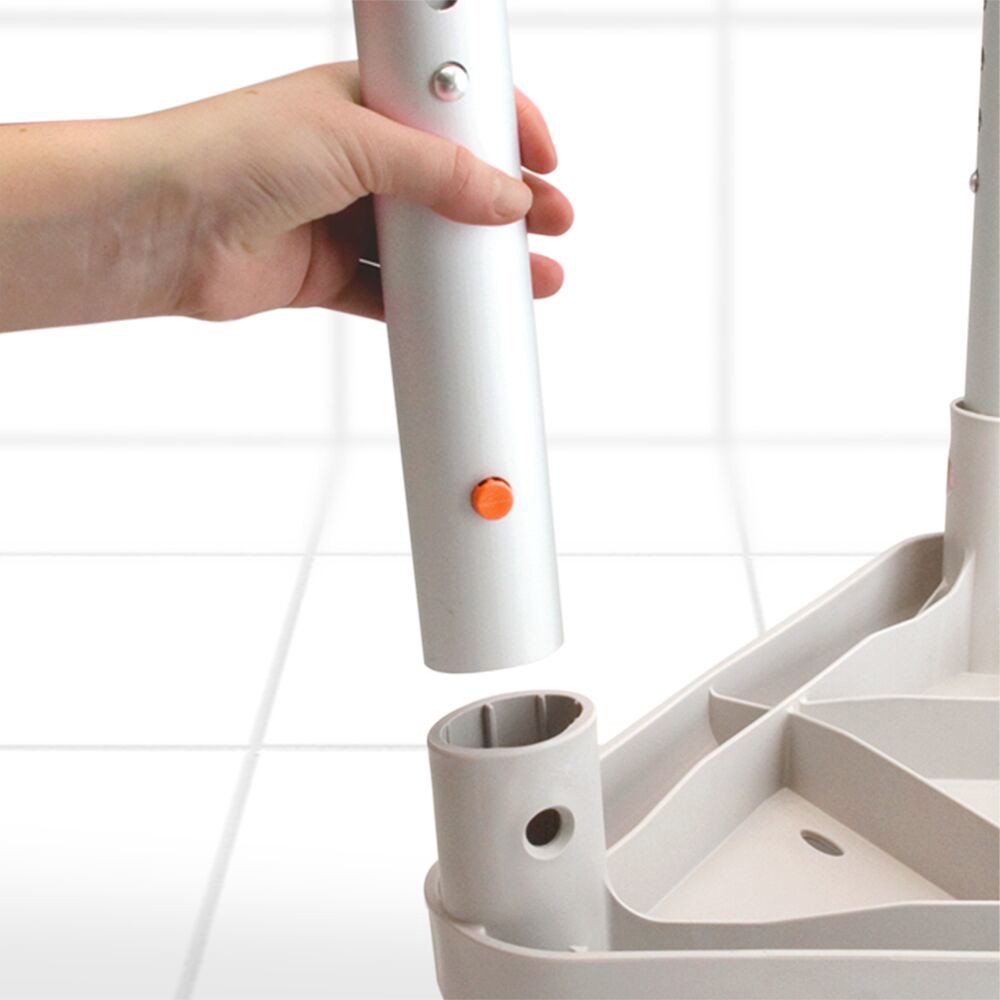 Easy to assemble
Assembly is easy without the need for any tools. The self-locking button clicks into place and the oval shape prevents the legs from turning when making the adjustment.
Easy handling
Swift Commode comes flat-packed in a smart carry case. Since the chair is easy to assemble/disassemble, the box can be saved and used for further transports if the chair is used in several venues.
| | Item number | Material | Maximum user weight (kg) | Opening: depth x width (mm) | Seat height (mm) | Seat width (mm) | Weight (kg) | Width (mm) | Width between arm supports (mm) |
| --- | --- | --- | --- | --- | --- | --- | --- | --- | --- |
| Swift Commode | 81702030 | Seat, back and arm supports: polypropylene. Legs: aluminum and polyamide. Ferrules: TPE. Back and seat pads: Polythylene with nylon fabric. | 160 | 300 x 215 | 420-570 | 540 | 6,2 | 560 | 450 |
| Swift Commode basic without pads | 81702060 | Seat, back and arm supports: polypropylene. Legs: aluminum and polyamide. Ferrules: TPE. | 160 | 300 x 215 | 420-570 | 540 | 5,6 | 560 | 450 |
Documents
Download of user manuals are intended for expedient purpose only. The products in reference may be subject to change without prior notice and reader's discretion is advised to ensure coherence with product version and article number as well as the appropriate translation.
Swift Commode video
Height adjustment and anterior tilt
Swift Commode video
Assembly
Swift Commode video
Three-in-one functionality
Swift Commode video
Disassembly