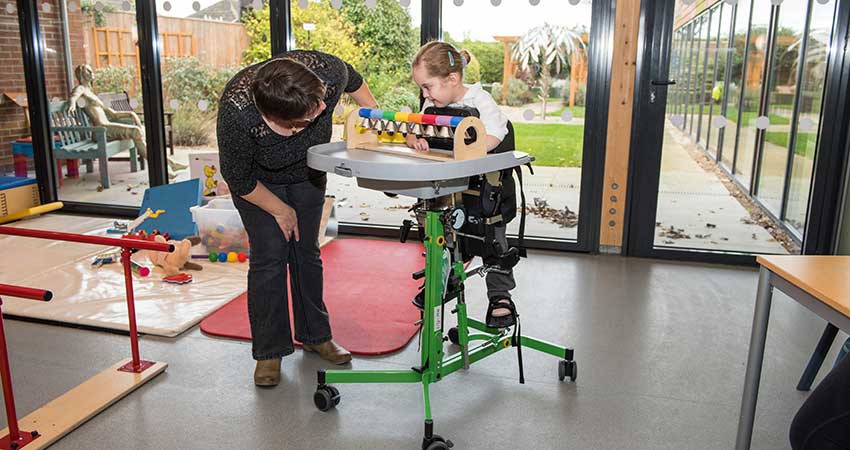 The Gazelle PS stops Lily Mae's hips from migrating
Read how the Gazelle PS helped Lily-Mae instantly in her development
Social and clinical results for 4-year-old Lily-Mae with Cerebral Palsy
Lily Mae is a delightful child who lives with various health issues including Cerebral Palsy (CP) and a dislocated left hip. These conditions result in Lily Mae requiring specialist equipment to support her in achieving a sitting or standing position. She has limited head control and transfers require the assistance of an adult.
Like Lily-Mae, children who are significantly delayed in their ability to stand, and require the use of supportive equipment, are at greater risk of developing hip problems such as hip subluxation and dislocation. A standing frame which supported hip abduction was sought to support, maintain and improve Lily-Mae's hip position by Senior Physiotherapist, Frances George.
Frances supports Lily Mae at her school, Humberston Park Special School near Grimsby, Lincolnshire, where a programme of hip abduction has been initiated using the R82 Gazelle PS. This ergonomic and versatile standing frame, that offers prone and supine support, has helped Lily Mae achieve significant results both in terms of clinical and social improvement. The Gazelle PS from R82 is a supportive standing frame for children of all abilities who require support in standing. Being able to stand is vital for both physical and psychological well-being. The Gazelle enables optimum upright postural positioning support from either the front or rear (prone and supine). By enabling the hips and knees to be supported in the correct alignment for standing, this provides a maximum stretch of both hamstrings and calf muscles. Gazelle offers multiple positioning and adjustment options so can be configured to meet the needs of each child.
The Gazelle provides up to 30 degrees of measured abduction that can be applied individually to each leg. Clinical evidence continues to show that regular standing in abduction can halt and even reverse hip migration that is frequent in children with CP. Complete dislocation of the hip ball and socket joint leads to multiple complications and considerable discomfort. With a child's legs supported at an elevation of 30 degrees, the femoral head is encouraged to remain in the acetabulum – crucial as a child develops and grows.
Frances George has been a qualified Physiotherapist for 15 years and has been the lead therapist at Humberston Park Special School since 2013. She initiated use of the R82 Gazelle with Lily Mae during Easter of 2015 so that her development could be improved on a daily basis. Lily Mae demonstrated significant improvement instantly. Before the support of the Gazelle, Lily Mae had a tendency to 'hunch up in a ball' in her wheelchair and social interaction could be limited. Her mother Lisa elaborates: "With the Gazelle being used at home and school for increasing periods, from 45 minutes up to a few hours per day, Lily Mae is now able to respond more positively and with greater frequency during play time. She is clearly more aware of her surroundings when standing and raises her head more regularly. Her discomfort is reduced and she finds the attachable tray the ideal platform to engage with sensory toys. Coupled with the hydrotherapy treatment at Humberston School, Lily is happier and we see more smiles. With her recent tendon release operation, we feel this is only the beginning of her development thanks to the Gazelle and look forward to seeing x-rays that should confirm her hip joints have stopped migrating."
R82 Gazelle PS
Gazelle PS stands for Prone and Supine which means it can be used by children who need to be supported on their fronts or backs
Go to product page
Please note
A case story is used to show an individual product solution and the experiences related to its use.
The configuration and use of the product, including its accessories is determined based on the preferences of the user, their healthcare professionals, the environment, constraints and local market-specific preferences. The case story is only a supplement to the product's manual/assembly instructions and does not in any way replace these instructions. Products, sizes, configurations, accessories shown might not be available on all markets. Please contact your local sales organization for updated information on availability in your country.