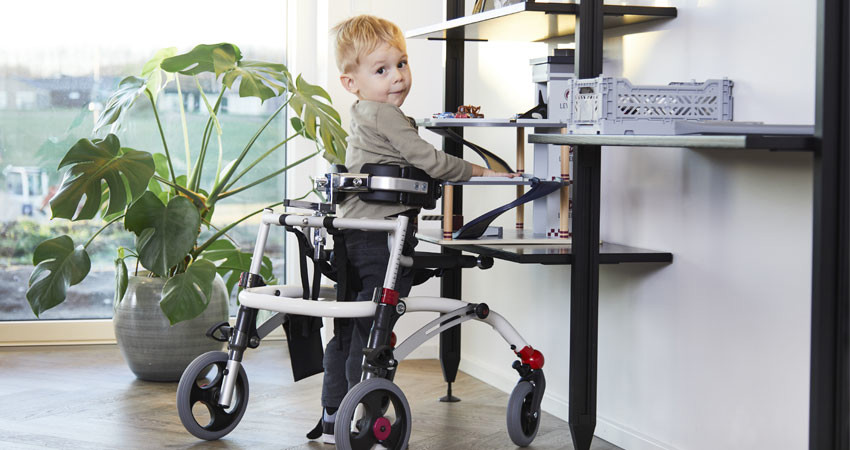 Meet Tobias
Close to Christmas we had the pleasure of meeting Tobias and his mom Isabella. Tobias lives with his parents in a small town close to R82's facilities in Denmark. Tobias is almost 3 years old and loves to play with his Lego and help his dad with improvements in their new house.
Tobias' story
When Tobias was about 9 months old, he was diagnosed with Spinal muscular atrophy type 1. Until a few years ago that would mean that children with this type of diagnosis, would experience muscles becoming weak and wasting away within a few years, making the child unable to meet typical milestones, like holding their head or sit independent. However, a new type of medicine has changed what we know about the prognosis for this disease (SMA1). When Tobias started the medicine, he could only lie on his back and had difficulties stabilising his head when lifting it lying on his stomach. After a few treatments Tobias could sit independently and a few months later he started using a R82 Pony for walking. He continued his gross motor development and got stronger in his legs, making it possible for him to use a R82 Mustang instead. When we meet Tobias, he was using the R82 Mustang with posterior support, chest support and a seat. We wanted to try if the Crocodile O could be the right solution for Tobias in his future development.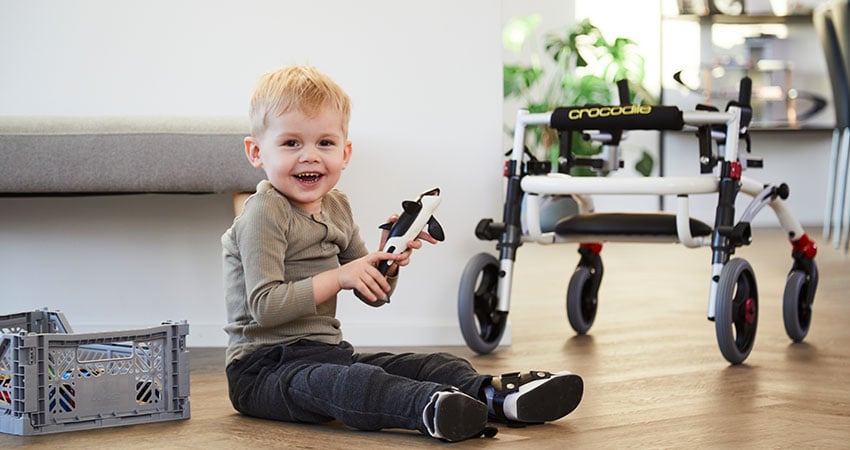 Crocodile 0
Tobias is able to stand for shorter periods of time but still needs support when walking. To accommodate these requirements, we made two different configurations for Tobias to try out. The first configuration includes a sling seat, surrounding support and grip handle. This solution will aim to give Tobias support at the trunk and give him the possibility to take a rest when walking around. The other solution is with a flip down seat and forearm support with handgrip. This solution has less support and demands that Tobias has full weightbearing for longer periods of time. In both solutions the directional stabiliser was locked to make it easier for Tobias to control the Crocodile.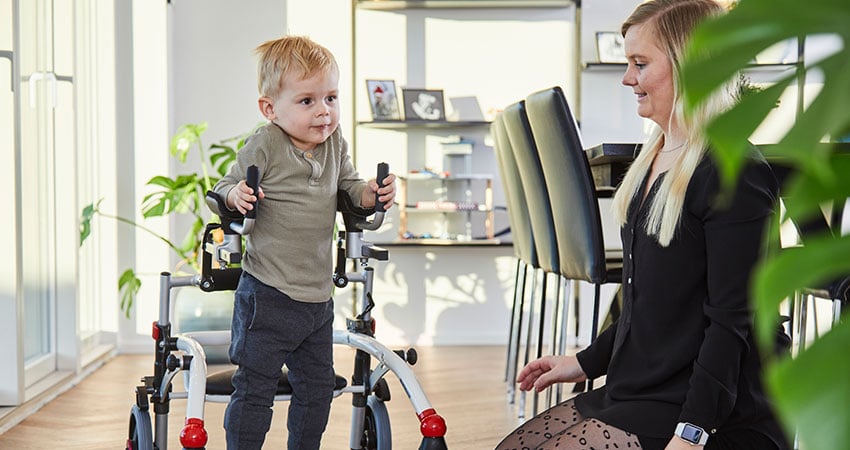 Facts
What is spinal muscular atrophy?
Spinal muscular atrophy (SMA) is a group of hereditary diseases that progressively destroys motor neurons. Because of this the child will experience muscle weakness and atrophy giving them troubles with activities such as sitting, walking, speaking, breathing, and swallowing. There is a wide range of impairment seen in SMA caused by defects in the SMN1 gene, from onset before birth with breathing difficulties at birth to mild weakness in adults. Accordingly, this most common form of SMA can be classified into four types, based on highest motor milestone achieved.
SMA type I, also called Werdnig-Hoffmann disease or infantile-onset SMA, is evident usually before 6 months of age. Symptoms of SMA type I include hypotonia (reduced muscle tone), diminished limb movements, lack of tendon reflexes, fasciculations, swallowing and feeding difficulties, and impaired breathing. These children also develop scoliosis (curvature of the spine) or other skeletal abnormalities as they get older. Without any treatment, affected children never sit or stand and the vast majority usually die of respiratory failure before the age of 2 years. Children with SMA type I now live longer and can reach higher motor milestones like sitting and even walking with more proactive clinical care and newly available disease modifying treatment.
Reference: Spinal Muscular Atrophy Fact Sheet | National Institute of Neurological Disorders and Stroke (nih.gov)
Read more:
Mercuri E. Spinal muscular atrophy: from rags to riches. Neuromuscul Disord. 2021 Oct;31(10):998-1003. doi: 10.1016/j.nmd.2021.08.009. PMID: 34736637.
Prior TW, Leach ME, Finanger E. Spinal Muscular Atrophy. 2000 Feb 24 [updated 2020 Dec 3]. In: Adam MP, Ardinger HH, Pagon RA, Wallace SE, Bean LJH, Gripp KW, Mirzaa GM, Amemiya A, editors. GeneReviews® [Internet]. Seattle (WA): University of Washington, Seattle; 1993–2021. PMID: 20301526.
R82 Crocodile
The Crocodile is a walking aid for children and youngsters with disabilities, who need supplementary assistance with their daily walking.
Go to product page
R82 Mustang
The Mustang is a walking aid for disabled children and youngsters, who need supplementary assistance with their daily walking.
Go to product page
R82 Toucan
The Toucan standing frame comes with soft curves and smart colours. It is designed to support the user in the upright and prone position.
Go to product page
R82 - x:panda
The x:panda is a multi-adjustable dynamic seat, developed to establish an ideal seating position for children and youngsters living with a disability.
Go to product page
Please note
A case story is used to show an individual product solution and the experiences related to its use.
The configuration and use of the product, including its accessories is determined based on the preferences of the user, their healthcare professionals, the environment, constraints and local market-specific preferences. The case story is only a supplement to the product's manual/assembly instructions and does not in any way replace these instructions. Products, sizes, configurations, accessories shown might not be available on all markets. Please contact your local sales organization for updated information on availability in your country.