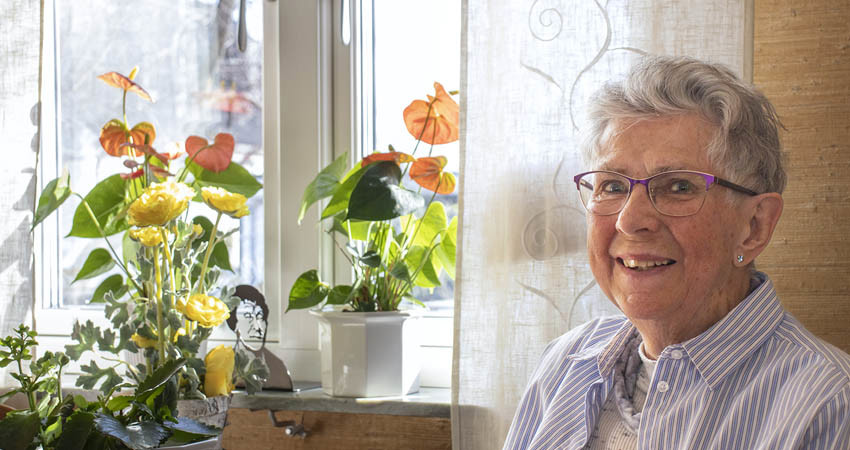 "Assistive devices can help you to manage on your own!"
Gerd is 84 years old and has used a raised toilet seat from Etac over the past 6 months. We met for an interview about the seat and ended up in interesting discussions about ageing, the importance of independence - and why it's embarrassing to fall as an adult.
Introducing a raised toilet seat
On a sunny day in March, we visit Gerd and her husband Jan in Norrtälje, a town slightly north of Stockholm, Sweden. The first spring flowers have just started blooming in their garden, and we are welcomed by a cheerful couple for a lunch interview.
Both in their 80's, the couple are in good health and remain quite active. Gerd can struggle a bit with standing up though, and feels her balance is not what it used to be.
As a result, she has used a raised toilet seat from Etac since last autumn. Before, she used to pull herself up from the toilet by holding on to the wash basin, but by raising the seat she can now stand up independently. Although it has arm supports, she rarely uses them since making it easier to stand was primarily achieved by having a better seat height. However, they are a great additional help when she needs them.

The seat provides some sense of security. If something happens where I'm unable to get up, I can always use the arm supports.
The seat is really comfortable and the added height means I don't have to hold on to the wash basin anymore. I sit very well!
The risk of falling
We ask Gerd if she is aware that the risk of fall accidents increases with age, and if she has ever fallen herself. She says that she "hasn't fallen yet, knock on wood", but is extremely conscious of the risk, especially considering her balance issues. She always walks very carefully, uses studded shoes during the winter, and refrains from riding her bicycle nowadays.
We start discussing how it feels embarrassing to fall. That when you are a child you can fall all the time, but when you're an adult, you don't want to admit to others if you do. But none of us can really explain why. Just agree that it's quite strange, but seems to be true for most people.
Stigma of assistive technology
Research shows that there is stigma around assistive devices, and we know that it can be difficult to overcome the threshold of introducing the first aid. We ask Gerd what she thinks about that, and she recognizes that some people are self-conscious about using them, but she feels the benefits greatly outweigh that. On the specific question if it's easier to accept a device than needing personal assistance, Jan weighs in: "Of course! You want to remain independent for as long as possible!"

Assistive devices can help you to manage on your own and continue living at home!

When we finish up for the day we ask if there's anything in particular about using a bathroom aid we should take with us and share with others.
Gerd thinks for a while and then states "If I got worse in the future - the sense of safety and freedom! That assistive devices can help you to manage on your own and continue living at home."
My-Loo fixed
The raised toilet seat My-Loo fixed is an award-winning bathroom aid from Etac. It was designed as part of "Next Level", an initiative to challenge conventions and create a whole new generation of toilet aids. The result is an innovative toilet seat with a given place in any modern bathroom.
Learn more about My-Loo fixed
Please note
A case story is used to show an individual product solution and the experiences related to its use.
The configuration and use of the product, including its accessories is determined based on the preferences of the user, their healthcare professionals, the environment, constraints and local market-specific preferences. The case story is only a supplement to the product's manual/assembly instructions and does not in any way replace these instructions. Products, sizes, configurations, accessories shown might not be available on all markets. Please contact your local sales organization for updated information on availability in your country.