Tall upper body
- Shape up in Cross 5 and Cross 6

Etac Cross 5 and Cross 6, can be set up for both a taller or a shorter users with different body shapes.
The majority of users will use the standard back support. Using the standard back support, the 3A-back support can be adjusted in height from 32 cm to 45 cm. And with the high back support you can get as high as 51 cm.
Once the desired back height is adjusted and set, the fine tuning of the strap back can be done, and any accessories to support and shape up the posture can be added.
A user with a tall upper body may also need a longer seat depth. By angling the seat to back angle posteriorly, and the the back rail forward, the seat depth is extended (1). Add a seat extender (2) and make sure the back cover is placed to create rear space (3).
Choose the high back support with seven back straps (3).
If the user is leaning heavily towards the back, a cross brace (4) is recommended.
Firmer side stability can be created by using the plush wedges (5).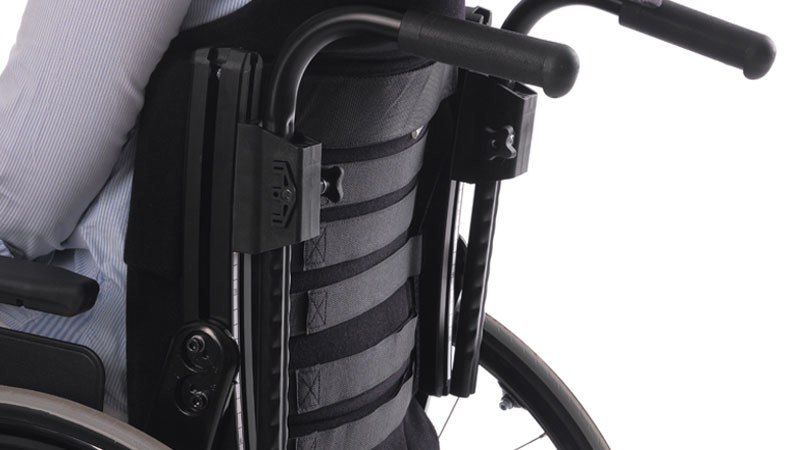 1 and 3. Back support
The high back support is adjustable up to 51 cm (20") and has seven tension adjustable back straps. Always aim to adjust the height below the shoulder blades.

Choose the high back only when it needs to be adjusted higher than the standard back support. With the high back set to 38-44 cm (15-17"), the lower part of the top back rail may interfere with the user's buttocks.

Example of accessory placement
Example of accessories placed on the back support. Here with the side cushion, along with the straight side stops, on both sides for optimum support, and the seat extender to create additional rear space.